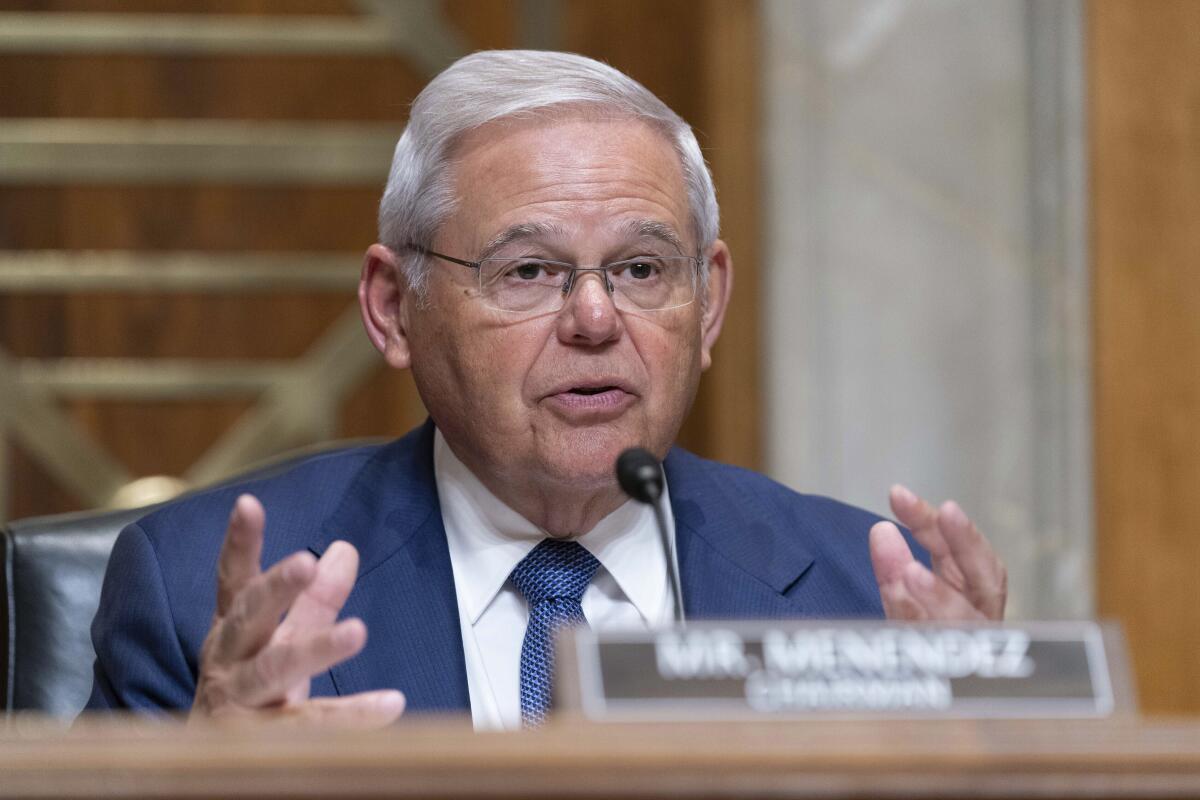 Who's Bob Menendez? New Jersey senator charged with corruption is a political survivor
MIKE CATALINI
Sept. 22, 2023
Sen. Bob Menendez's defense against new federal corruption charges against him, his wife and business associates Friday, revealed he's adopting the same defiant stance he took when he faced federal accusations nearly a decade ago.
A three-term senator who has held office at every level across New Jersey's rough-and-tumble political landscape, Menendez vowed to fight the latest set of charges and questioned the veracity of the indictment.
In almost the same language he used in 2017 after a mistrial on federal corruption charges, he cast the indictment Friday in political terms and vowed to continue his work in the Senate.
For years, forces behind the scenes have repeatedly attempted to silence my voice and dig my political grave, Menendez said in a statement. It was an echo from six years earlier, when he addressed those who were digging my political grave and told them he would not forget who they were.
It's a sign, those who know Menendez said, that he won't be going anywhere without a fight, for now.
Sen. Menendez is going to have to decide whats best for him and his family. He is a fighter. Ive never met anybody that is as tough as he is," Steve Sweeney, the former Democratic Senate president, said in a phone interview. We all could say, Leave. Its not our decision, and it wouldnt be fair to tell someone to leave if they feel they havent done anything wrong.
Menendez, 69, has survived politically for nearly five decades.
The son of Cuban immigrants and an attorney by training, he was a Union City,
N.J.,New Jersey,
school board member at age 20 before he graduated from law school and went on to become the mayor of the city, where he still has deep roots.
His own biography touts the fact that he wanted to fight corruption early in his political career, testifying against Union City officials and building a reputation as tough. From there, he was elected to the state Assembly, then the state Senate before heading to the U.S. House.
Menendez was appointed to be a U.S. senator in 2006 when the seat opened up after incumbent Jon Corzine became governor. He was elected outright in 2006 and again in 2012 and 2018. He served as chair of the influential Senate Foreign Relations Committee beginning in 2013, but lost that post after the earlier indictment. He regained the position after federal prosecutors did not renew charges in that case, which ended in a mistrial.
The 2018 contest was noteworthy because it came just after the 2017 mistrial and the Republican Party had poured millions into defeating him. He prevailed and hasn't hinted at retirement.
People have underestimated Bob Menendez continuously throughout his career and have almost always been surprised at the end when he emerges victorious, said Benjamin Dworkin, director of the Rowan Institute for Public Policy & Citizenship.
Menendez, whose wife, Nadine, also was charged in the Friday indictment, married in 2020. The couple began dating in 2018 and got engaged in 2019 after meeting at an IHOP in Union City, a frequent haunt of Menendezs.
He has two children from a previous relationship, daughter Alicia Menendez, a television news anchor and author, and son Rob Menendez, who was elected to Congress last year. In a statement, Rob Menendez stood by his father, saying he believes in his fathers integrity and values.
In Congress, Menendez has been a vocal advocate for overhauling the immigration system, securing abortion rights and supporting key Biden administration policies, like the 2021 Inflation Reduction Act.
His left-leaning politics make him a good fit for New Jersey, which has
over more than
1 million more registered Democrats than Republicans, former
state
Senate Majority Leader Loretta Weinberg said, and are a large factor in his staying power. Plus, he's been in public life for decades, people know him and support him, she said.
But she sounded
a
cautious about his political prospects.
I think it sounds very serious. I think there are going to be serious decisions made. I think there is a necessity for serious decisions to be made about how the party is going to handle all this, she said.
Messages seeking comment from the governor and party spokespeople were not immediately returned Friday.
The first time Menendez was indicted, authorities said he used his political influence to help a Florida eye doctor who gave him lavish gifts and campaign contributions.
He was accused of pressuring officials to resolve a Medicare billing dispute in favor of his friend Dr. Salomon Melgen, securing visas for the doctors girlfriends and helping protect a contract the doctor had to provide port-screening equipment to the Dominican Republic. He declared his innocence then and wasn't charged again after a jury deadlocked in 2017.
The new set of charges unveiled Friday allege Menendez took repeated actions to benefit Egypt despite US. government concerns over the countrys human rights record, including ghost-writing a letter to fellow senators encouraging them to lift a hold on $300 million in aid to Egypt as well as transmitting non-public information to Egyptian officials about military issues, the indictment says.
He's also accused of trying to derail the criminal case against one of the businessmen advocating to install Philip R. Sellinger to be the U.S. attorney for New Jersey. Menendez believed he could influence Sellinger, prosecutors said, and also tried to use his position of power to meddle in a separate investigation by the New Jersey attorney generals office.