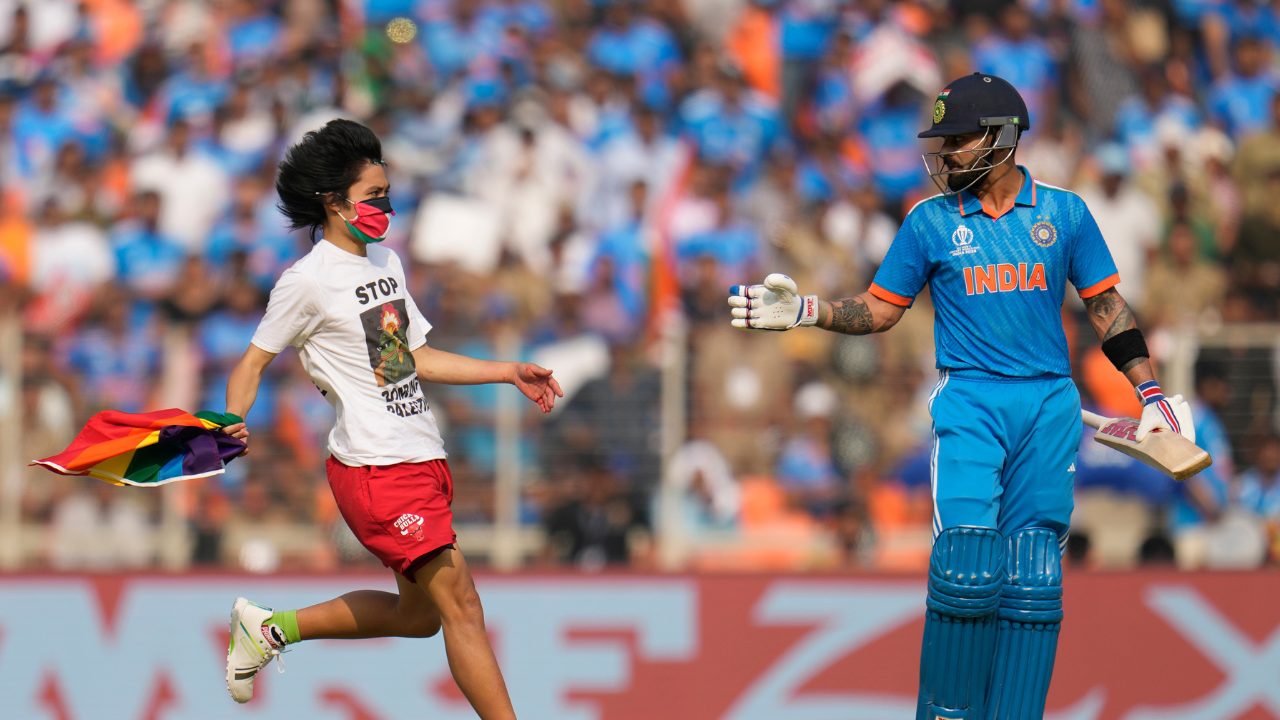 The pitch intruder who placed his arm over Virat Kohli during the India vs Australia 2023 World Cup Final is identified as Johnson Wen. The invader was taken off the field immediately after he breached security during the 15th over of the first innings. He was wearing a pro-Palestine shirt and red trousers.
News agency ANI posted a video of the invader on social media, where he could be seen saying that his name is John and he is an Australian. "My name is John…I am from Australia. I entered (the field) to meet Virat Kohli. I support Palestine," he said.
Wen apparently also disturbed the FIFA Women's World Cup final this year. According to an Instagram profile by the name of pyjamamann shows that the invader has been protesting – for different reasons – across world events.
Related News |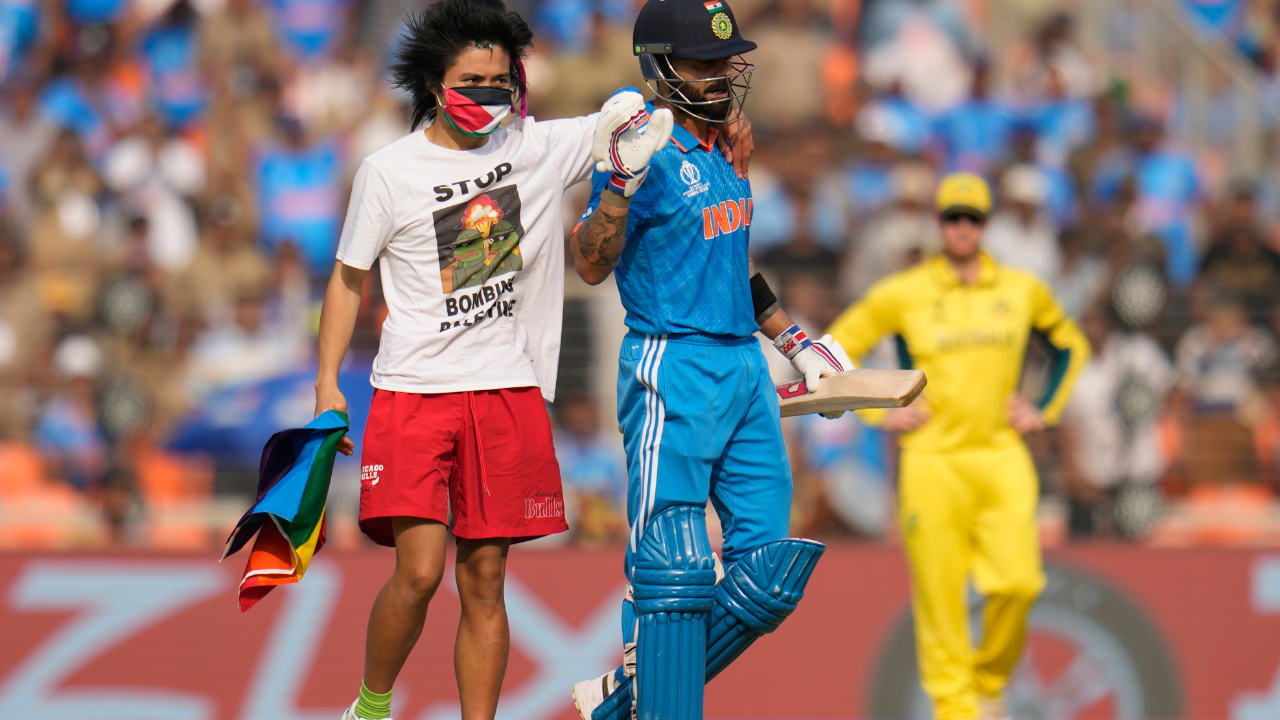 'I Support Palestine, My Name Is…': Man Who Walked Into Field To Meet Virat Kohli During World Cup Final | VIDEO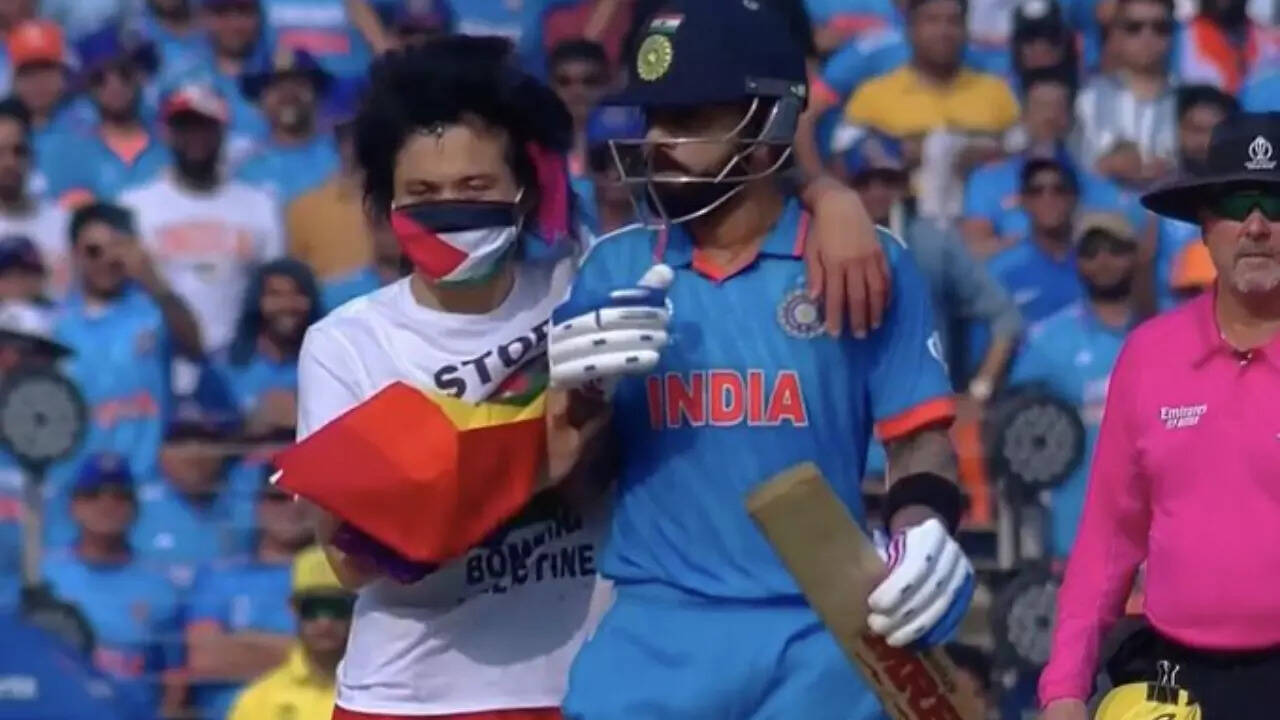 Massive Security Breach In IND vs AUS World Cup Final, Palestine Supporter Interrupts Play; Hugs Virat Kohli
He was seen invading the pitch, wearing a 'Free Ukraine' T-shirt during England's Women's World Cup final with Spain. The match had to be briefly delayed in the 24th minutes as authorities intervened at Stadium Australia.
According to a gofundme account, Wen recognizes himself as Pyjama man and is 'obsessed with memes'.
"I have a Meme Disorder that causes me to think about Memes 20hours a day. I spend 90% of My life Reading Memes. MEMES MEMES MEMES and More Memes!!!" the account reads. He further adds that he has an 'extremely boring life' and is anti social.
Related News |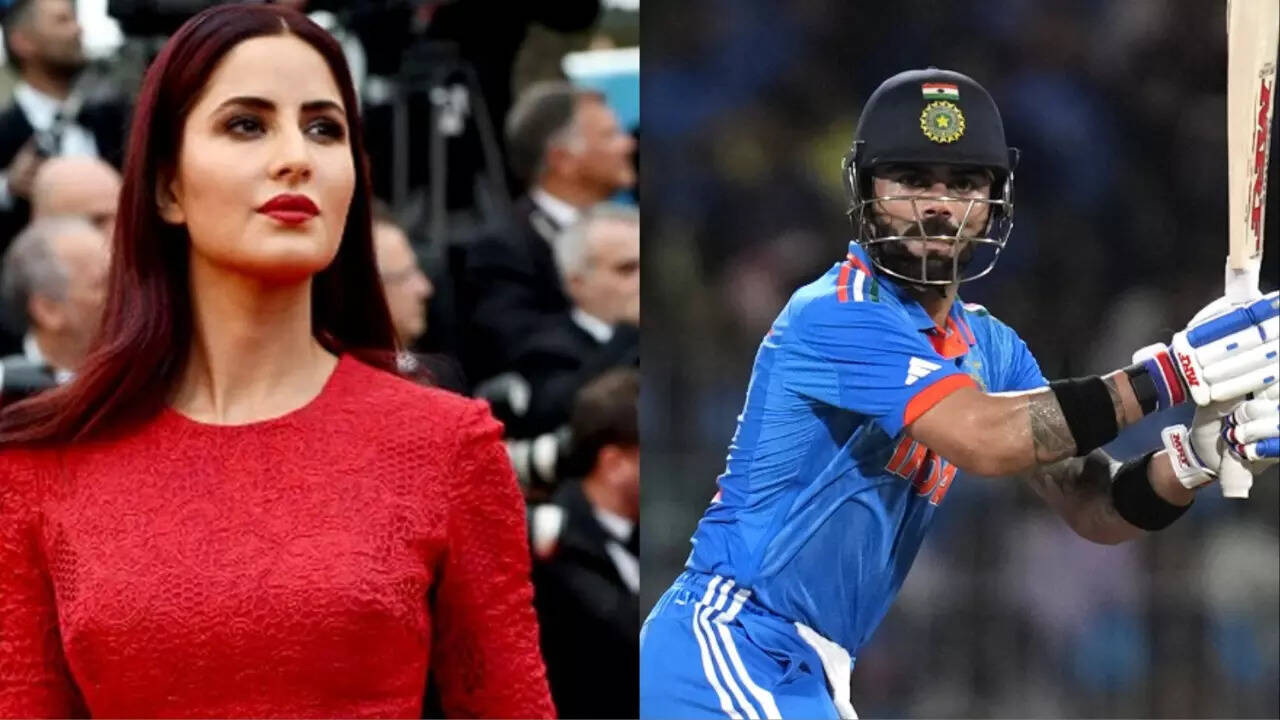 Katrina Kaif Spoke To Me For 2 Minutes: When Virat Kohli Revealed His Biggest Off-Field Moment – Watch
"And I'm so so so Boring that you would Rather speak to a Brick Wall instead.‍️" The account further reads: "I want to travel everywhere as my life is boring as f**k. I like to troll alot online and be a keyboard warrior and trash talk everyone online and offfend as much people as possible and triggger every Karen in the World."
He adds that he sits at the Sydney Opera House and trash talks ' about the Whole World from 12am till sunrise.
Like a crazy narcistic lunatic'.
"I would like you to donate me only if you want to. So I can live freely. And Travel anywhere. & All my Medical/Treatments payed off Fully.》(Schizophrenia, Fibromalygia, Pannick Attacks, Car Accident, Cluster Headaches)《" it further says.