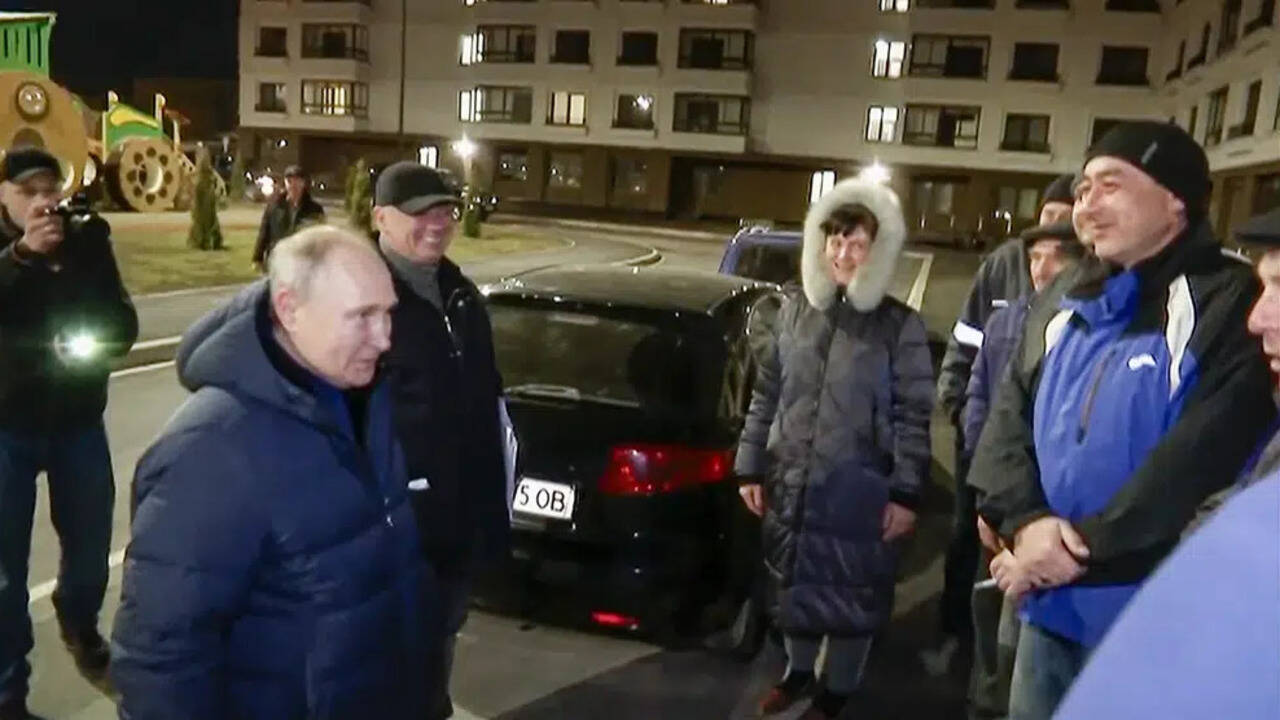 Mariupol: Russian President Vladimir Putin made a surprise visit to Mariupol in his first trip to the city since it was captured after a lengthy siege at the start of the war in Ukraine in February last year.
The visit came after Putin traveled to Crimea on Saturday in an unannounced visit to mark the ninth anniversary of Russia's annexation of the peninsula from Ukraine, and just two days after the International Criminal Court (ICC) issued an arrest warrant against him.
He flew to Mariupol by helicopter on Saturday and drove a car to travel around several districts of the city, making stops and talking to residents. He was also presented with a report on the reconstruction work of the city. It is the closest to the front lines Putin has been in the yearlong war. He was seen visiting the Black Sea port city of Sevastopol, accompanied by the local Moscow-appointed governor Mikhail Razvozhayev
Putin visits Mariupol
In the Nevsky district of Mariupol, a new residential neighborhood built by the Russian military, Putin visited a family in their home, Russian media reported. Russian Deputy Prime Minister Marat Khusnullin, who accompanied Putin, said residents have been "actively" returning.
"The downtown has been badly damaged," Khusnullin said. "We want to finish (reconstruction) of the center by the end of the year, at least the facade part. The center is very beautiful."
Following his trip to Mariupol, Putin met with Russian military leaders and troops at a command post in Rostov-on-Don, a southern Russian city some 180 kilometers further east, and conferred with Gen. Valery Gerasimov who is in charge of the Russian military operations in Ukraine.
Mariupol fell to Russia in May after one of the war's longest and bloodiest battles. It was Russia's first major victory after it failed to seize capital Kyiv and focused instead on southeastern Ukraine. Located on the Sea of Azov, the city was reduced to a smoldering shell after weeks of fighting. Mariupol had a population of half a million people before the war and was home to the Azovstal steel plant, one of Europe's largest.
While Ukrainian President Volodymyr Zelenskyy has made several trips to the battlefield to boost the morale of his troops, Putin has largely remained inside the Kremlin while running what Russia calls its "special military operation" in Ukraine. The war, now in its 13th month, has killed thousands and displaced millions of people in Ukraine.
Meanwhile, the ICC issued an arrest warrant against Putin on Friday, accusing him of the war crime of illegally deporting hundreds of children from Ukraine, a highly symbolic move that isolates the Russian leader further.