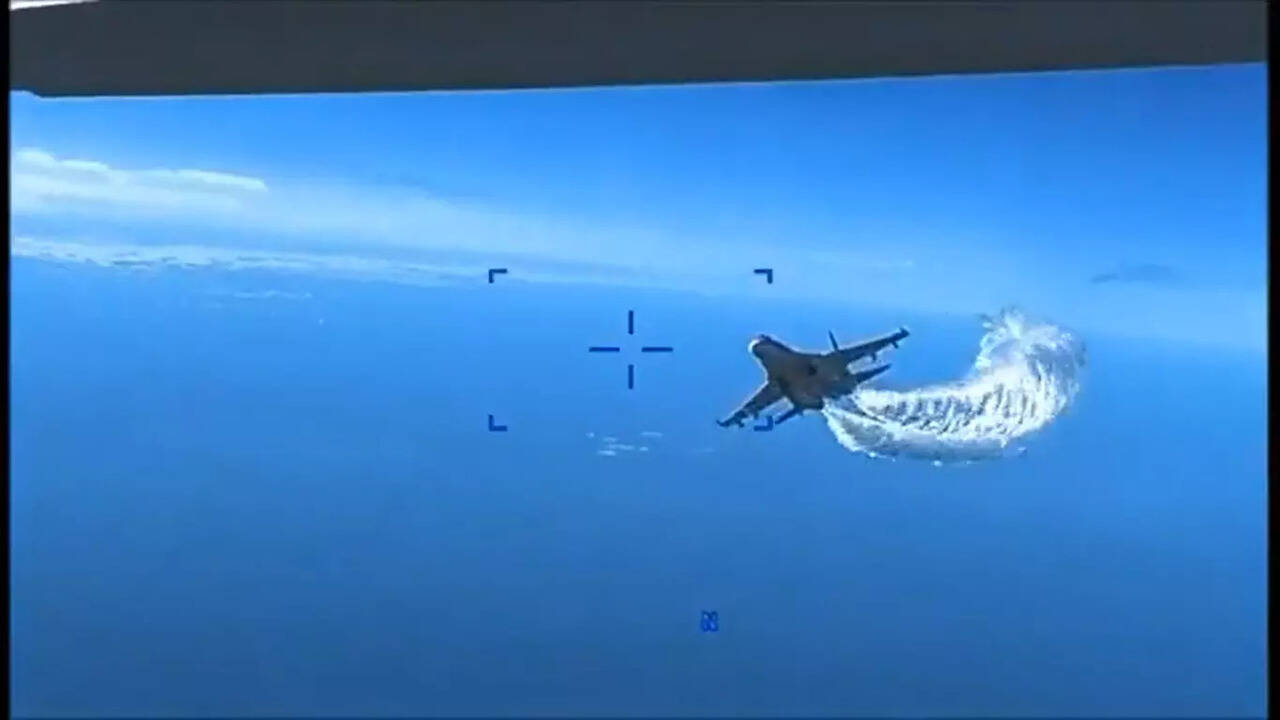 The United States has released a video footage of the collision between a Russian fighter jet and its MQ-9 Reaper drone over the Black Sea.
The declassified video was released today.
Earlier, the US military said the Russian fighter jet on Tuesday dumped fuel on an MQ reaper drone over the Black Sea then collided with it causing it to crash.
What the video shows?
The minute-long video shows what US it called 'unprofessional intercept' of a MQ-9 drone in international airspace over the Black Sea on Tuesday.
The video has been posted on Twitter by US' European Command. In the video, the Russian jet approaches the unmanned drone from rear drone and begins to release fuel as it passes over it.
Moments later, the video abruptly stops as the Russian jet passes over it. Seconds later, the Russian jet again approach the US drone who propellers were still intact. The second manoeuvre by SU 27 jet causes some damage to its propellers.
"Several times before the collision, the Su-27s dumped fuel on and flew in front of the MQ-9 in a reckless, environmentally unsound and unprofessional manner," US European command said.
The United States uses MQ-9 Reapers for both surveillance and strikes, and has long operated over the Black Sea keeping an eye on Russian naval forces.
The situation in the region has become only become more tense in the past 12 months since Russia's full-scale invasion of Western-backed Ukraine.
"Our MQ-9 aircraft was conducting routine operations in international airspace when it was intercepted and hit by a Russian aircraft, resulting in a crash and complete loss of the MQ-9," said US Air Force General James Hecker, commander of US Air Forces Europe and Air Forces Africa.