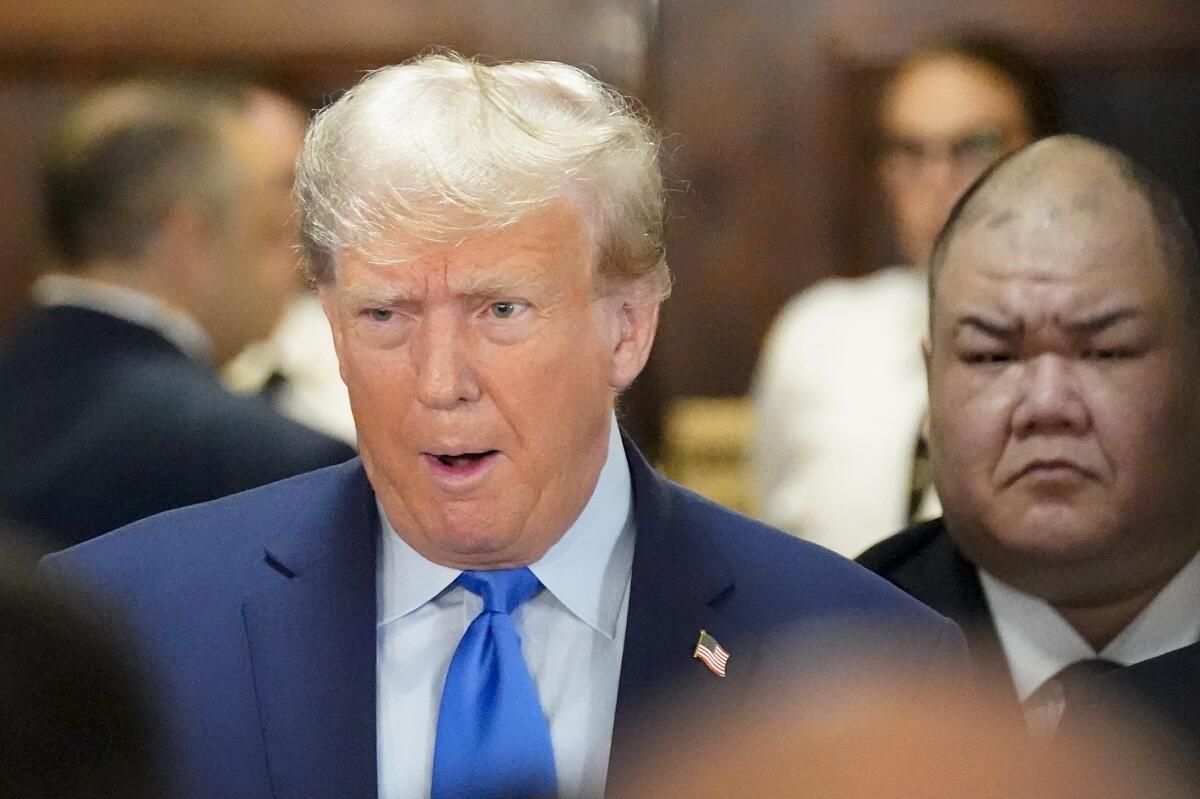 Trump arrives in New York for trial over his business practices, a case he calls a 'scam'
Homepage News
MICHAEL R. SISAK
Oct. 2, 2023
Former President Trump denounced the civil fraud case over his business practices as a politically motivated scam as he arrived defiantly for a trial in the lawsuit, which could cost him control of Trump Tower and other prized properties.
This is a continuation of the single greatest witch hunt of all time, he said as he made a voluntary trip to a New York court for a trial that has high stakes for him.
Its a scam. Its a sham, Trump said, reiterating claims that New York Atty. Gen. Letitia James suit is a politically motivated attempt to thwart his bid to return to the White House.
What we have here is an attempt to hurt me in an election, he said, adding: I dont think the people of this country are going to stand for it.
He looked away from James, a Democrat, as he passed her on the way into court, with a disgusted look on his face.
The suit accuses Trump and his company of deceiving banks, insurers and others by habitually lying about his wealth in financial statements.
Judge rules Donald Trump defrauded banks, insurers while building real estate empire
Judge Arthur Engoron already has ruled that Trump committed fraud in his business dealings. It is a non-jury trial, so Engoron will decide on six other claims in the lawsuit.
James, a Democrat, is seeking $250 million in penalties and a ban on Trump doing business in New York. The judges ruling last week, if upheld on appeal, could force Trump to give up New York properties such as Trump Tower, a Wall Street office building, golf courses and a suburban estate.
Trump, the Republican front-runner in the 2024 presidential race, has denied wrongdoing. He says that James and the judge are undervaluing such assets as Mar-a-Lago, and that it didnt matter what he put on his financial statements because they have a disclaimer that says they shouldnt be trusted.
In posts overnight on his Truth Social site, he said he was going to court to fight for my name and reputation, denounced the case as a sham and called on the attorney general and judge to resign.
Trump Organization, former fixer Michael Cohen settle his lawsuit over unpaid legal bills
Before the trial Monday, James reiterated her position that Trump for years engaged in persistent and repeated fraud.
No matter how powerful you are, and no matter how much money you think you have, no one is above the law," she said on her way into the courthouse.
Trump isnt expected to testify for several weeks. His trip to court Monday marked a remarkable departure from his past practice.
Trump didn't go to court as either a witness or a spectator when his company and one of its top executives was convicted of tax fraud last year. He didn't show, either, for a trial earlier this year in which a jury found him liable for sexually assaulting the writer E. Jean Carroll in a department store dressing room.
Nicholas Goldberg: Trumps up in the polls. How can that be?
In some ways, though, this new trial comes with higher stakes.
Engorons ruling last week, if upheld on appeal, would shift control of some of his companies to a court-appointed receiver and could force him to give up prized New York properties. Trump called it a corporate death penalty.
In his post Sunday night, Trump wrote that Engoron is unfair, unhinged, and vicious in his PURSUIT of me.
The six remaining claims in James lawsuit that Engoron will decide on include allegations of conspiracy, falsifying business records and insurance fraud.
James' lawsuit accused Trump and his company of a long list of falsehoods in financial statements he gave to banks. In a recent court filing, James' office alleged that Trump exaggerated his wealth by as much as $3.6 billion.
Among the allegations were that Trump claimed his Trump Tower apartment in Manhattan a three-story penthouse replete with gold-plated fixtures was nearly three times its actual size and worth an astounding $327 million. No apartment in New York City has ever sold for close to that amount, James said.
Trump valued Mar-a-Lago as high as $739 million more than 10 times a more reasonable estimate of its worth, James claimed. Trumps figure for the Palm Beach, Fla., private club was based on the idea that the property could be developed for residential use. While Trump lives there, deed terms prohibit further residential development on the property, James said.
Trump and his lawyers have argued that no one was harmed by anything in the financial statements. Banks he borrowed money from were fully repaid. Business partners made money. And Trump's own company flourished.
James lawsuit is one of several legal headaches for Trump as he campaigns for a return to the White House in next year's election. He has been indicted four times since March, accused of plotting to overturn his 2020 election loss, hoarding classified documents and falsifying business records related to hush money paid on his behalf.