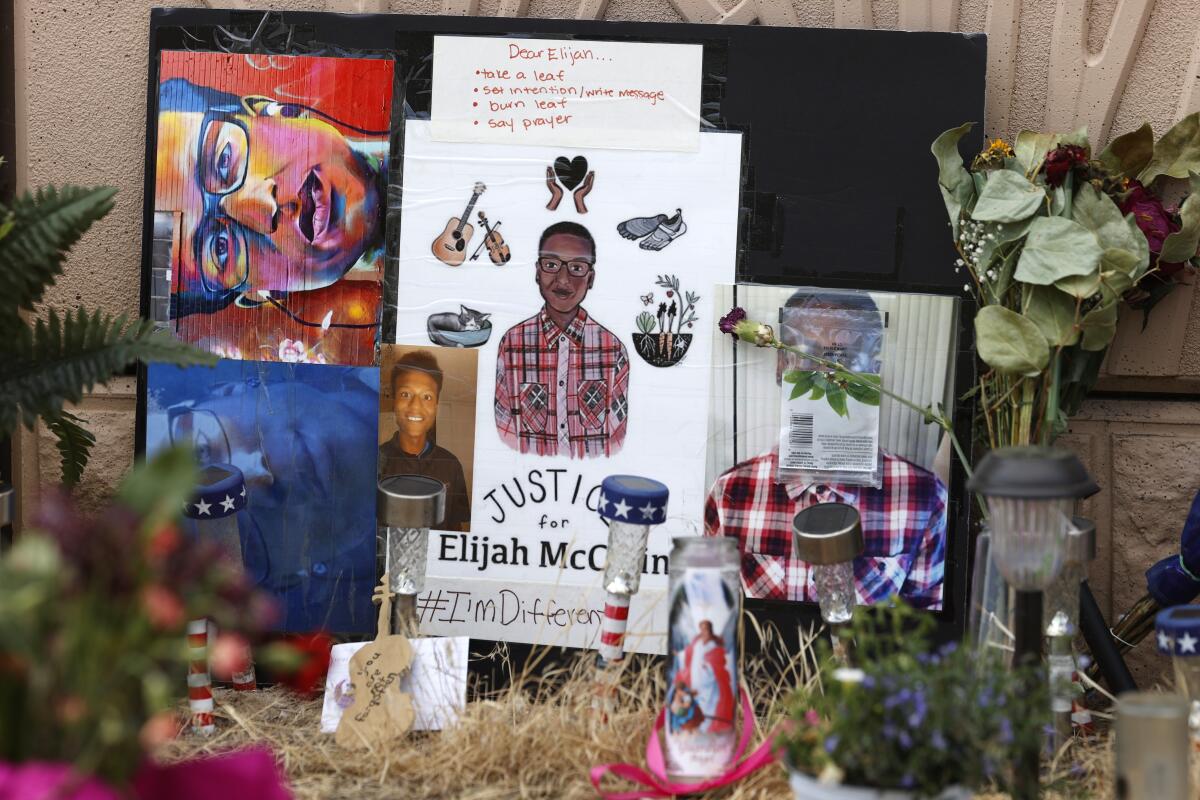 Trial begins in Elijah McClain death, which sparked outrage over racial injustice in policing
COLLEEN SLEVIN
Sept. 15, 2023
Elijah McClain's fatal encounter with police began on a summer night in 2019 when a 911 caller reported that the young Black man looked sketchy as he walked down the street wearing a ski mask and raising his hands in the air in the Denver suburb of Aurora.
In reality, McClain, who was often cold, was just walking home from a convenience store, listening to music.
But moments later, police stopped him and after struggling with him, put the 23-year-old in a neck hold. Then paramedics gave him a sedative that officials eventually determined played a key role in his death days later. McClain, a massage therapist known for his gentle nature, was unarmed and hadn't committed any crime.
Four years after his death which left a gaping hole in his mother's heart and sparked outrage over racial injustice in American policing a trial for two of the officers was set to begin Friday with jury selection. Trials for a third officer and two paramedics are scheduled to start later this year.
3 officers fired, 1 resigns after texts show them joking about Elijah McClain's death
A jury will decide if officers Randy Roedema and Jason Rosenblatt are guilty of manslaughter, criminally negligent reckless homicide and assault charges in a trial expected to last about a month. They have pleaded not guilty but have never spoken publicly about the allegations against them.
Roedema, a former Marine who is currently suspended without pay, had been with the department for five years before McClain's death. Rosenblatt had worked for the agency for two years and is the only officer who confronted McClain who was fired not for the fatal encounter itself, but for making light of other officers' reenactment of the neck hold.
Their attorneys Donald Sisson for Roedema and Harvey Steinberg for Rosenblatt didn't respond to requests for comment.
They were indicted in 2021 by a state grand jury after an outcry over McClains death following the police killing of George Floyd. McClains pleading words captured on body camera, including, Im an introvert and Im different, drew widespread attention after Floyds murder in Minneapolis.
The grand jury indictment came nearly two years after a local prosecutor decided against charging the officers largely because the coroners office could not determine exactly how McClain died. He called McClains death tragic, but said that finding made it hard to prove that the officers actions caused the young man's death.
3 police officers, 2 paramedics charged in Elijah McClains 2019 death in Colorado
A revised coroners report issued in 2021 said the cause of death was complications from the
sedative,
ketamine, but also noted that
the drug was administeredthat occurred
after McClain was forcibly restrained. Pathologist Stephen Cina wrote he couldnt rule out whether the stress of being held down by the officers may have contributed to McClains death.
McClain, who weighed 140 pounds
(64 kilograms)
, was given a higher dose of ketamine than recommended for someone
of
his size and overdosed, Cina found. McClain was extremely sedated within minutes of being given the ketamine, wrote Cina, who said he believed McClain was gasping for air when he was put on a stretcher.
His death brought increased scrutiny to how police and paramedics use ketamine. It is often used at the behest of police who believe suspects are out of control.
Sheneen McClain, Elijah McClain's mother, declined an interview request ahead of the trial but has long called for the officers who stopped her son to be sent to prison. She and McClain's father, LaWayne Mosely, sued Aurora and reached a $15-million settlement with the city.
Experts say the case against the officers is far from a slam dunk.
With ketamine blamed for causing McClains death, it will be difficult for prosecutors to convince jurors that the police officers are responsible
for his death
, said Hermann Walz, a defense lawyer and former prosecutor and adjunct professor at John Jay College of Criminal Justice.
Sedative, restraint led to Black man's death after Colorado police encounter, amended autopsy says
They dont have a direct link for the police. They might have a better case against the EMTs, he said.
But Jonathan Smith, who helped conduct the Aurora investigation and is a senior special counsel for the Washington Lawyers Committee for Civil Rights and Urban Affairs, said that even if prosecutors cant prove that the officers actions contributed to McClains death, they could still try to win a conviction on the assault charges.
Except for when officers thought McClain had grabbed for one of their guns, Smith said, there was no legal justification for using force against McClain.
Like so many police brutality cases today, body camera footage from the officers played a major role in bringing to light what happened. The officers' cameras eventually fell off but kept recording though sometimes only capturing audio.
The video shows the incident starting when one of the officers Nathan Woodyard, on trial later this year gets out of his car. He approaches McClain and says, Stop right there. Stop. Stop. … I have a right to stop you because youre being suspicious.
McClain, who was using earbuds, kept walking down the street, as he carried a plastic bag and his phone. Within 10 seconds, Woodyard put his hands on McClain, turning him around. As McClain tried to escape his grip, Woodyard said, Relax, or Im going to have to change this situation.
Colorado city probe faults police treatment of Elijah McClain
Then Roedema took the bag McClain was holding, containing cans of iced tea, and threw it to the ground. McClain told them he would stop the music he had been listening to to hear them while demanding to be let go.
Then came a pivotal moment that escalated the situation.
As Rosenblatt and Woodyard held McClain's arms and pulled him toward a grassy area, Roedema said, He grabbed your gun, dude. But that cant be seen on body camera footage and was never corroborated.
All three officers later told investigators that they took McClain to the ground because of Roedema's statement.
As the officers restrained him, one of them put him in a type of neck hold that stops the flow of blood to the brain. Paramedics later arrived and gave him ketamine, which at the time was legal to give to people showing erratic behavior.
Pinned to the ground, McClain can be heard crying out in pain, apologizing, explaining himself and pleading with the officers. He vomited and tried to explain himself but the officers didn't engage.
Following Elijah McClain's death, use of ketamine during arrests draws new scrutiny
I was just going home Im an introvert and Im different. Going home … Im just different. Im just different. Thats all, he said.
Later, as the officers talked to a supervisor about what happened, McClain said: You all are phenomenal; you are beautiful. … Forgive me."
Three days later, McClain was pronounced dead in a hospital.
Since 2020, neck holds have been banned for police in Colorado by the state's Democratic-led Legislature. The state health department has also told paramedics not to give ketamine to people suspected of having a condition involving erratic behavior known as excited delirium.
McClain's death became a rallying cry for police reform advocates. They hope his death can be a watershed moment that brings meaningful reform to police and serves as a warning that police brutality won't be tolerated.
If we just continue to sit by and allow anyone to be murdered under the guise of protect and serve, we have failed exponentially," said Candice Bailey, a police reform advocate in Aurora. Elijah McClain was a wake-up call for the planet.
Associated Press writer Thomas Peipert contributed to this report.