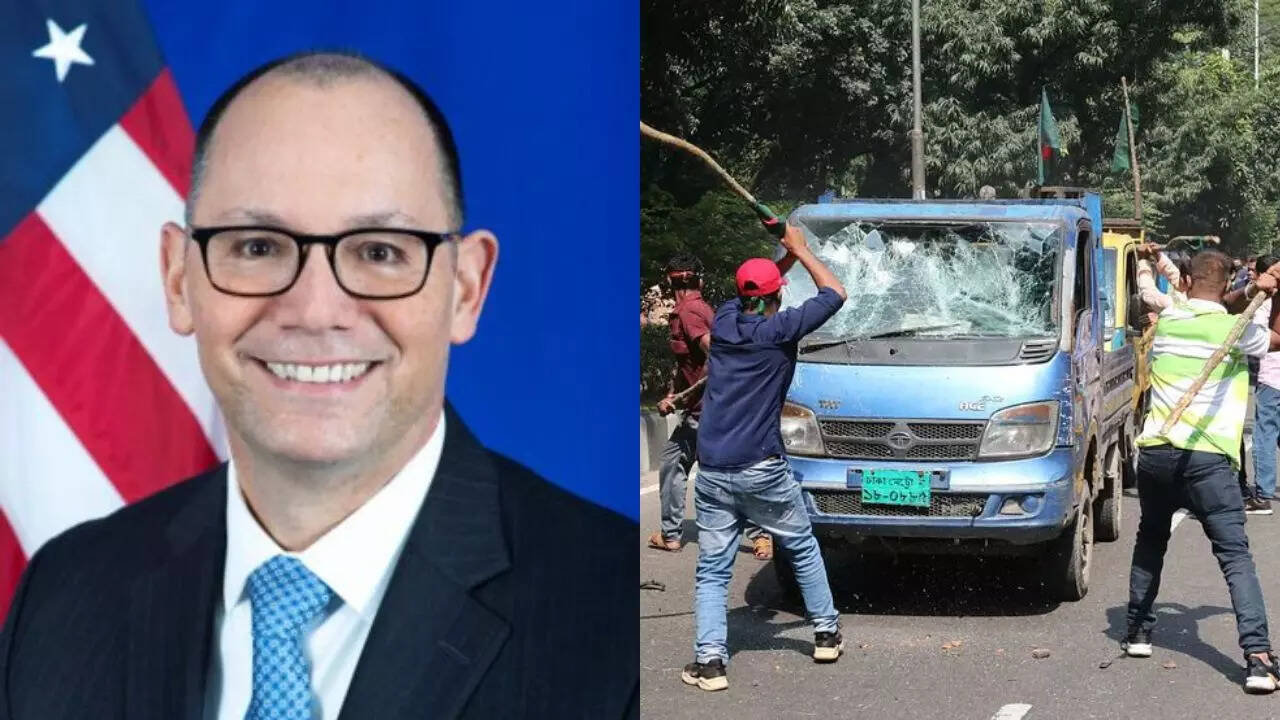 New Delhi: Peter Haas, the United States envoy to Bangladesh, went on sudden leave and left the country in a mysterious turn of events. The incident, which comes only days ahead of the Bangladesh general elections scheduled on January 7, has raised questions about the safety of diplomats in the South Asian nation.
It was on November 17 that Bangladesh-based newspaper Prothom Alo published a story with a slightly ominous headline: Peter Haas goes on leave. The story, reported by the Dhaka-based daily's diplomatic correspondent, said the US envoy had left the country to go to Sri Lanka capital Colombo "on holiday".
The report, however, also stated that "it has not been ascertained if he will spend his vacation in Sri Lanka or will travel on to the United States".
A viral video and a 'bash up' threat
A spokesperson for the Bangladesh foreign ministry was quoted saying that Haas had informed the national government about going on leave from November 15, as is standard diplomatic practice.
But reports emerged soon after that before Haas went on leave, he received threats from an official in Sheikh Hasina's party, the Awami League. The official in question was identified as one Mujibul Haque Chowdhury, according to a report in VoA.
The report said the Awami League official was seen in a video slamming Peter Haas for allegedly supporting the Bangladesh Nationalist Party (BNP), the principal rival to Sheikh Hasina's Awami League.
"Peter Haas said he wants to see a free and fair election here. I say, 'Peter Haas, you are as knowledgeable as a newborn, while we are the actual grown-ups,'" Chowdhury said in the video. "You have no idea what we are capable of. You will know just how dangerous we are once we bash you up."
"To the BNP members, you are a god, a savior. But we are not scared of you. You cannot harm us in any way," Chowdhury was seen saying, as per the report.
Bangladesh Prime Minister Sheikh Hasina is said to have ordered disciplinary action against the official.
'Unfortunate', but 'we know where he is'
Meanwhile on Monday, the Bangladesh Foreign Minister called Peter Haas's sudden departure from the country "unfortunate". He said Bangladesh was capable of providing security to foreign guests such as the ambassador, according to a report published by Indian news agency ANI.
"I have a responsibility. All the ambassadors who are posted here are our guests and we are supposed to look after them. Provide them with high security as much as they are also responsible for offering the interests of Bangladeshi diplomats abroad," he was quoted saying.
Sahriar Alam, the foreign minister, further said that Bangladesh knows where Peter Haas is "for sure", but he is "not supposed to disclose his location".
'Violent political rhetoric in Bangladesh'
Before leaving the country, Peter Haas had said the United States is neutral in the elections in Bangladesh and had flagged the "violent political rhetoric" in the country, according to a report in Bangladesh-based newspaper Daily Star.
Haas, who had been confirmed as the US Ambassador to Bangladesh on December 18, 2021, had said, ""We are on no particular political party's side. We want free and fair elections conducted in a peaceful manner. We call upon all sides to de-escalate … and try to figure out a way to have a dialogue without pre-conditions to help make the elections atmosphere better, " as per the report.
Elections in Bangladesh on January 7
Bangladesh is set for its national elections on January 7, 2024. Ahead of the key polls, the country has been ravaged by violence with scenes of buses burning, and fighting on the streets. Earlier, Bangladesh Foreign Minister Shariar Alam held the BNP responsible for the violence.
In an exclusive interview with Times Now, Alam said, "They (the BNP) have killed policemen. They have attacked police hospitals. They have burnt ambulances, buses and trucks. Their only objective is to destroy and put on hold the hard earned democratic forces in the country."
On the question of Western influence in the Bangladesh elections, the foreign minister urged all "friends, neighbours and everyone else across the Atlantic" to refrain from "interfering in domestic affairs".
"In the US, we see everyday, BNP and Jamaat-supported media, and with all due respect to the media, paid journalists — in fact they are not journalists, they are BNP activists…We have hard evidence that we have passed on to the (US) State Department," he added.