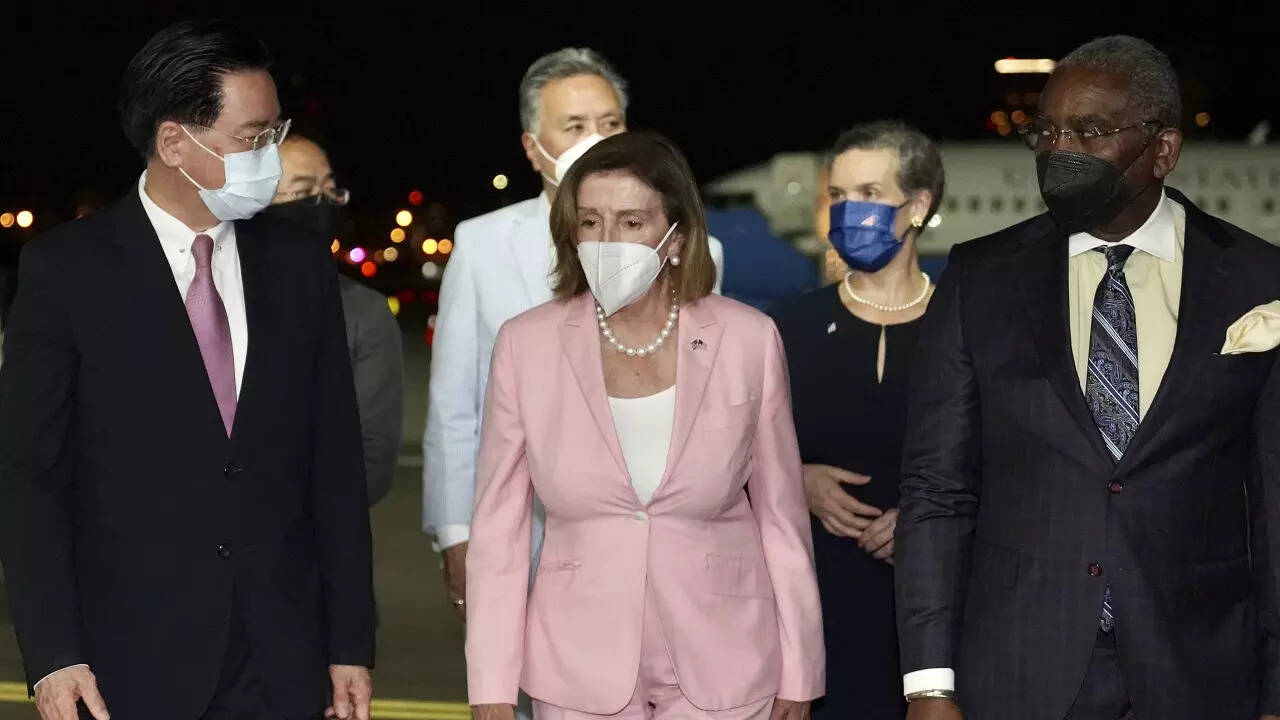 Aug 02, 2022 | 17:46PM IST
Taiwan government's website down with 502 server error
The Taiwan government's website was down with 502 server error. An earlier Reuters report quoting sources also said that the website of Taiwan's presidential office had received an overseas cyber attack on Tuesday and briefly malfunctioning
Aug 02, 2022 | 17:43PM IST
Fuming China preps for military response; US Navy deploys four warships east of Taiwan
Following news of the rumoured visit, several Chinese warplanes flew close to the median line dividing the Taiwan Strait and Chinese warships sailed near the unofficial dividing line. Visuals shared online also showed armoured vehicles on the move – purportedly in the southern Chinese city of Xiamen.
Meanwhile, four US warships, including an aircraft carrier, were positioned in waters east of Taiwan on what the Navy called routine deployments on Tuesday.
Aug 02, 2022 | 17:40PM IST
Why is Pelosi's visit of significance? What is the present US policy on Taiwan?
If she lands in Taiwan, Nancy Pelosi will become the highest-ranking elected US official to visit in more than 25 years. The last House Speaker to visit Taiwan was Newt Gingrich in 1997. American officials often make discreet visits to Taiwan, this would far exceed recent shows of support. Reports indicate that she is going to Taiwan with scheduled meetings with government officials at the self-governed island that China threatens to forcefully takeover.
While the Biden administration is understood to be opposed to a Taiwan stop, White House National Security Council spokesman John Kirby said Pelosi was entitled to go where she pleased. Pelosi's visit to Taiwan was previously been postponed in April after she tested positive for COVID-19.
Kirby however said that US policy towards Taiwan remained unchanged. This means support for its self-ruling government, while diplomatically recognising Beijing over Taipei and opposing a formal independence declaration by Taiwan or a forceful takeover by China.
Aug 02, 2022 | 17:33PM IST
Russia condemns potential Pelosi visit to Taiwan as 'provocation'
Moscow on Tuesday denounced a potential visit by US House Speaker Nancy Pelosi to Taiwan as a provocation, expressing full solidarity with ally China.
"What is connected with this tour and a possible visit to Taiwan is a pure provocation. We want to emphasise once again that we are absolutely in solidarity with China, its attitude towards the problem is understandable and absolutely justified," Kremlin spokesman Dmitry Peskov told reporters.
He said the potential visit was leading to an "increase in tension" in the region and accused Washington of choosing "the path of confrontation".
Aug 02, 2022 | 17:32PM IST
What has China said so far?
China has warned that its military will 'not sit idly by' if Pelosi visits Taiwan. Foreign ministry spokesman Zhao Lijian said that it would be "a gross interference in China's internal affairs" if the visit takes place and warned that it would lead to "very serious developments and consequences." China views visits by US officials to Taiwan as sending an encouraging signal to the pro-independence camp in the island.
"We would like to tell the United States once again that China is standing by, the Chinese People's Liberation Army will never sit idly by, and China will take resolute responses and strong countermeasures to defend its sovereignty and territorial integrity," Zhao told a regular daily briefing.
Aug 02, 2022 | 17:28PM IST
Will Nancy Pelosi visit Taiwan?
US House of Representatives Speaker Nancy Pelosi kicked off a closely-watched Asia tour on Monday in Singapore as China warned that its military would never "sit idly by" if she were to visit Taiwan. Amid widespread speculation over whether she would make a stop in Taiwan, Pelosi's office announced on Sunday that she was leading a Congressional delegation to the region that would include visits to Singapore, Malaysia, South Korea and Japan. It did not mention Taiwan. Despite the lack of official confirmation however, numerous reports quoting unnamed US and Taiwanese officials have said that Pelosi is likely to touch down in Taipei later today.