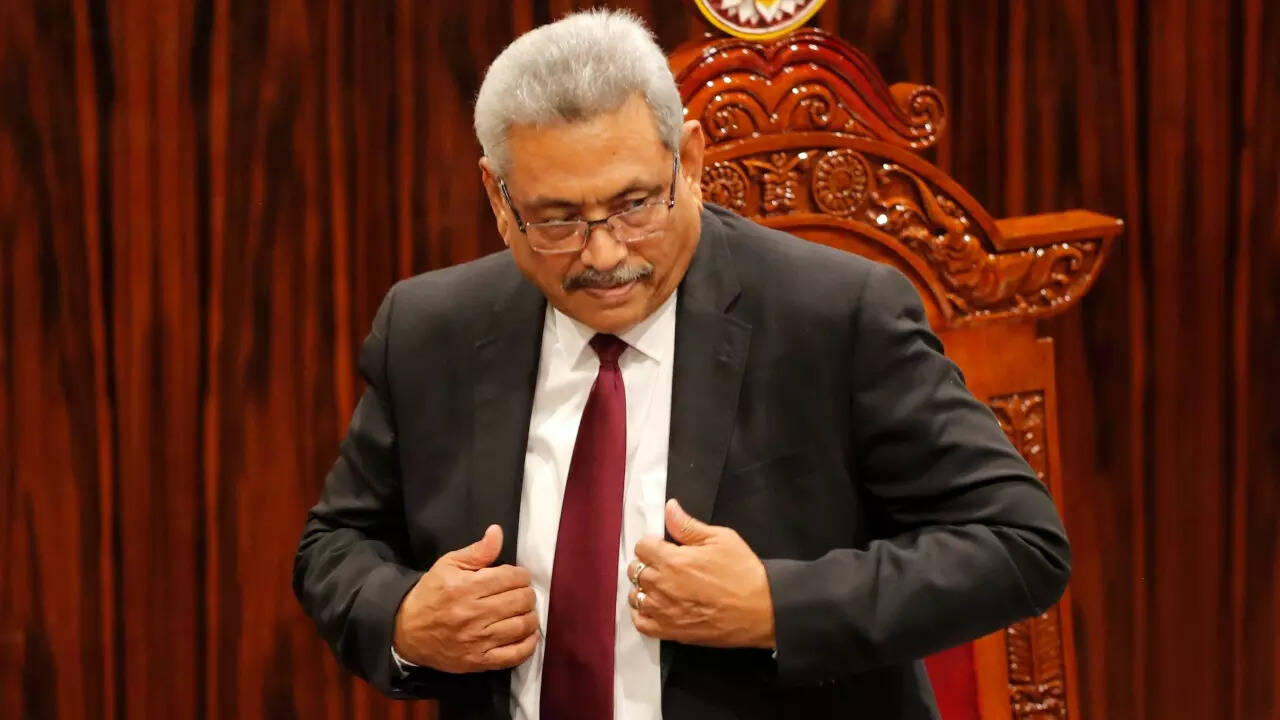 Jul 15, 2022 | 07:53AM IST
Sri Lanka Crisis LIVE Updates: Defence Ministry orders to strictly implement law and order, bring normalcy in nation
Sri Lanka's Ministry of Defense has said that instructions have been given to the armed forces and the Police to strictly implement the law and order to prevent illegal activities and establish normalcy in the country, reported ColomboPage. According to the report, the Secretary of Defense has strongly emphasized that attacking the Police/security force personnel and inciting the youth to do such illegal activities as well as damaging public property and harassing the public is a threat to the normal life of the people. Therefore, strict orders have been given to prevent such actions and establish normalcy in the country.
Jul 15, 2022 | 07:41AM IST
Sri Lanka Crisis LIVE Updates: China silent on President Gotabaya Rajapaksa fleeing island nation
Watching silently the political crisis in Sri Lanka where it has billions of dollars of investments, China has kept mum over the fall of the Rajapaksa brothers who promoted its expansive infrastructure projects in the island nation facing an unprecedented economic turmoil. Asked for China's comment on President Gotabaya Rajapaksa fleeing the country amid unprecedented public protests demanding his resignation, Chinese Foreign Ministry spokesman Wang Wenbin reiterated Beijing's call for all parties in Sri Lanka to work together to revitalise the economy. "As a friend, neighbour and cooperation partner, China sincerely hopes that all sectors in Sri Lanka could bear in mind the fundamental interests of their country and people and work together in solidarity to overcome the current difficulties and strive to restore stability, revitalise the economy and improve people's livelihoods at an early date," Wang said.
Jul 15, 2022 | 07:03AM IST
Sri Lanka Crisis LIVE Updates: Talks with island nation 'interrupted' by unrest, says IMF
The International Monetary Fund (IMF) hopes unrest in Sri Lanka will be resolved soon so that aid talks that were interrupted can resume, a fund spokesman said yesterday. Formal discussions on a new loan program for the cash-strapped island nation began last month but were thrown off course by the political upheaval that led to the resignation of the country's president. "We are, of course, deeply concerned about the ongoing crisis of impact on the Sri Lankan people and particularly the poor and the vulnerable groups," IMF spokesman Gerry Rice told reporters. Following constructive early talks, "clearly the political and the social emergency situation… has interrupted those discussions," he said.
Jul 15, 2022 | 06:57AM IST
Sri Lanka Crisis LIVE Updates: Sri Lankans in Singapore criticise President Gotabaya Rajapaksa
"We are here to see a criminal" and a "fugitive who devastated our economy," some two dozen Sri Lankans living in Singapore said as they showed up at the Changi International Airport yesterday after hearing that President Gotabya Rajapaksa who fled the country to the Maldives will land here. A Saudi Airlines flight carrying Rajapaksa arrived in Singapore from the Maldives in the evening and soon Singapore's Foreign Ministry confirmed his presence in the country on a "private visit" and there was no request for asylum from him. Rajapaksa has not asked for asylum and neither has he been granted any asylum. Singapore generally does not grant requests for asylum, the foreign ministry spokesperson added.
Jul 15, 2022 | 06:54AM IST
Sri Lanka Crisis LIVE Updates: Protestors celebrate President Gotabaya Rajapaksa's resignation
Exhausted and drained after nearly 100 days of protests, a group of protestors gathered to celebrate the resignation of Sri Lanka's President Gotabaya Rajapaksa at the seaside headquarters of their campaign to oust him. For more than three months, the seafront boulevard has been home to a cluster of tents used as a staging post for protesters demanding the despised leader step down for his role in driving Sri Lanka's battered economy to ruin. "I certainly feel, I think the crowd here definitely does feel, quite happy about it," activist Vraie Balthaazar told news agency AFP. "But at the same time, I think there's also until we see the letter, there's always a sense of apprehension," Balthaazar added.
Jul 15, 2022 | 06:51AM IST
Sri Lanka Crisis LIVE Updates: India will continue to stand with people of Sri Lanka, says MEA
Amid the political and economic crisis in Sri Lanka, India has hoped for an early solution to the crisis related to the government and its leadership through democratic means and the constitutional framework. Asserting that ensuring peace and stability of all countries in the region was an important aspect of its 'Neighbourhood First' policy, MEA Spokesperson Arindam Bagchi, at his weekly media briefing, said India continued to stand with the Lankan people and it remained engaged with all relevant stakeholders in that country. "We will continue to stand with the people of Sri Lanka as they seek to realise their aspirations for prosperity and progress through democratic means and values as well as established institutions and constitutional framework," Bagchi said.
Jul 15, 2022 | 06:48AM IST
Sri Lanka Crisis LIVE Updates: President Gotabaya Rajapksa submits resignation from Singapore
Sri Lankan President Gotabaya Rajapaksa submitted his resignation yesterday shortly after reaching Singapore, the parliamentary speaker's office said. The president resigned by email, the speaker's spokesman said hours after he landed in the city-state, after protesters overran his palace on the weekend. He fled to the Maldives on Wednesday, and left there for Singapore a day later. "The authenticity and the legality of the e-mail will have to be checked out" before being formally accepted, the speaker's spokesman Indunil Yapa told news agency AFP, adding a formal announcement was expected on Friday.