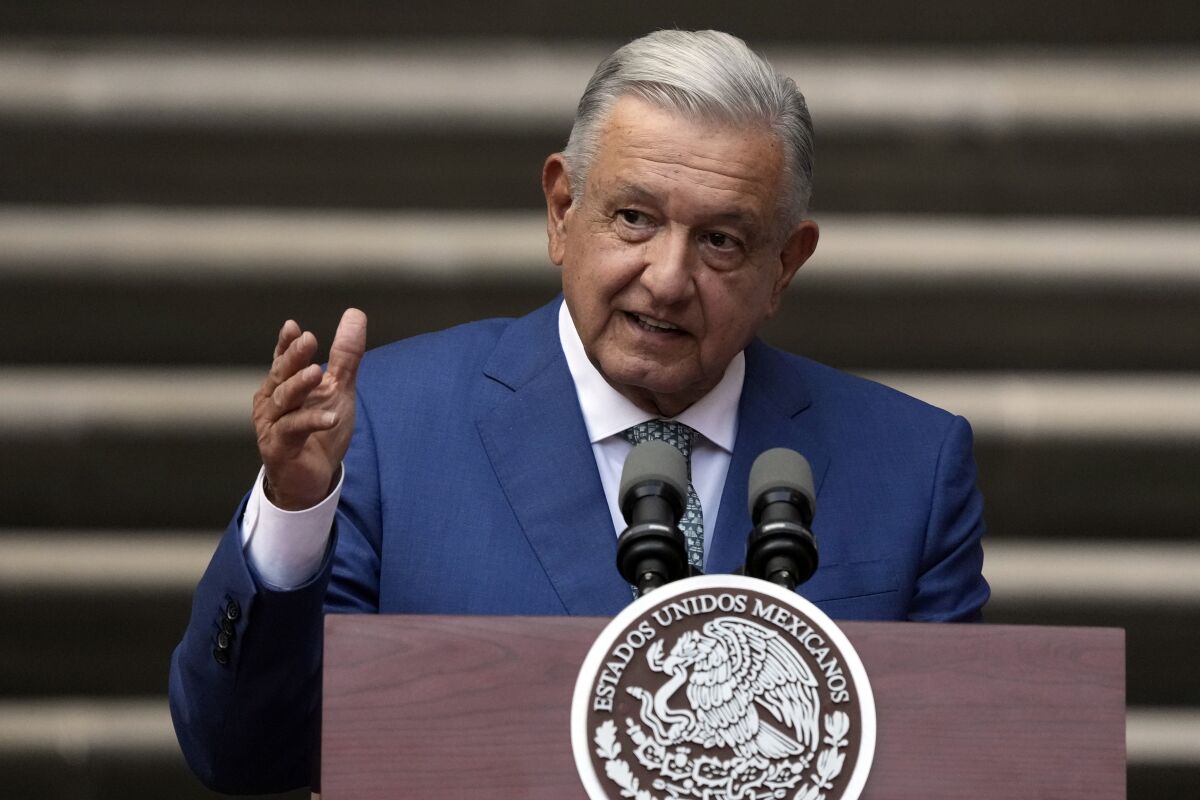 Soldiers apparently executed five men, will face prosecution, says Mexican president
June 7, 2023
Mexicos president described the slayings of five men caught on security camera footage as an apparent execution by soldiers, and vowed Wednesday that the perpetrators would face justice.
President Andrs Manuel Lpez Obrador is a staunch supporter of the armed forces who has insisted that under his administration they have shed any previous tendency toward human rights abuses. He said Wednesday that the slayings in a northern border city last month were impermissible and that soldiers involved were being
were being
turned over for prosecution.
Video from a store security camera that was published this week showed a black pickup truck crashing full speed into a wall in Nuevo Laredo. A military truck apparently pursuing it arrived shortly thereafter and ran into the passenger side of the pickup.
The occupants of the truck were dragged out, kicked and forced up against a wall. They were later found dead.
Apparently this was an execution, and that cannot be permitted, Lpez Obrador said at his daily news briefing. Those responsible are about to be turned over to the appropriate authorities."
Mexico opens homicide probe, names 8 guards as suspects in fire that killed 39 migrants
Lpez Obrador has given the military an unprecedented role in areas as diverse as law enforcement and infrastructure projects, as well as running trains and airports. He has
staunchly
repeatedly defended the army's honesty, but the military continues to be dogged by complaints of human rights abuses, especially in Nuevo Laredo, across from Laredo, Texas.
The Defense
Department
Ministry issued a statement late Tuesday saying it was cooperating with civilian prosecutors in the case and had started an investigation of possible violations of the military code. Under Mexican law, abuses by soldiers involving civilians go through civilian courts.
The video, originally reported Tuesday evening by U.S.-based Univision and Spains El Pais newspaper, is apparently security camera footage showing the daytime incident in Nuevo Laredo.
In the video, after chasing and crashing into the pickup, soldiers pull five men from the pickup, disarm and kick them, and then line them up against the wall.
Soldiers then turn back toward the road and appear to open fire. Their apparent attackers are out of frame. Some soldiers, while sheltering behind the pickup, turn their guns on the men against the wall.
Later, the soldiers walk around the scene calmly. One, using a red bag apparently to avoid leaving fingerprints picks up guns and places them next to the bodies.
Three Americans among 10 killed in Baja California car rally ambush
The incident would be at least the second case of apparently extrajudicial killings in Nuevo Laredo this year. On Feb. 26, soldiers killed five young men who were riding inside a vehicle.
The men were apparently unarmed and in a report, Mexicos governmental human rights agency said the soldiers had fired into the vehicle without giving verbal orders for it to stop. Angry neighbors attacked the soldiers, beating some of them.
In April, federal prosecutors charged four soldiers
involved
with homicide.
That month, a human rights organization in Nuevo Laredo sent a formal complaint to
President Andrs Manuel
Lpez Obrador. In it, a man said National Guard troops had fired on his vehicle in Nuevo Laredo, killing his pregnant 15-year-old girlfriend and a 54-year-old friend and wounding two people. A law enforcement crime scene report
on the incident
largely corroborated the account of the shooting in the complaint.
Lpez Obrador says the army has changed since the killing of 22 suspects at a grain warehouse in Tlatlaya in the state of Mexico in 2014.
Although some of the 22 died in an initial shootout with an army patrol in which one soldier was wounded a human rights investigation determined that at least eight and perhaps as many as a dozen suspects were executed after they surrendered.
Seven soldiers were arrested, freed and then arrested again years later on suspicion of abuse of authority.