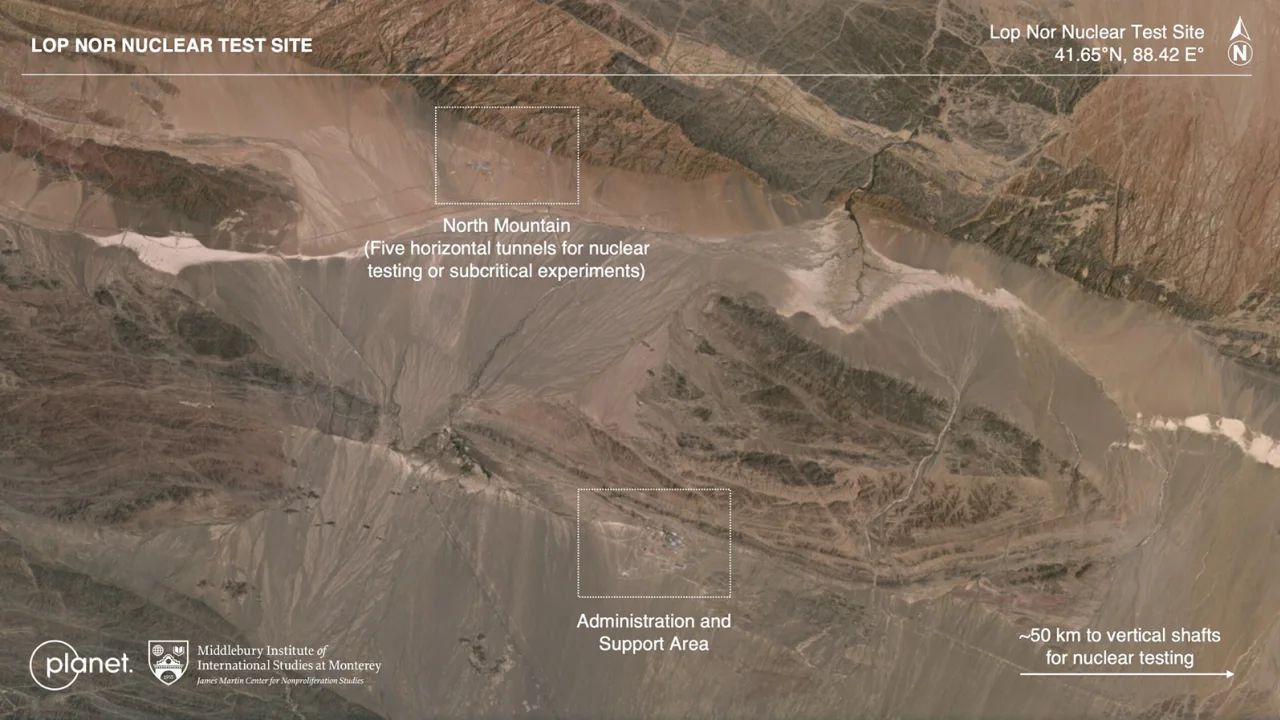 New Delhi: Satellite images show that China at its nuclear test sites have built new facilities and dug new tunnels over the years, CNN reported. While there is no proof to back up the argument that suggest China is preparing for an imminent nuclear test. China is operating its nuclear test site at Xinjiang region.
Over the past three to five years, as per the satellite images, new roads and storage facilities, new tunnels under mountains, as well as increased vehicle traffic coming in and out of the sites, CNN quoted Jeffrey Lewis, an adjunct professor at the James Martin Center for Nonproliferation Studies at the Middlebury Institute of International Studies. China has signed the 1996 Comprehensive Nuclear Test Ban Treaty.
Increased activity was also witnessed at Chinese nuclear test site in Lop Nur, which is a dried up lake between two deserts in Western China. Satellite images show a new, fifth underground tunnel has been under excavation in recent years, and fresh roads have been built. A comparison of the images taken in 2022 and 2023 shows the spoil pile has been steadily increasing in size, leading analysts to believe tunnels are being expanded, Lewis said, CNN reported.
In addition, the main administration and support area has seen new construction projects. A new storage area was built in 2021 and 2022, which could be used for storing explosives, he said. "The Chinese test site is vast, and there are many different parts of it. Looks really busy, and these things are easily seen in satellite imagery. If we can see them, I think the US government certainly can," he added.
Sasakawa Peace Foundation's China Observer project, a group of China experts in Japan also witnessed Increased activity at Lop Nur in April. Post analysis of the photos, group said China's "possible goal is to conduct subcritical nuclear tests," CNN reported.
In a statement to CNN, Foreign Ministry of China criticised the report as "hyping up 'China's nuclear threat'," and described it as "extremely irresponsible."
Notably, China's nuclear arsenal has increased from 350 warheads in January 2022 to 410 in January 2023.
"The increasing size, accuracy, readiness, and diversity of China's arsenal bolsters the credibility of the country's ability to threaten retaliation for a nuclear strike and enables China to make more credible threats to use nuclear weapons first," Fiona Cunningham, a nonresident scholar in the Nuclear Policy Program at the Carnegie Endowment for International Peace, wrote in the ACA's monthly journal in August that Beijing's nuclear stance is hard to discern.
As per United Nations, China has conducted a total of 45 tests between the year 1964 and 1996.