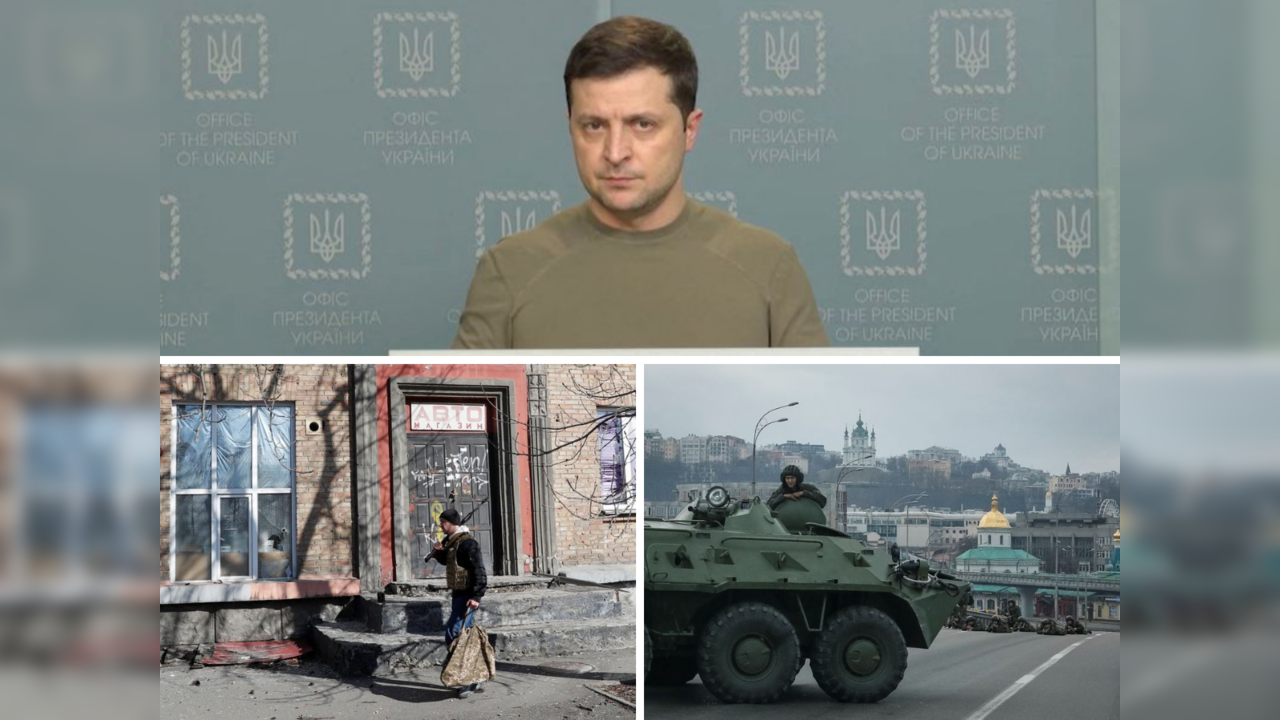 Feb 26, 2022 | 05:03PM IST
The Embassy of India in Slovakia issues advisory for evacuation through Uzhhorod-Vysne Nemecke border
Feb 26, 2022 | 05:03PM IST
Zelenskyy urges Russians to pressure Putin into halting war
Ukrainian President Volodymyr Zelenskyy has announced that Ukraine has "derailed" Russia's attack plan and urged Russians to pressure Putin into halting war. He further issued an appeal to Germany and Hungary to support cutting Russia from SWIFT.
Feb 26, 2022 | 04:43PM IST
'France ready to supply weapons and military equipment to help Ukraine defend itself'
Feb 26, 2022 | 04:37PM IST
100,000 Ukrainians cross border into Poland
Polish Deputy Interior Minister Pawel Szefernaker on Saturday said 100,000 people have crossed the border into Poland from Ukraine since Russia's invasion this week. "From the onset of warfare in Ukraine through today, along the entire border with Ukraine, 100,000 people have crossed the border from Ukraine into Poland," Szefernaker told reporters in the border village of Medyka, southeastern Poland. He said 90 per cent of the refugees have concrete places to go in Poland, such as the homes of friends or family, but that the remainder are seeking help at nine reception centres set up along the border.
Feb 26, 2022 | 04:30PM IST
Russian forces continue their advance on Kyiv, 30 km away from city centre
Feb 26, 2022 | 04:10PM IST
We are controlling Kyiv and key points around the city: Ukraine President
"We are controlling Kyiv and key points around the city. Who wants to come and help us do, we will arm you. We need to stop this war, we can live in peace," says Ukraine President Vladimir Zelenskyy.
Feb 26, 2022 | 03:44PM IST
Jaishankar assures CM Bommai full cooperation in evacuating Indians stranded in Ukraine
External Affairs Minister S Jaishankar on Saturday assured Karnataka Chief Minister Basavaraj Bommai full cooperation and support from the Government of India to evacuate people from Karnataka who are stranded in Ukraine. The Karnataka State Disaster Management Authority (KSDMA), led by its commissioner Dr Manoj Rajan, said in a statement that Bommai called Jaishankar and spoke regarding the stranded people from the state, most of whom are students.
Feb 26, 2022 | 03:35PM IST
This is the beginning of a new page in the history of our states. Italian PM Mario Draghi in a phone conversation supported Russia's disconnection from SWIFT, the provision of defense assistance. Ukraine must become part of the EU.
– Volodymyr Zelenskyy
Feb 26, 2022 | 03:32PM IST
More allies have come forward with defensive and humanitarian aid: UK PM
Feb 26, 2022 | 03:27PM IST
198 Ukrainians killed, more than 1,000 wounded in the Russian offensive
The Ukrainian health minister says that 198 people have been killed and more than 1,000 others have been wounded in the Russian offensive.Health Minister Viktor Lyashko said Saturday that there were three children among those killed. His statement made it unclear whether the casualties included both military and civilians.
Feb 26, 2022 | 03:21PM IST
Dutch move Ukraine embassy to Poland
The Dutch ministry of foreign affairs said Saturday it was moving its embassy in Ukraine to Poland to ensure the safety of its staff after Russia's invasion of the pro-Western country. "Foreign affairs minister Wopke Hoekstra has decided that ambassador Jennes de Mol and his team will immediately move to Jaroslaw, on the Polish side of the border with Ukraine, to continue their work there," the ministry said in a statement.
Feb 26, 2022 | 03:20PM IST
Rajasthan to reimburse airfare of students of state returning from Ukraine
Rajasthan Chief Minister Ashok Gehlot on Saturday said his government will reimburse the airfare of students from the state who are returning from Ukraine at their own expense. "Instructions have been given by the government of Rajasthan to facilitate the safe return of Rajasthanis arriving at Delhi, Mumbai and other airports. For this, the Rajasthan Foundation will co-ordinate," he said.
Feb 26, 2022 | 03:18PM IST
Reassure all parents to have faith in GoI: Assam CM
Assam Chief Minister Himanta Biswa Sarma speaks to EAM Jaishankar on the safety of Indian students in Ukraine. "He informed me that MEA is working closely with the Indian Embassy for expeditious evacuation of students and residents incl those from Assam. I reassure all parents to have faith in GoI," the CM added.
Feb 26, 2022 | 03:15PM IST
'Remember this day 26th Feb in your life…': Indian Ambassador in Romania to Indians evacuated from Ukraine
Feb 26, 2022 | 03:08PM IST
Polish Ambassador to India calls Ukrainians patriotic people fighting for their country
The aggressive action by Russia in Ukraine has created a major problem for our citizens too. Indians who have escaped the Russian bombs in Ukraine, we are helping them cross into Poland, said Ambassador of Poland to India, Adam Burakowski. "Poland stands with Ukraine, we condemn the Russian aggression. Ukrainians are very patriotic people who are fighting for their country," he added.
Feb 26, 2022 | 03:03PM IST
Govt working day & night to evacuate everyone: Indian Ambassador in Romania to evacuated Indians from Ukraine
Feb 26, 2022 | 02:50PM IST
Poland and other countries supplying Ukraine with weapons
Feb 26, 2022 | 02:48PM IST
Congress' Venugopal urges EAM to ensure coordination at Hungarian, Romanian points for evacuation of Indians from Ukraine
Feb 26, 2022 | 02:20PM IST
MoE appeals to Indian students stranded in Ukraine to follow guidelines issued by MEA, embassy
The Ministry of Education (MoE) appealed to the Indian students stranded in Ukraine on Saturday to follow all the guidelines issued by the Ministry of External Affairs (MEA) and the Indian embassy. It also assured the students that all possible efforts are being made by the government to bring them back from Ukraine.
Feb 26, 2022 | 02:19PM IST
CM Stalin speaks to stranded Tamil Nadu students in Ukraine
Tamil Nadu Chief Minister M K Stalin on Saturday spoke to some of the students from the state stranded in Ukraine, against which Russia has mounted a military offensive since February 24.Stalin spoke to three students, hailing from Erode, Tiruchirappally and Tuticorin districts, via video call and enquired about the prevailing situation there, an official release here said.