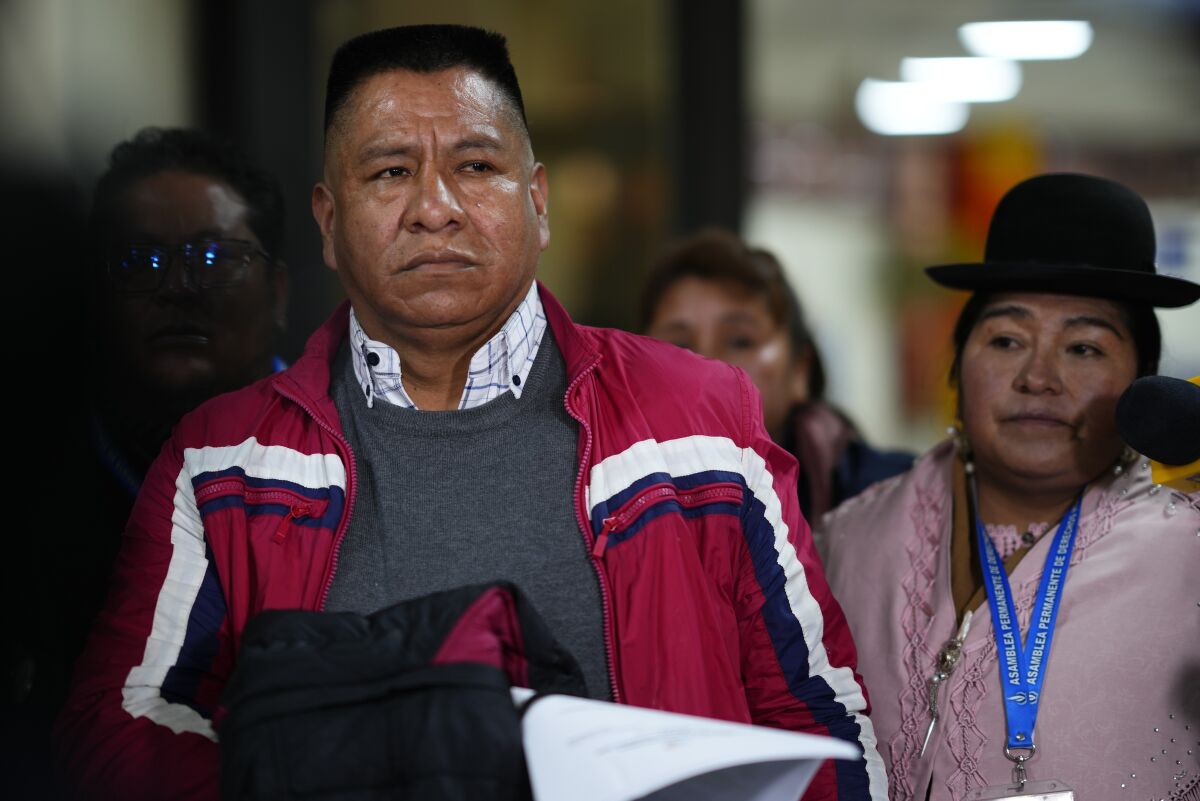 Pope sends top Vatican official to Bolivia as sex-abuse allegations escalate
Mexico & the Americas
CARLOS VALDEZ
May 23, 2023
Pope Francis has sent one of his top sex-crimes investigators to Bolivia at a time when the Andean nation is being shaken by an escalating pedophilia scandal involving priests.
Monsignor Jordi Bertomeu, a leading member of the church's Dicastery for the Doctrine of the Faith, arrived in Bolivia on the same day as a former Jesuit seminarian landed in the country vowing to reveal more information about alleged cases of abuse.
The Bolivian Episcopal Conference said Bertomeus visit is not directly related to the recent sex-abuse allegations but had been planned earlier to analyze the progress made in the field of the culture of prevention promoted by the Vatican.
Bertomeu arrived in Bolivia from Paraguay, where he had been investigating similar accusations against church officials. In 2018, he led the investigation into abuses committed by priests against minors in Chile.
The meetings in Bolivia will be conducted in an atmosphere of profound closeness to all those who have been victims of the scourge of abuse in the Church, the Episcopal Conference said in a statement.
Bertomeu is a person of great trust to Pope Francis, who is responsible for addressing these issues, and he is coming to provide some guidance on how we can handle this issue, listen to and support the victims, said Monsignor Giovani Arana, the Episcopal Conference's secretary.
Shattered: A Catholic community confronts its founder's lies and sexual abuse
The visit comes soon after the case of Spanish Jesuit Alfonso Pedrajas became public. According to a private diary accessed by the Spanish newspaper El Pas, Pedrajas allegedly abused about 85 minors in Roman Catholic boarding schools in Bolivia in the 1970s and 1980s. He died of cancer in 2009.
The Bolivian Prosecutors Office has initiated an investigation, which remains confidential, and has called on victims to file complaints.
The Jesuit Society in Bolivia has apologized to the victims and pledged to support the investigation while denouncing Pedrajas' superiors for an alleged cover-up. Many of the superiors are no longer in office or have died.
Pedro Lima, a former Bolivian Jesuit seminarian considered an important witness, has vowed to cooperate with the investigation. His arrival in Bolivia coincided with Bertomeu's.
Report details 'staggering' church sex abuse in Maryland
I am not only a witness but also a victim of abuses of power, sexual abuse and abuse of conscience by the Jesuit Society in Bolivia, Lima said upon his arrival in the Bolivian capital of La Paz on Monday to testify before the Prosecutors Office.
During a news conference, Lima accused three Jesuits of covering up the alleged abuses.
Apologies are not enough; these abuses cannot go unpunished. There must be reparation for the victims, and I am here to ensure that these painful events never happen again, said Lima, who declined to provide details about the alleged abuses he suffered.
Limas assertions were questioned by the lawyer for the Jesuits, Audalia Zurita, who said Lima was in a position to denounce the alleged abuses in 2006 and 2007 as a member of the Constituent Assembly that reformed Bolivia's constitution, yet did not do so.
Pope expands churchs sexual abuse law to cover lay leaders
Lima left the Jesuit Society, where he was a teacher in schools and boarding houses, in 2001 and turned to politics. In 2012, he left the country claiming political persecution by the Movement Toward Socialism party, and sought refuge with the Jesuits in Paraguay, where he worked until recently.
Of course, I worked with the Jesuits in Paraguay. Having worked with them does not mean that I should remain silent. … When I wanted to denounce, they said there were no victims, no evidence, he said.
Pedrajas case has brought other previously unresolved cases to light. Prosecutor Wilfredo Chvez stated that there are 23 priests implicated in pedophilia in the country, including one who was sent to pre-trial detention for three months last week.
There have been isolated protests in some churches and Catholic schools in Bolivia since the Pedrajas case came to light.