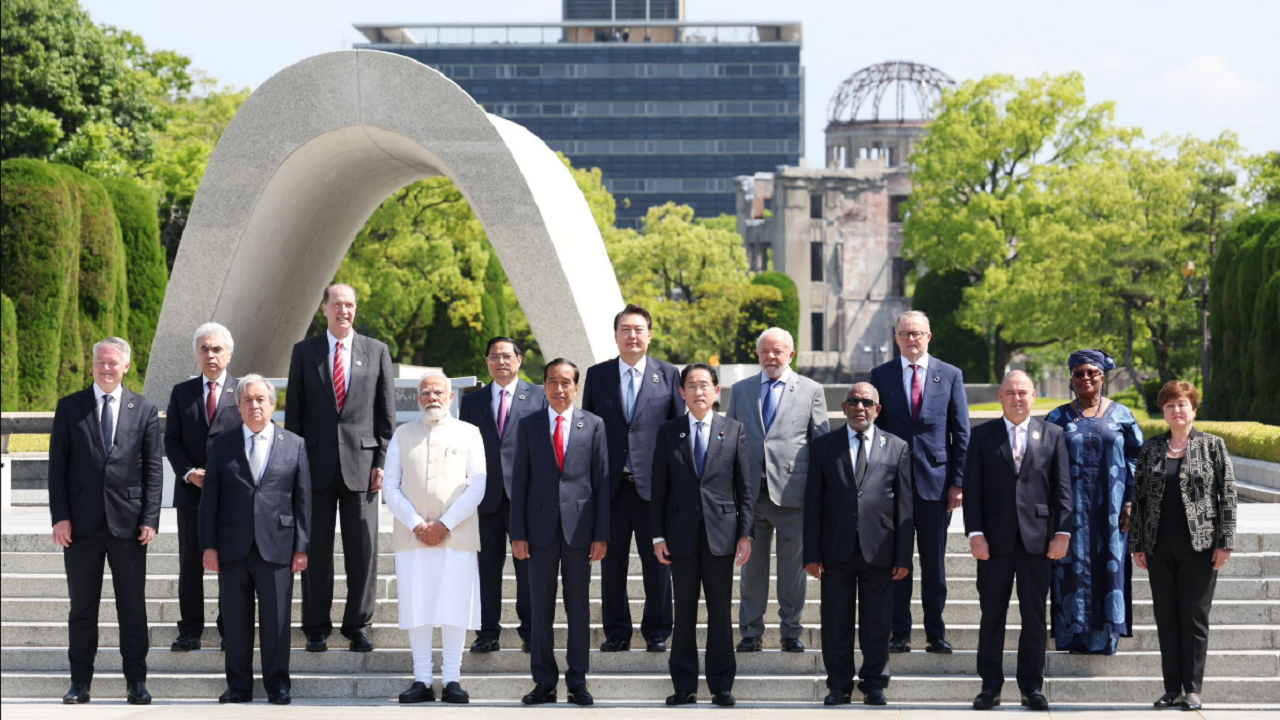 Horoshima: Prime Minister Narendra Modi, who is on a three-day visit to Japan to attend the ongoing G7 Summit, visited the Peace Memorial Museum in Hiroshima built in memory of those who died in a nuclear attack at the end of the second World War and signed the visitor's book. He also held a bilateral meeting with his British counterpart Rishi Sunak today.
Japan is hosting the G7 summit as the current chair of the powerful grouping. PM Modi is in Hiroshima for the G7 summit from May 19 to May 21. On Saturday, PM Modi reviewed the full range of relations between India and Japan during his bilateral meeting with his Japanese counterpart Fumio Kishida.
The prime minister first visited Hiroshima in Japan from May 19 to 21 to participate in the annual summit of the G7 advanced economies under the Japanese Presidency. From Japan, Modi will travel to Port Moresby in Papua New Guinea where he will host the third summit of the Forum for India–Pacific Islands Cooperation (FIPIC) on May 22 jointly with Prime Minister James Marape.
PM Modi's Japan Visit: Day 2
PM Visits Peace Memorial Museum: Prime Minister Narendra Modi began his day by visiting the Peace Memorial Museum, where he observed the documented exhibits and signed the visitor's book. PM Modi paid tribute to the memory of Hiroshima victims at Peace Memorial Park in Hiroshima, Japan.
PM Modi Meets Rishi Sunak: Later, Prime Minister Narendra Modi held a bilateral meeting with his United Kingdom counterpart Rishi Sunak in Hiroshima. The two leaders reviewed their Strategic Partnership, including took stock of progress in India-UK FTA negotiations.
PM Modi tweeted, "The meeting with PM Rishi Sunak was a very fruitful one. We discussed boosting cooperation in trade, innovation, science and other such sectors."
PM Modi Meets Brazil President: Prime Minister Narendra Modi held bilateral talks with Brazilian President Luiz Inácio Lula da Silva in Hiroshima. The two leaders discussed ways to further deepen the India-Brazil Strategic Partnership, especially in sectors of defence production, trade, pharmaceuticals, agriculture, dairy & animal husbandry and renewable energy. They also exchanged views on regional developments and cooperation in multilateral platforms.
When President Biden & PM Albanese complained to PM Modi about their peculiar challenge
Yesterday during the Quad meeting, President Joe Biden came up to PM Modi and told that he's been facing a challenge with a deluge of requests from prominent citizens to attend the program of PM Modi.
To this PM Albanese added that there is a capacity of 20,000 for the Community reception in Sydney but he is still not able to accommodate the requests he is getting. He remembered how at the Narendra Modi stadium, more than 90k people welcomed him during the victory lap. To this Joe Biden told PM Modi that I should take your autograph.
PM Wears Jacket Made Of Recycled Material: In a message of sustainability, PM Modi wore a jacket made of recycled material at the G7 summit in Japan today. While all other leaders wore a black formal suit, PM Modi chose to stand out in white kurta set.
How PM Modi has used his foreign visit as a vehicle for Indian culture
In Japan, PM unveiled the bust of Gandhi ji at Hiroshima which shall speak of Indian values of peace and non violence. He also met and encouraged a linguist and an artist who are linked to Indian culture.
At Papua New Guinea, he will release the Thirukkural in local lanaguage Tok Pisin. In Australia, an entire locality of Sydney, Harris Park will now be recognised as Little India has a testimony of the growing influence of India and Indians.
Papua New Guinea PM Makes Exception For Modi: In Later in the day, Prime Minister Narendra Modi will leave for Papua New Guinea. The PM of the country will receive him at the airport when he lands today. Normally the country doesn't give a ceremonial welcome for any leader coming after sunset. But a special exception is being made for PM Modi and a full ceremonial welcome will be accorded to him.