Once firmly against emigration, some Iranians are pushing their children to flee
A Times Staff Writer
March 16, 2023
Lida never wanted her children to leave Iran. Even as the 52-year-old retired schoolteacher watched the countrys moribund economic prospects spur more and more young people to leave, she still hoped to spend her retirement years with her son and daughter as they finished their education, got married and started families of their own.
note that there is deliberately no byline (except "staff writer") and no dateline
But between Tehran's brutal clampdown on anti-government protests and a sanctions-crippled economy that continues to crater, she now feels she has little option but to help her children escape the country.
What if my son is killed in the protests like the others? What if my daughter was arrested? I now have nightmares thinking about them staying, said Lida, who, like others interviewed, gave only her first name to avoid reprisals.
She and her husband, also a retired schoolteacher, sold their car and what property they had to fund their childrens studies abroad. Her daughter, 20, has been dispatched to study physiotherapy at a university in Istanbul; her son, 27, is planning to leave for Italy to earn a master's degree in computer science.
I want them
to
be safe, she said. "Their safety is more important than us being together.
Lidas children join a growing exodus out of Iran. Though the country has long suffered brain drain, recent reports indicate that more Iranians are quitting the Islamic Republic than ever before. The director of the Iran Migration Observatory, a semi-governmental agency, recently told local media that the emigration rate over the last four years averaged 65,000 people annually but that the last few months had seen the number rise by more than 50%.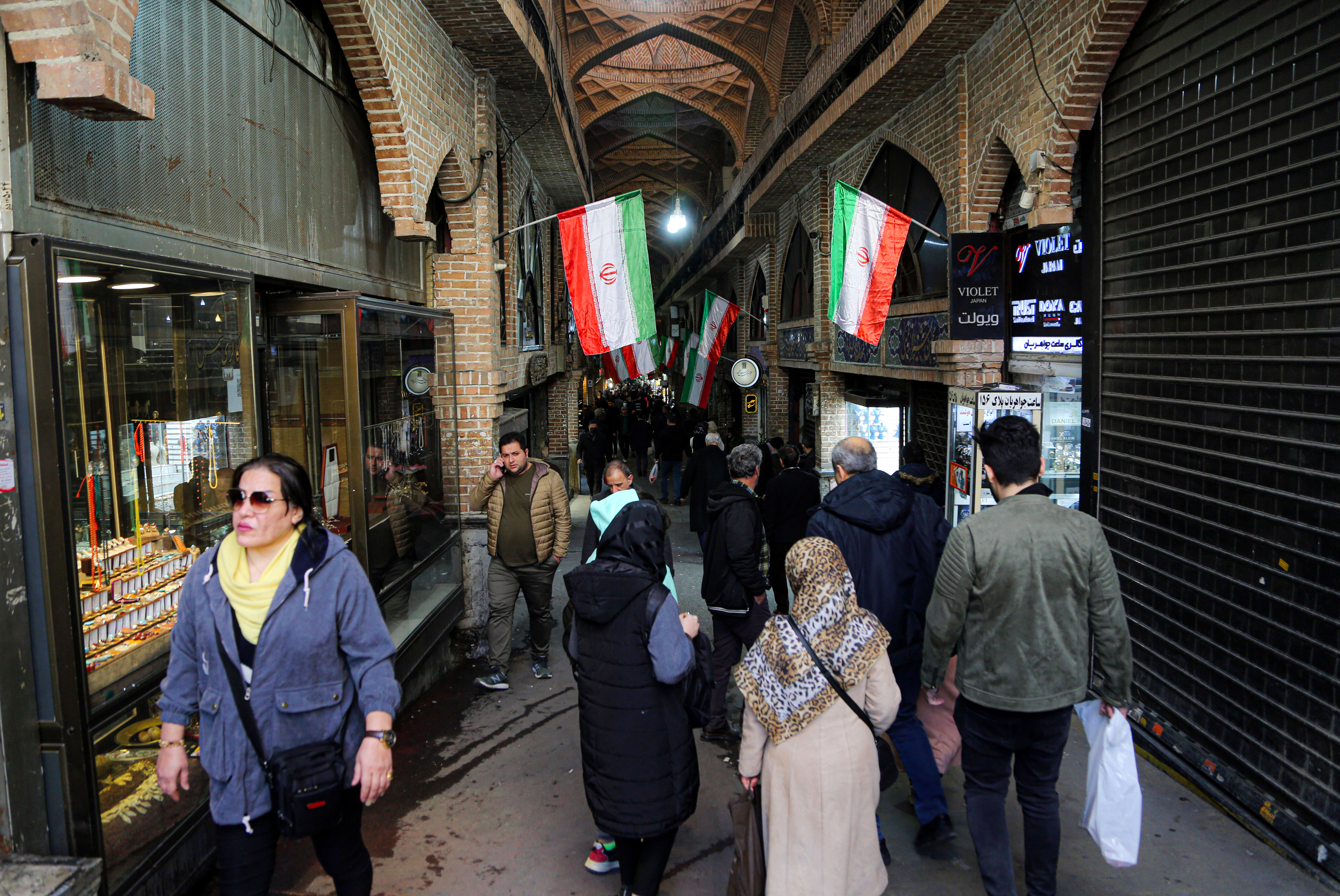 Companies offering emigration services are seeing such a boom in demand that they say theyre turning applicants away, forcing many to turn to human traffickers.
Everyone regardless of their age is looking for an exit plan, said Sasan, a 40-year-old who trains students to take the International English Language Testing System, or IELTS, an English proficiency exam that can be used for immigration applications.
In my two decades of experience, the situation has never been like this. Its absolutely terrifying.
Calls for change in Iran reach even the holy Shiite city of Qom
Sasans colleague Hamid, 39, the director of an IELTS office in Tehran, said nearly 50,000 applicants took the exam in the last 10 months a record for the country.
The effects of the exodus can be seen in the real estate market, with advertisements of apartments for sale in upscale areas increasing even though prices have tumbled. One real estate agent said apartments were selling at 10% to 15% below their real value.
Observers blame the desire to leave on an increasing sense of despair in the country with the hard-line policies of President Ebrahim Raisi. Many see as a turning point his governments crackdown on the massive demonstrations sparked by the death of 22-year-old Mahsa Amini in the custody of Iran's morality police last September unrest that has continued despite estimates of hundreds of demonstrators killed and arrested.
After the protests began, a stream of celebrities, including athletes and artists, left Iran or reported that authorities had banned them from travel after participating in the
demonstrations protests
.
Iran executes two more men detained amid nationwide protests
Meanwhile, negotiations to revive Iran's 2015 nuclear deal with world powers and with it the easing of sanctions to help the economy remain stalled. Inflation and demonstrations have all but paralyzed businesses; recent weeks saw the Iranian currency, the rial, nosedive to 7% of its official value against the dollar on the black market before it rallied in response to last week's news of a diplomatic rapprochement between Iran and Saudi Arabia.
As the government kept limiting access to the internet, online businesses followed suit. The human resources manager at Digikala, one of Irans top online shops, told a local newspaper that a quarter of its employees had left the country.
The most popular destination for those who can afford it is Canada, where the government recently announced legislation aimed at making it easier for Iranians to come into the country. Others head for the United Arab Emirates or Turkey as a passageway to European countries.
And its not just highly educated professionals such as doctors and engineers who want to go.
I have a successful business, but my wife wants to leave here to guarantee a better future for our kids. Its a fact of our society now, said a businessman who gave his name only as Vaziri and who had come to the IELTS office to reserve a session.
Though his English was not fluent, Vaziri was hoping to score high enough on the test to enter a postdoctoral program in Canada this year.
In Iran, a public suicide spotlights anguish over economy
Ive already failed before, but my wife insists we dont give up. Many of my friends have already left, he said, adding that if he didnt do well on the test, he would set his sights on leaving
to for
Dubai or Turkey.
My parents were always against emigration, but after everything in the last few months theyre pushing me nonstop to leave, added 28-year-old IT graduate Mohammad, who is trying to reach Italy.
He doesn't consider himself an excellent student, but the challenge of living under a government constantly at odds with the international community has become too much.
I don't want to live under sanctions and threat of war, Mohammad said.
The government has taken various measures to stanch the flow. In an interview with the state-run Islamic Republic of Iran News Network, Rouhollah Dehqani Firouzabad, the countrys vice president for science, technology and the knowledge-based economy, said the state would offer free housing, university jobs and lucrative projects to elites willing to return to Iran.
But it has also placed obstacles before those who want to leave. It recently raised the price for a Certificate of Good Standing, a government document Iranians must have to be able to leave the country, along with the fee for issuing university diplomas. Upcoming
IELTS testing dates were suspended last month, but are expected to return with significantly higher fees attached.
But thats unlikely to stop people, said Hamid, the IELTS office director.
The moment they announced the suspension of IELTS, our website had hundreds of applicants booking all available seats before the cutoff, he said. This will only make emigration more expensive, nothing more.
Iran is urging people to have babies and making life hard for those who don't want to
Some have resorted to trafficking networks, paying anywhere from $12,000 to $15,000 to try to reach Europe via Turkey. Soon after the anti-government protests broke out last year, Yahya, 56, who runs a human smuggling ring in the western province of Urmia, says his clients more than tripled in number, before the rial's tumble in February brought that total back down because dollars became more expensive.
Lida, the retired schoolteacher, is watching her circle of family and friends disintegrate. Several of her former colleagues have sent their children to Turkey, and every few months brings word of a friend or relative going to Canada.
Her sister recently said she would apply to go there as well.
Lida is still hoping her son will soon depart for Italy to study, though she hates the idea of his leaving.
I know I'm going to be depressed when he goes, she said. I see all my life gone.