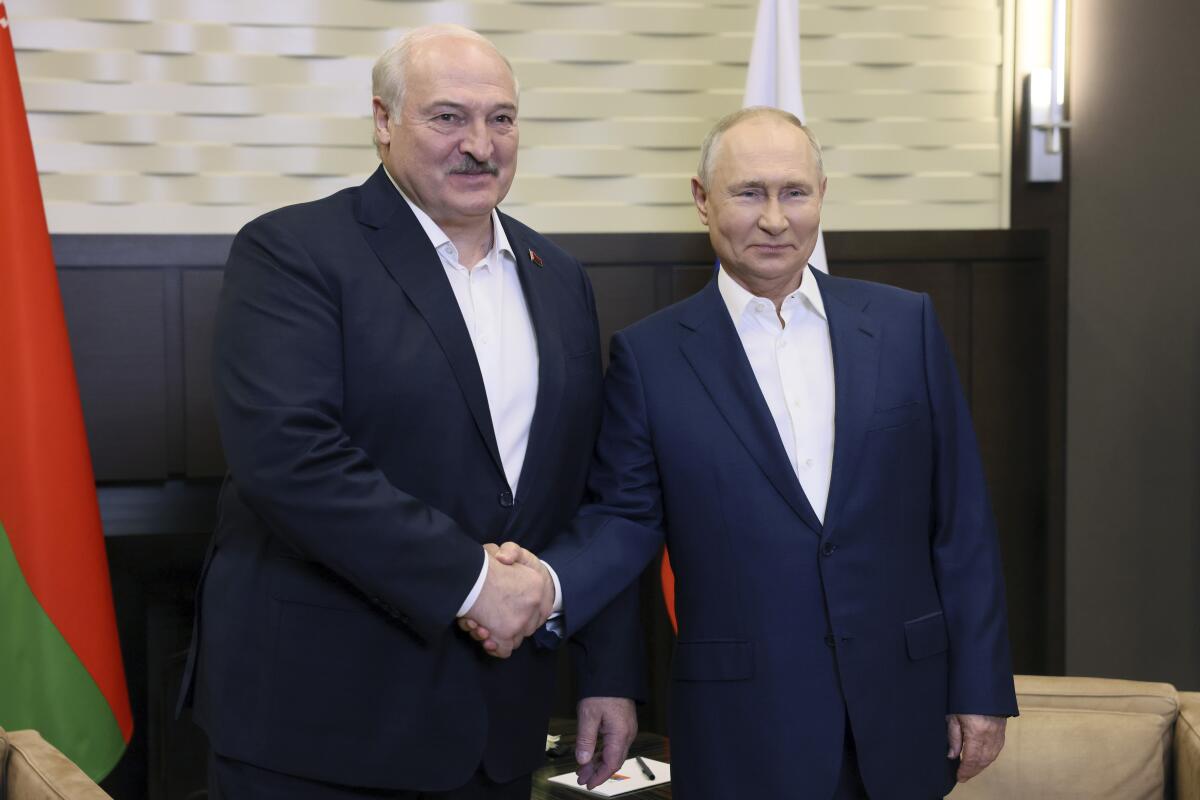 More than 2,400 Ukrainian children taken to Belarus, a Yale study finds
Ukraine
YURAS KARMANAU
Nov. 19, 2023
More than 2,400 Ukrainian children aged 6-17 have been taken to Belarus from four regions of Ukraine that are partially occupied by Russian forces, a study by Yale University has found.
The study, released last week by the Humanitarian Research Lab of the Yale School of Public Health, which receives funding from the U.S. State Department, found that Russias systematic effort to identify, collect, transport, and re-educate Ukraines children has been facilitated by Belarus," and is ultimately coordinated between Russian President Vladimir Putin and Belarus authoritarian leader, Alexander Lukashenko.
"Belarus direct involvement in Russias forced deportation of children represents a collaboration" between the two, with various pro-Russia and pro-regime organizations facilitating the deportation of children from Ukraine, the research said.
According to the study, at least 2,442 children, including those with disabilities, were taken to Belarus from 17 cities of the Donestk, Luhansk, Kherson and Zaporizhzhia regions of Ukraine between Feb. 24, 2022, and Oct. 30, 2023. The effort is described in detail in the 40-page report.
From the occupied Ukrainian regions, the children were taken to the southern Russian city of Rostov-on-Don, and then put on a train to Belarus, the study said. The transportation was funded by the Belarusian government, and state organizations were involved per Lukashenko's approval.
A total of 2,050 Ukrainian children were taken to the Dubrava children's center in the Minsk region of Belarus, and the other 392 were brought to 13 other facilities across the country, according to the report. There, the children were subjected to reeducation and military training, including with Belarus' law enforcement and security services, the report said.
It also named several key players involved in the effort, including Belarusian public figure Alyaksei Talai, Belarus state-owned potash producer Belaruskali, the Belarusian Republican Youth Union, and pro-Russia ultranationalist motorcycle clubs.
Ukrainian authorities have said they're investigating the deportations as possible genocide. Ukraine's prosecutor general said Belarus' role in forced deportations of more than 19,000 children from the occupied territories is also being investigated.
Earlier this year, the International Criminal Court indicted Putin and his childrens rights commissioner, Maria Lvova-Belova, for their alleged involvement in war crimes connected to the deportation of children from Ukraine and issued arrest warrants for them. Belarusian opposition representatives have been seeking a similar indictment for Lukashenko.
Pavel Latushka, a former Belarusian minister turned opposition leader in exile, said he has handed evidence to the ICC implicating Belarus' president.
Latushka told the Associated Press on Friday that the Yale report complements the data he and his team have gathered with additional horrible details and raises the question of international criminal prosecution of the main Belarusian criminals that organized unlawful transfer of Ukrainian children to Belarus."
Democracy wins when there is accountability, and Lukashenko and his associates commit thousands of crimes against Belarusians and Ukrainians, Latushka said.
The U.S. State Department, in a statement announcing the Yale report Thursday, said Washington will continue to pursue accountability for actors involved in abuses connected with Russias war against Ukraine.