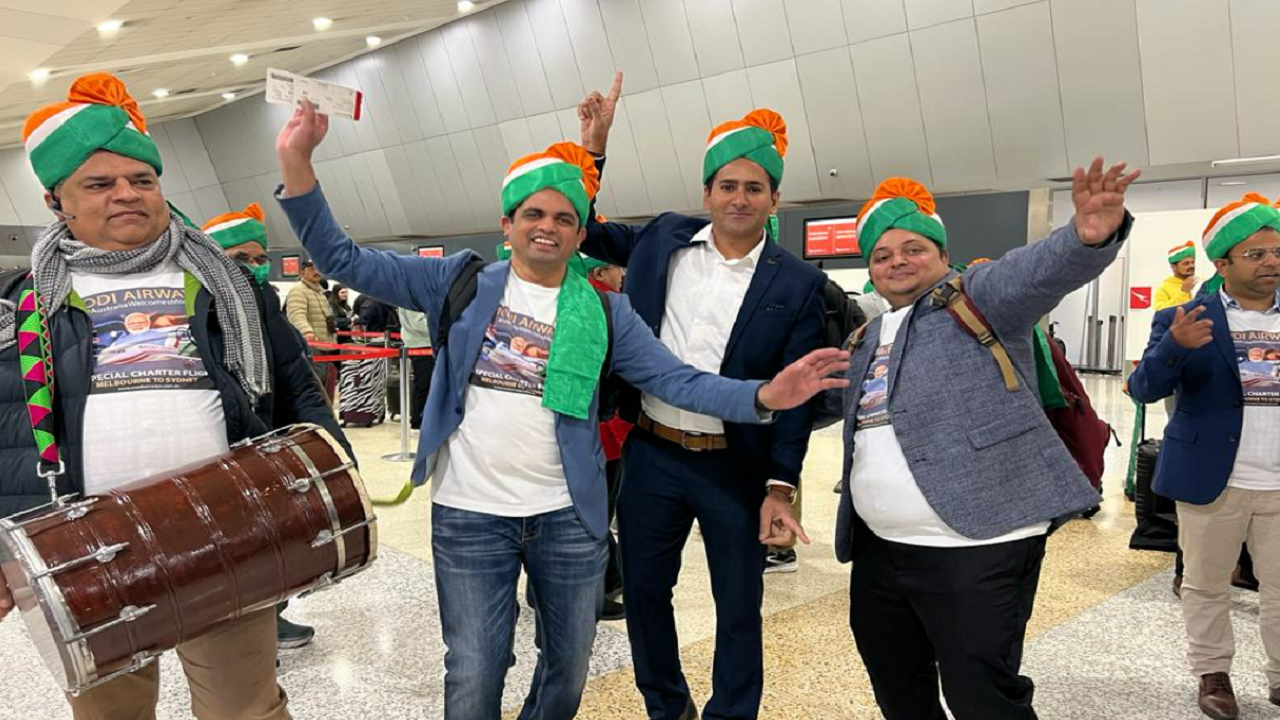 Sydney: A plane full of members of the Indian diaspora from across Australia headed from Melbourne to Sydney for an event of Prime Minister Narendra Modi. As many as 170 NRIs onboard the flight danced their way as they headed for the big event.
Elated members of Indian Australian Diaspora Foundation (IADF) sported tri-colour-themed turbans and waved national flags. They danced their way to the flight named by the Prime Minister's supporters as "Modi Airways".
The IADF is organising the event to celebrate Australia's dynamic and diverse Indian community, "a core part of our multicultural community", the Australian government said in a statement. Dr Amit Sarwal, co-founder of IADF, said, "a lot of people are waiting outside the event venue also, where they will be cheering for PM Modi."
'Modi Airways', a plane full of members of the Indian diaspora from across Australia, lands in Sydney ahead of PM Modi's address to the diaspora later today – Watch. pic.twitter.com/wiOyrojwwS

— TIMES NOW (@TimesNow) May 23, 2023
PM Modi received a warm welcome in Sydney and a video showed 'Welcome Modi' spelt by a recreational aircraft's contrails before the community event in Sydney, Australia. A grand event is being organised at the Qudos Arena in Sydney Olympic Park for the Prime Minister to address the Indian community in Sydney.
PM Modi's Australia Visit
PM Modi landed in Sydney on Monday for his two-day trip. During his trip to Australia, he will hold talks with Anthony Albanese and attend a community event to celebrate the Indian diaspora in the country. After landing in Sydney, he received a warm welcome by the Indian community and will participate in various programmes over the next two days.
He kickstarted his Sydney visit today and met Australian CEOs. The Prime Minister met Dr Andrew Forrest, Executive Chairman of Fortescue Future Industries. He also held meetings with Nobel laureate Brian Paul Schmidt and Australian singer Guy Sebastian among others.
After his meeting with PM Modi in Sydney, Australia, Dr Andrew Forrest, Executive Chairman of Fortescue Future Industries says, "…Fossil fuel sector has only limited time to run and it must be replaced with a fuel which causes no harm and can do everything which coal, oil and gas can do. That is something that PM is clearly a global champion on and I found the PM to be the global govt partner of the global industry partner to promote green hydrogen across the world…"