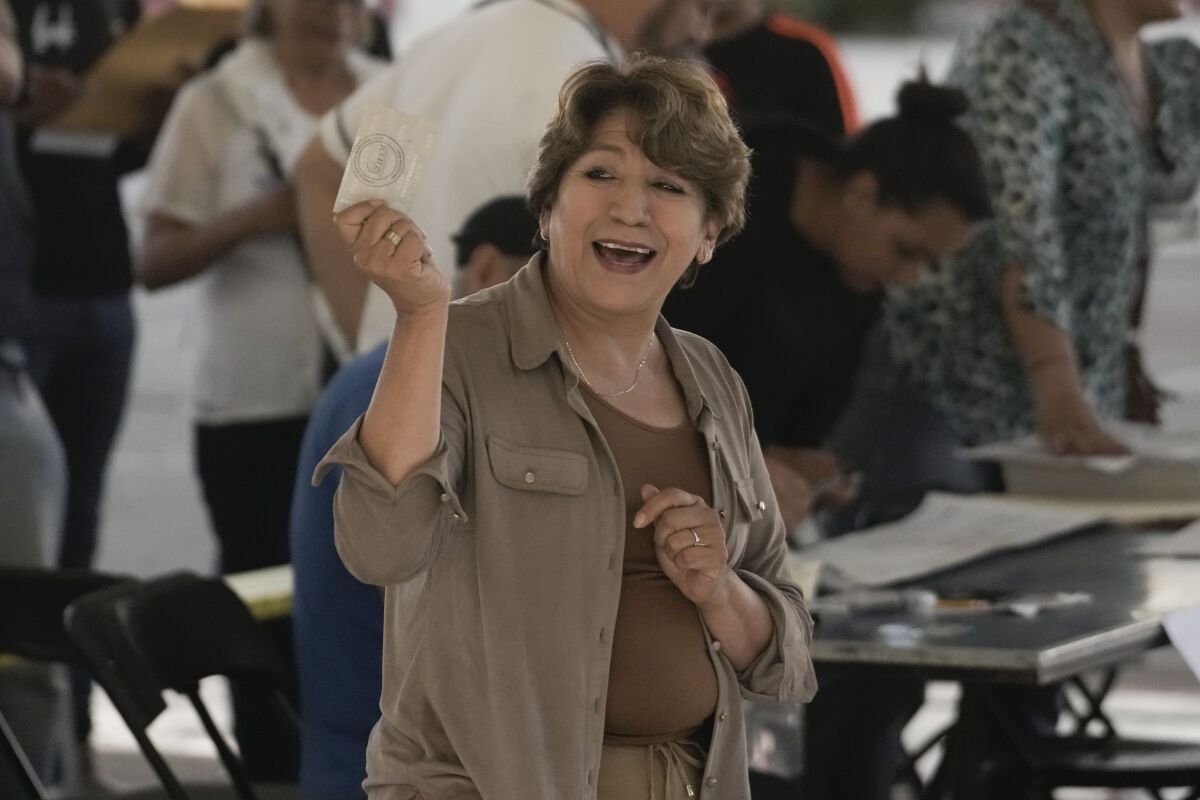 Mexico president's ruling party forecast to win governorship of country's most populous state
LISSETTE ROMERO
June 4, 2023
A quick-count sampling of votes for governor of Mexico's most populous state suggested a victory late Sunday for the candidate from the governing party of President Andrs Manuel Lpez Obrador, which would end nearly a century of uninterrupted rule by the Institutional Revolutionary Party.
Preliminary results indicated Delfina Gmez of the Morena party was likely to win between 52.1% and 54.2% of the ballots in the state of Mexico, compared with 43% to 45.2% for Alejandra del Moral, representing the opposition coalition, according to the National Electoral Institute.
The forecast was based on representative sampling of voting stations with at least 95% certainty. The outcome will not be final until all ballots are counted. Participation was between 48.7% and 50.2% of eligible state voters.
The state of Mexico hugs Mexico City on three sides, encompassing urban sprawl and rural ranches, as well as stunning inequality, violence and corruption. For decades it has been the heart of the Institutional Revolutionary Party.
But voters appeared ready to finally oust the PRI in favor of Lpez Obradors Morena party in a race closely watched as a preview of the 2024 presidential election.
Both candidates claimed victory immediately after polls closed on a largely uneventful day of peaceful voting.
It is a recurring and very regrettable practice in Mexican elections to win the narrative in the media, said political scientist Georgina de la Fuente, who noted it would be several more hours before electoral authorities announced their preliminary quick count analysis.
Gmez, a schoolteacher making her second bid for the post, had held a healthy lead in recent polling over Del Moral. The former mayor representing the PRI struggled to attract a fed-up electorate bent on change.
Del Moral is not only the PRIs hope. She leads a bizarre coalition including the conservative National Action Party and leftist Party of the Democratic Revolution that have only in common the desire to deny Lpez Obradors party control of Mexicos largest state electoral prize. She voted Sunday in Cuautitlan Izcalli, a suburb northwest of Mexico City.
Gmez has campaigned largely on the far-reaching support for Lpez Obradors popular social programs. She voted early on a warm and sunny Sunday in a school in Texcoco, east of Mexico City.
We want change, for them to pay attention to us, said Rufina Prez, a retiree living in Naucalpan, a suburb west of the capital. They all made us promises …
, PRI, PAN already passed
and we know how it was, she said, expressing confidence that it would be different with Morena in charge.
In Tlalnepantla de Baz, where old warehouses and industrial spaces have given way to apartment complexes north of the capital in recent years, Morena signs and flags were visible, as were those of the PAN and Del Moral, but not the traditional ones of the PRI.
Benito Elizalde, who had retired from patching tires, had always voted for the PRI, but this year said he supported Morena because it gave seniors a better pension.
His daughter, 35-year-old Claudia Elizalde, complained that parties had focused on offering more to retirees, like her father, rather than improving security or health.
Socorro Hernndez was more focused on what the state election could mean on the national political stage. The retiree from Naucalpan said it was very important that she voted Sunday to show disagreement with Lpez Obrador's party.
In Huehuetoca, also north of Mexico City, Alejandra Santillan Torres, a 29-year-old homemaker, said the elections are important so that they take into account the workers.
She said she voted for the governing PRI, as she has in the past.
, because she felt they were doing well.
On Friday, the president said he hoped for a calm vote and was very, very optimistic. His party is also viewed as the favorite in next years presidential election. Even though it has not yet selected its candidate, it has a couple of strong possibilities and the opposition is generally considered to be in disarray.
Voters in the sparsely populated northern border state of Coahuila, where the PRI remains competitive,
also voted for will also select
a new governor Sunday.
But even if the PRI holds on there, the loss of the State of Mexico could spell the end of its political relevance on a national stage, a stunning reversal for a party that ruled Mexico uninterrupted for seven decades.
Morena's national President Mario Delgado complained early Sunday that there was an operation of persecution, harassment and intimidation against the party's supporters in Coahuila. The state government responded in a statement that it was only carrying out normal security operations.