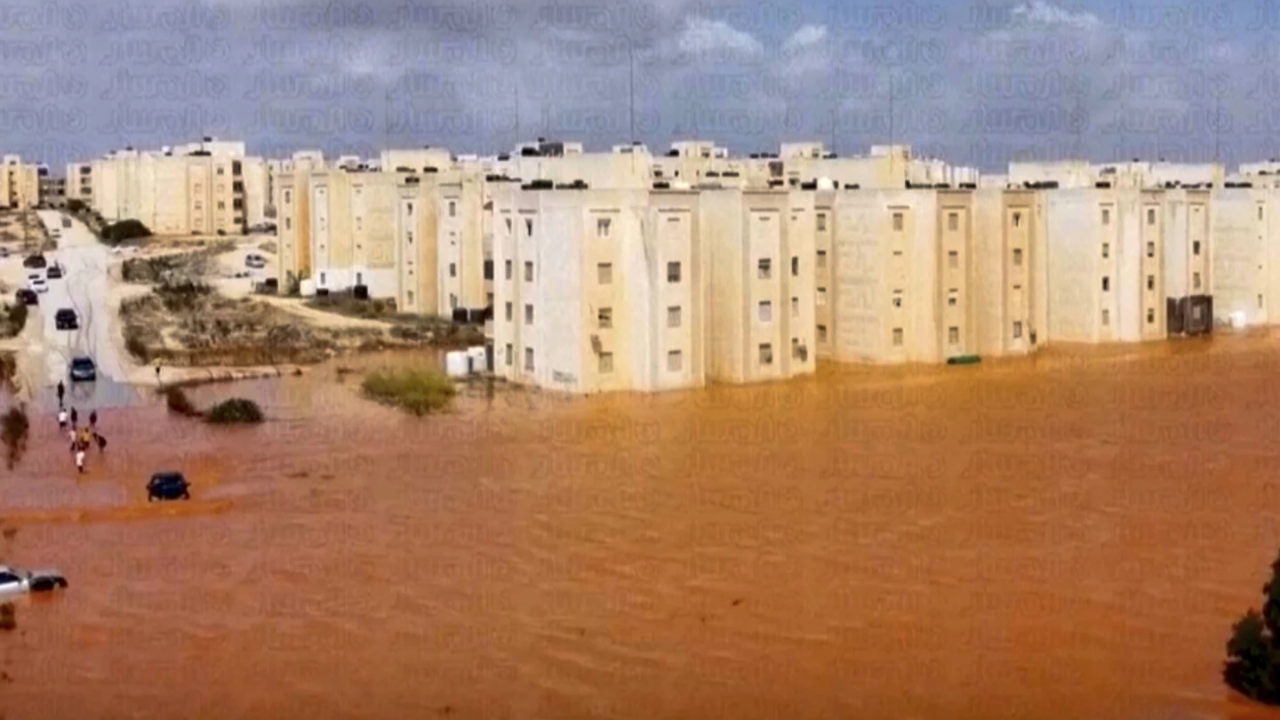 Tripoli: After the flash floods caused havoc in Libya's coastal city of Derna, the country reportedly witnessed its worst humanitarian crisis. The floods triggered by Mediterranean storm Daniel, as per reports, claimed to have killed more than 5,000 people.
As the death toll is rising, shocking visuals of a hospital ward filled with dead bodies have surfaced. The bodies in the video are covered with a white blanket, reported news agency AP. In another image, the bodies were shown piled up together, ready to be buried side-by-side at a graveyard in Derna.
Libya floods: Flooded city buries its dead in mass graves

Bodies recovered from a devastating flood which wiped out parts of the port city of Derna in eastern Libya have been buried in mass graves.

At least 2,300 people died when a tsunami-like river of floodwater swept through… pic.twitter.com/o4biAz0dQn

— Alien.. (@aly_asghar) September 13, 2023
Images of cars drowning in the street and the crucial infrastructure of the city being washed away are also widely shared on social media platforms. According to the eastern Libya Health Minister, half of the 1,500 corpses collected were buried on Tuesday evening.
It has been widely reported that the country's dual administration is held responsible for not being able to effectively manage the situation. The governments ruling the eastern and western parts of the African country are constantly at loggerheads with each other. In their rivalry, they have been accused of not focusing on improving the infrastructure of the country.
The eastern city of Derna has close to 89,000 inhabitants. The city, as per the reports, received aid from outside after 36 hours of the floods. The news agency AP reported that a government official also admitted that the death toll reached over 5,000.
At least one official put the death toll at more than 5,000. More than 5,300 people had died in Derna alone, Mohammed Abu-Lamousha, a spokesman for the East Libya interior ministry, told a local government-funded news agency.
Referring to the situation in the West African nation as "as devastating as Morocco," and that the toll is likely to be higher, Tamer Ramadan, Libya envoy for the International Federation of Red Cross and Red Crescent Societies, told news agency AP. At least 10,000 people were still missing, Tamer informed during a United Nations news briefing. Officials have put the total number of people displaced due to the disaster at 40,000.
In the meantime, UN Secretary-General Antonio Guterres expressed his support for the people of Libya and stated that the international body "is working with local, national, and international partners to get urgently needed humanitarian assistance to those in affected areas," according to UN spokesperson Stephane Dujarric.
(With agencies input)