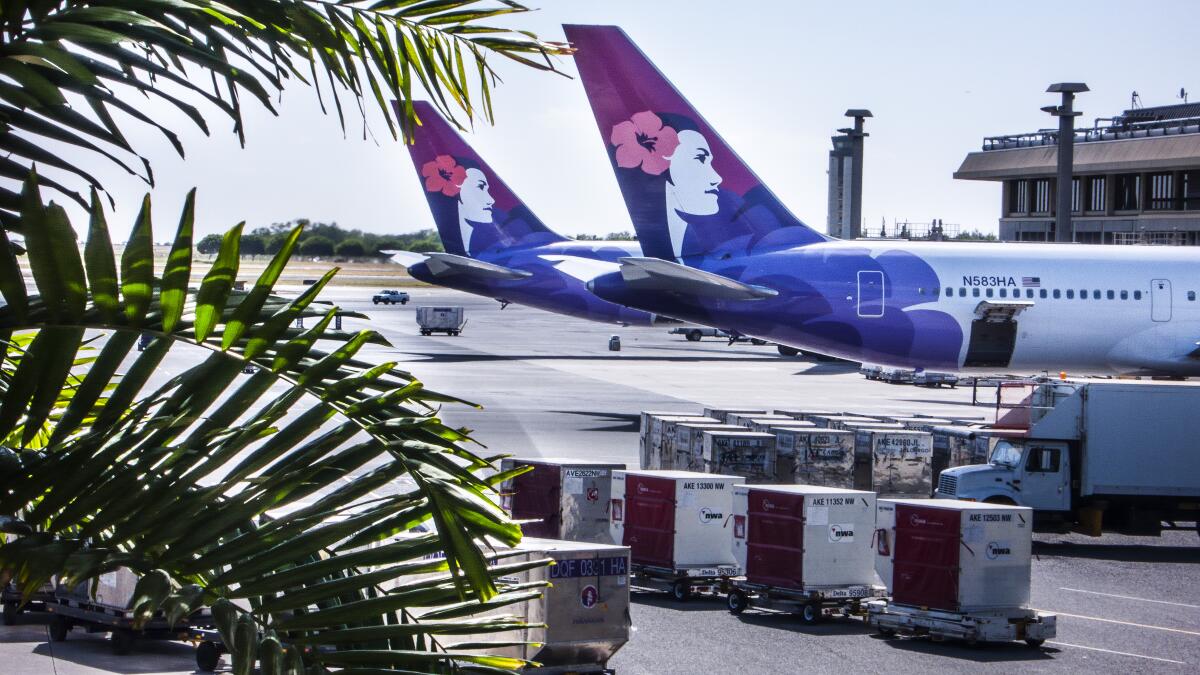 Leinaala Ann Teruya Drummond, whose image helped popularize the iconic Hawaiian Airlines logo, dies at 77
Summer Lin
Sept. 22, 2023
Leinaala Ann Teruya Drummond, a former Miss Hawaii
whose photo image helped popularize
the
iconic and decades-old
Hawaiian Airlines logo, has died.
Drummond died of cancer Monday in Hilo, Hawaii,
at the age of 77 years old,
according to a statement from her family.
She was 77.
Drummond was 18 when she worked for Hawaiian Airlines in 1964, the same year she was named Miss Hawaii.
"Her life will be cherished and remembered every day by spreading the same love, light and aloha she shared with everyone," her family said in the statement.
The pualani, or flower of the sky," logo has adorned the tails of Hawaiian Airlines' planes for decades and has had several iterations over the years. The current version of the famous island girl and the one that most closely resembles Drummond dates back to 1973.
Hawaiian Airlines said in a statement that its pualani logo
was not specifically modeled after Drummond or any other single person. Instead, the airline said that a black-and-white photo of the onetime beauty queen standing next to the tail wing of one of its planes featuring an earlier version of the island girl
"helped further popularize what is now an internationally recognized symbol of our warm and welcoming Hawaiian hospitality."
"Our aloha goes out to Ms. Drummonds ohana," the airline said.
Drummond was born in Puunene on May 28, 1946. She was crowned
won
Miss Hawaii in 1964 and was among the top 10 contestants in the Miss America Pageant that year.
The Miss Hawaii Organization mourned Drummond's death in a social media post, writing t
hat it hadthey
"lost an icon, a legend and an absolutely beautiful soul."
"The stunning beauty from Wailuku, who performed a monologue, placed in the top 10 at Miss America and is forever recognized as the inspiration behind the iconic Hawaiian Airlines face which symbolizes aloha worldwide,"
according to the post said.statement.
"Rest in love and aloha your light shines brightly for the rest of the world to see. Our prayers and thoughts are with her ohana during this challenging time."
Drummond was also one of Danny
Kaleikini's famous
three hula dancers and a co-owner of Ian's Restaurant and Deli in Pukalani, Maui, with her husband, John, who died in 2000, according to the family's statement. She was also an ordained pastor and
also
served as a Maui County council member from 1990 to 1992
and an ordained pastor
.
During the last three years of her life, Drummond lived with her daughter on the Big Island,
according to
her family said. She enjoyed taking walks around her neighborhood, shopping at the farmers market and swimming at Richardson Beach.
Drummond is survived by her son, Kawika Drummond; daughter, Christina Drummond; brother, Asa Teruya; sisters Leona Asako
(John)
Medeiros, Iwalani
(Benjamin)
Bosque, Doreen
(Lee)
Yamashita, Darlyn Atay and Cindy Saffery; and granddaughter, Hawk Drummond Smith.