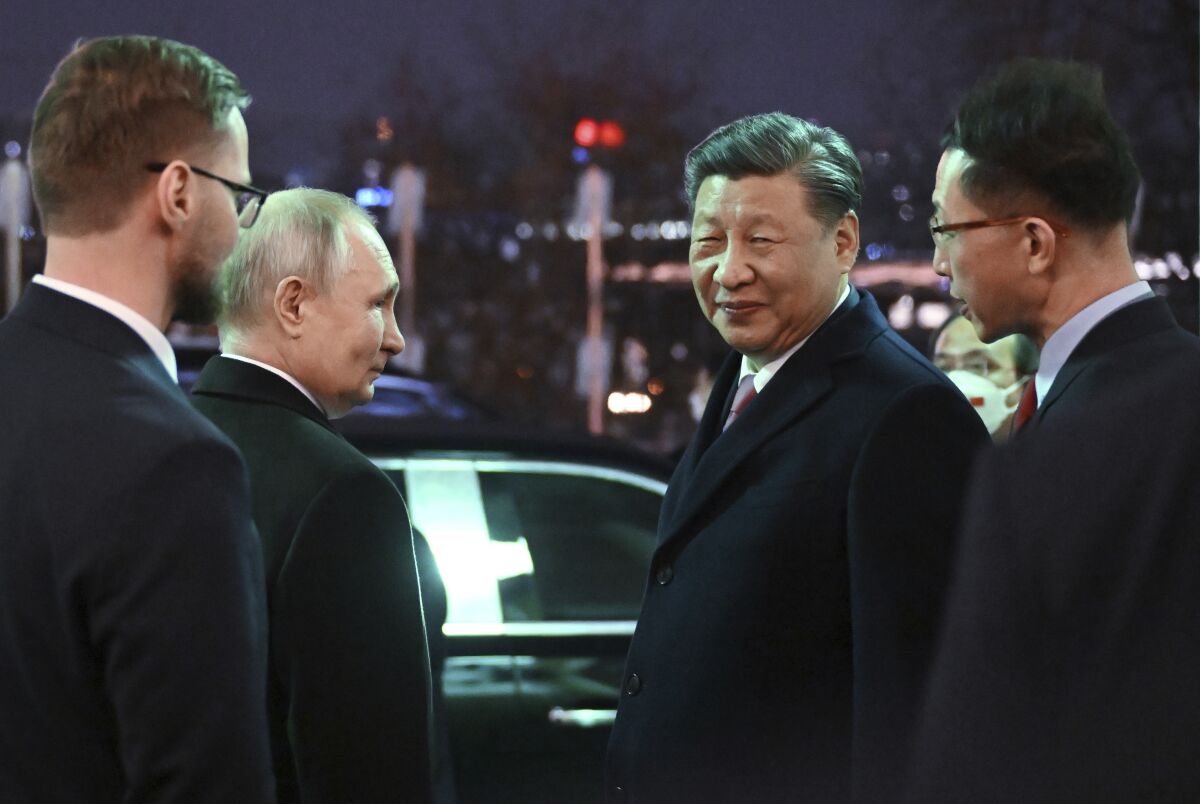 Leaders of China and Japan end their visits to warring capitals
Ukraine
HANNA ARHIROVA
March 22, 2023
Ukraine faced more Russian drone attacks Wednesday that killed at least three people shortly after Japanese Prime Minister Fumio Kishida left Kyiv.
Kishida was back in Poland on Wednesday morning, according to Japans Kyodo News, and is expected to return to Japan on Thursday.
Kishida's surprise visit to the Ukrainian capital stole some of the attention from Chinese President Xi Jinping's three-day trip to Moscow, where he promoted Beijings peace proposal for Ukraine, which Western nations have already dismissed. Xi left Moscow early Wednesday.
In addition to the people killed, the new Russian drone attacks damaged some infrastructure in parts of Ukraine.
The rival visits by Xi and Kishida, about 500 miles apart, highlighted how countries are lining up behind Moscow or Kyiv during their nearly 13-month-old war. Kishida, who will chair the Group of 7 summit in May, became the groups last member national leader to visit Ukraine and meet President Volodymyr Zelensky, after first paying tribute to those killed in Bucha, a town outside Kyiv that became a symbol of Russian atrocities against civilians.
Xis visit gave a strong political boost to Russian President Vladimir Putin just days after the International Criminal Court issued an arrest warrant for the Russian leader on allegations of involvement in the abductions of thousands of children from Ukraine.
Putin and Xi call each other a 'dear friend.' But their main common cause is the U.S.
In a joint statement, Russia and China emphasized the need to respect legitimate security concerns of all countries to settle the conflict, echoing Moscows argument that it sent in troops to prevent the U.S. and its NATO allies from turning Ukraine into an anti-Russian bulwark.
Kishida called Russias invasion a disgrace that undermines the foundations of the international legal order and pledged to continue to support Ukraine until peace is back on the beautiful Ukrainian lands.
The Russia-China front against the West was a prominent theme of Xis visit. Russian Deputy Foreign Minister Sergei Ryabkov accused NATO of seeking to become the worlds dominant military force. That is why we are expanding our cooperation with China, including in the security sphere, he said.
After the talks, Putin and Xi issued joint declarations pledging to further bolster their strategic cooperation, develop cooperation in energy, high-tech industries and other spheres and expand the use of their currencies in mutual trade to reduce dependence on the West.
Putin makes surprise trip to occupied Mariupol, Ukraine
They said they would develop military cooperation and conduct more joint sea and air patrols, but there was no mention of Chinese weapon supplies to Russia, a prospect that the U.S. and other Western allies fear. Xi and Putin announced no major progress toward implementing the Chinese peace deal, although the Russian leader said it could be a basis for ending the fighting when the West is ready.
U.S. officials have said any peace plan coming from the Putin-Xi meeting would be unacceptable because a cease-fire would only ratify Moscows territorial conquests and give Russia time to plan for a renewed offensive.
Putin is keen to show that he has a heavyweight ally and a market for Russian energy products under Western sanctions. He and Xi signed agreements on economic cooperation, noting that Russian-Chinese trade rose by 30% last year to $185 billion and is expected to top $200 billion this year.
Russia stands ready to meet the Chinese economys growing demand for energy resources by boosting deliveries of oil and gas, he said, while listing other areas of cooperation, including aircraft and shipbuilding industries and other high-tech sectors.
Slovakia joins Poland to become second NATO nation to offer warplanes to Ukraine
Further contacts are planned. Xi said he invited Putin to China this year to discuss a regional initiative that seeks to extend Beijings influence through economic cooperation.
After meeting Kishida, Zelensky told reporters that his team had sent his own peace formula to China but that he hasnt heard back, adding that there were some signals, but nothing concrete about the possibility of a dialogue.
Hours before Xi and Putin dined at a state dinner in glittering Kremlin opulence, Kishida laid flowers at a church in Bucha for the towns victims.
Upon this visit to Bucha, I feel a strong resentment against cruelty, Kishida said. I would like to represent the people in Japan and express my deepest condolences to those who lost their loved ones, were injured as a result of this cruel act.
Japans top government spokesman said Wednesday that Kishidas visit to Ukraine was very meaningful for Japans future support for Kyiv while Tokyo assumes the presidency of the G-7.
Through Prime Minister Kishidas visit to Ukraine, Japan was able to show not only to other members of the G-7 but also the international society including the Global South [nations] its determination to defend the rules-based international society, he said.
In Kyiv, the Ukrainian militarys General Staff said that Russia struck Ukraine with Iranian-made Shahed exploding drones.
It said air defenses downed 16 of the 21 drones launched by Russia. The Kyiv military administration said that eight of the drones were downed near the Ukrainian capital.
Dive-bombing drones deployed by Russia in Ukraine cast spotlight on Iran
A high school and two dormitories were partially destroyed in an overnight drone attack in the city of Rzhyshchiv, in Ukraines north-central Kyiv province, local officials said Wednesday morning. As of 7 a.m., three people were killed, two people were wounded and one person was rescued. There are probably four people under the rubble, Ukraines State Emergency Service reported.
In neighboring Zhytomyr province, exploding drones damaged infrastructure facilities, according to regional Gov. Vitalii Bunechko. He said Ukrainian air defenses shot down three drones.
Mikhail Razvozhayev, the Moscow-appointed head of the Black Sea port of Sevastopol in Crimea, said the Russian military fended off a drone attack on the main harbor early Wednesday.
Razvozhayev said the Russian navy destroyed three unmanned sea drones that attempted to attack Sevastopol, which serves as the main base for Russias Black Sea Fleet. He said that Russian warships werent damaged in the attack, but added that several civilian facilities were slightly damaged when the drones were hit and exploded, shattering windows in several buildings near the harbor.
He said there were no injuries. Ukrainian officials didnt claim responsibility for the attacks.