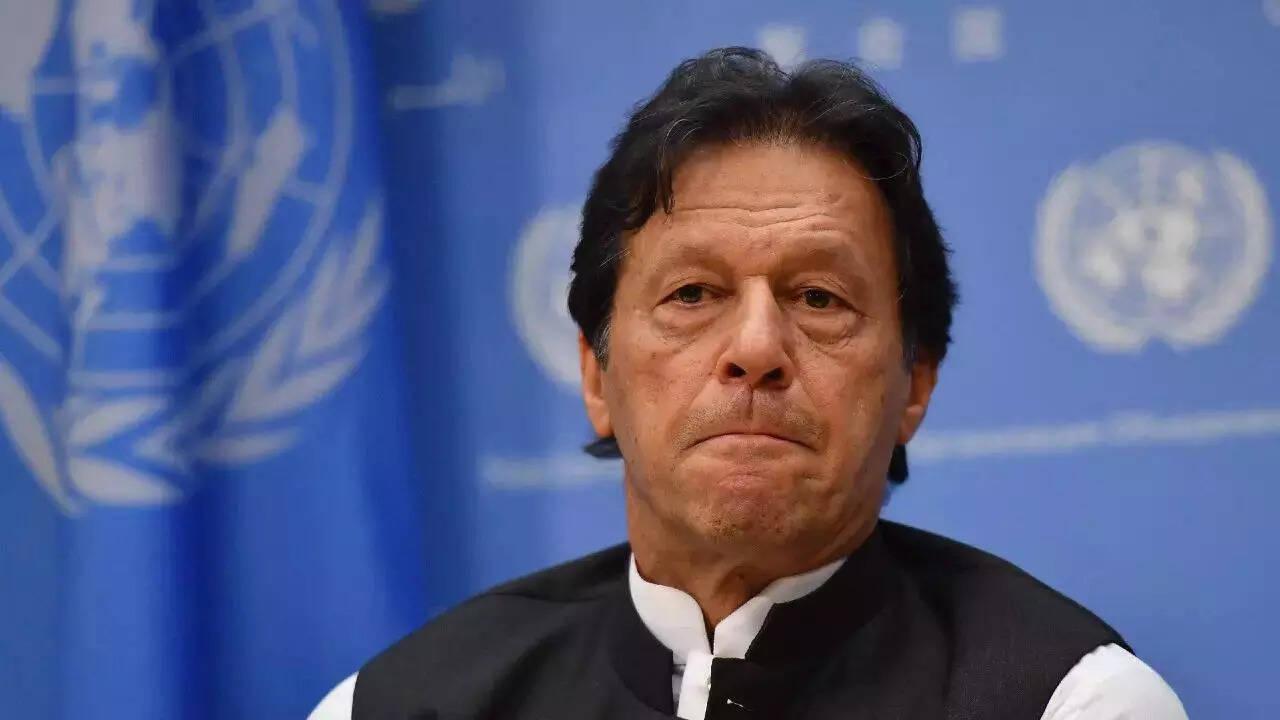 Lahore: The Pakistan Police started heavy shelling near the residence of Imran Khan, former Prime Minister of the country, who faces arrest in the Toshakhana case. The shelling began around 6am this morning. A heavy contingent of police surrounded the residence of Imran Khan in Lahore as Islamabad Police intended to arrest him.
The police blocked all roads leading to the house of the Pakistan Tehreek-e-Insaf chairman by placing containers and riot personnel took positions to launch the operation. This comes amid the clashes between police and PTI supporters, which injured several on both sides.
Earlier police charged Imran Khan's supporters with batons and teargas shells. PTI workers and supporters had gathered outside Khan's house after a police team arrived from Islamabad to arrest him on a court order. Senior PTI leader Farukh Habib told reporters that come what may Imran Khan would not surrender to police in fake cases.
"The arrest warrants in the case related to threatening a female judge were today suspended by the Islamabad High Court. Let's see what new warrants police have brought with them now," Habib said.
Imran Khan releases video
Earlier today Imran Khan released a video claiming conspiracy against him. He accused the Shehbaz Sharif government of planning his arrest saying this is all part of a "London plan" to finish all cases against Nawaz Sharif.
"This is part of the London plan and an agreement has been signed there to put Imran in jail, make the PTI fall and finish all cases against Nawaz Sharif," Imran Khan said, further adding that he doesn't understand the reason behind the attack on people as he had already assured that he will be present in court on March 18.
The cricketer-turned-politician also slammed Police for 'attacking' his supporters and using tear gas and a water cannon. "Nawaz Sharif has been given assurance that I and my party will be attacked and pulled down," Imran Khan said.
Earlier on Tuesday, in a video message, the 70-year-old had asked his supporters to "come out" to fight for real freedom and continue the struggle even if he is killed or arrested. Soon after his speech, protests broke out in Islamabad, Peshawar, Karachi, Faisalabad, Sargodha, Vehari, Peshawar, Quetta, and Mianwali.
"They (the government) think that after my arrest, the nation will fall asleep. You have to prove them wrong," he said. "God has given me everything, and I am fighting this battle for you. I have been fighting this battle all my life, and I will continue to do so," he added.
Notably, On Monday, the Lahore police had booked Imran Khan in a case related to the killing of the PTI worker – Ali Bilal alias Zille Shah – in a road accident. Earlier, the Lahore police had registered an FIR against Khan and 400 others for the murder of Shah. This is reportedly the 81th FIR against him since the PML-N led federal coalition came into power 11 months ago.