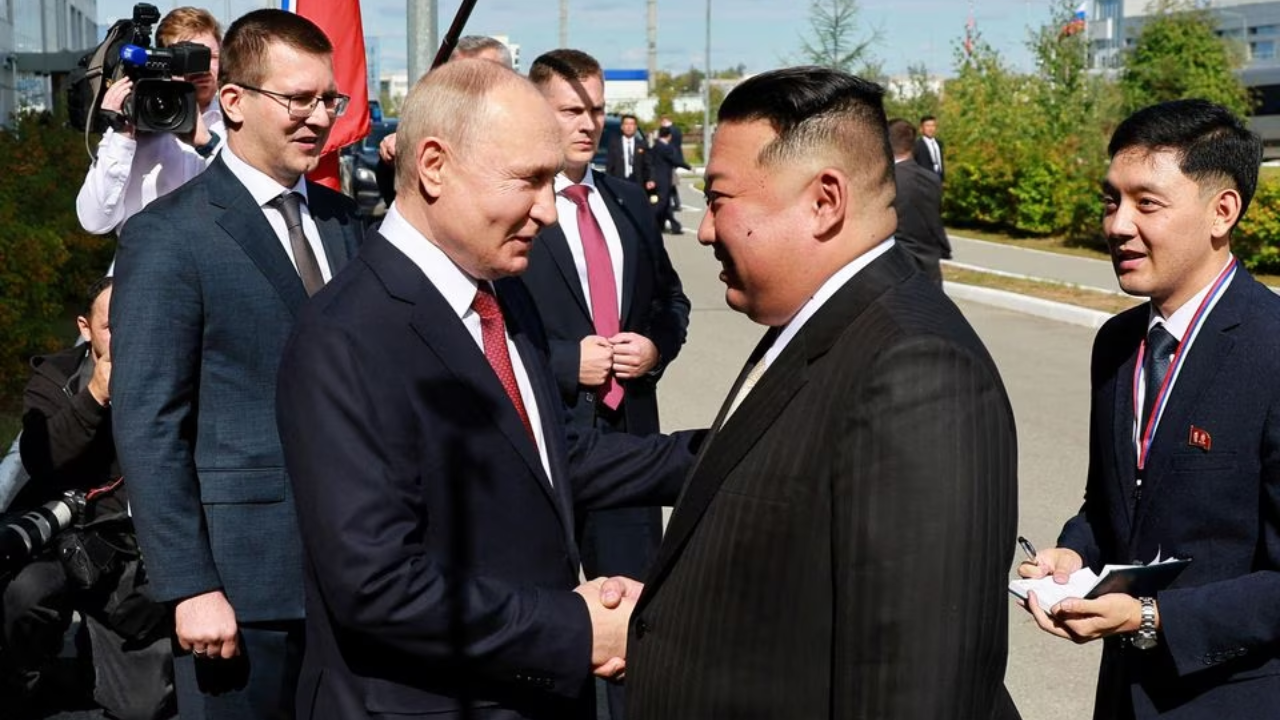 Moscow: North Korean leader Kim Jong Un and Russian President Vladimir Putin on Wednesday met at a cosmodrome, a remote space centre in Russia's Far East region.
When asked whether the two leaders would talk about obtaining supplies from the North to replenish Moscow's dwindling stock of weapons and ammunition, Putin said they would discuss "all issues", Reuters said in its report.
The two leaders are expected to discuss a potential arms deal, potentially resulting in North Korea supplying weapons to Russia during the ongoing conflict with Ukraine.
Vladimir Putin and Kim Jong Un arrived at Russia's space rocket launch site Vostochny Cosmodrome on Wednesday, CNN reported, adding that the duo shook hands and spoke briefly before entering the building. The footage later showed Kim Jong-un stepping out of a black car and shaking hands with Putin.
https://www.youtube.com/watch?v=t5k50UKhUXQ
"I am glad to see you," Putin said as he shook Kim's hand for around 40 seconds, welcoming him at Vostochny Cosmodrome, a modern space launch facility in the Amur region of Russia's Far East. "This is our new cosmodrome."
Kim, speaking through an interpreter, thanked Putin for the invitation and for the warmth of his reception.
North Korean leader, during his first visit to his neighbouring country Russia in nearly four years, said his visit was clear show of "strategic importance" of Russia-North Korea ties, North Korean state media KCNA reported on Wednesday.
"Kim Jong Un said that his visit to the Russian Federation…is a clear manifestation of the stand of the WPK and the government of the DPRK prioritizing the strategic importance of DPRK-Russia relations," the KCNA report stated, according to Reuters.
The official name of North Korea is Democratic People's Republic of Korea (DPRK) and the party, which solely rules the country, is Workers' Party of Korea (WPK).
The North Korean leader's visit to Russia can be seen as his first foreign visit post- COVID-19 pandemic, KCNA said in its report.
The North Korean leader reached Russia early on Tuesday, after arriving on the border town of Khasan in Russia, the state media confirmed.
The report also stated that Kim's visit to the neighbouring country seeks to put DPRK-Russia relations of friendship and cooperation on a "fresh higher level".
As per reports, the two leaders are expected to have a comprehensive discussion about an arms deal. With this deal, North Korea is expected to extend support to Moscow in the form of weapons, military technology and food security in its ongoing conflict with Ukraine.
(Inputs from Reuters)