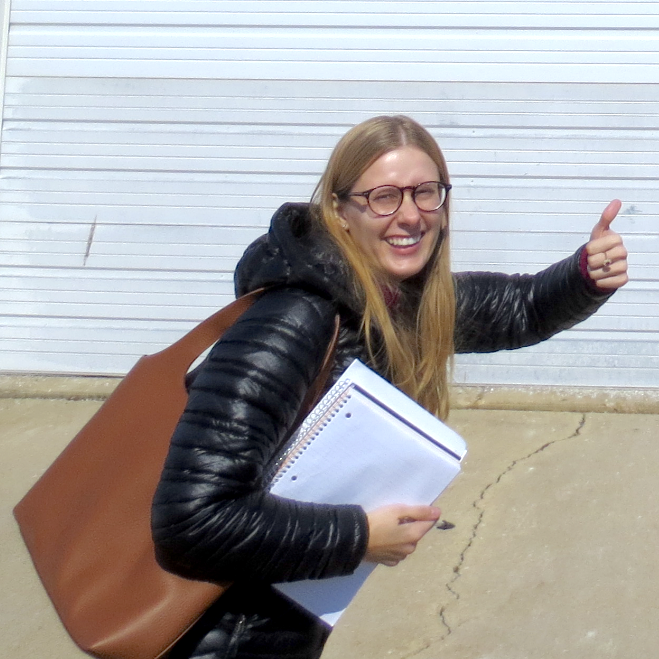 Kealie Vogel is a member of ISTC's Technical Assistance Program team, where she works to collaborate with businesses, manufacturing, and industrial entities, municipalities, colleges, and universities throughout Illinois to provide technical assistance to find and implement sustainable and energy-efficient opportunities. Before joining ISTC, Kealie worked as a policy advisor at the Illinois Commerce Commission, where she aided in the research, analysis, and development of issues and opinions relating to the energy, water, telecommunication, and transportation industries regulated by the Commission. Kealie earned her bachelor's degree in natural resources and environmental sciences and a Master's degree in natural resources and environmental sciences with a concentration in environmental policy from the University of Illinois Urbana-Champaign.
She recently answered some questions about her work.
Tell me a little bit about your role at ISTC.
I'm a senior scientific specialist focusing on sustainability within the Illinois Sustainable Technology Center's Technical Assistance Program (TAP). Day to day, I work on a fairly broad variety of projects centered on energy efficiency, waste reduction, and renewable energy. These projects involve engaging with a wide range of stakeholders throughout the state, from local farmers to municipal water treatment operators to corporate environmental services managers. On any given day, I might be "out in the field" conducting an energy efficiency assessment for a publicly-owned water treatment plant or privately-owned manufacturing facility, interviewing farmers interested in donating excess produce to state food banks, or conducting research on best practices for renewable energy equipment recycling as it reaches the end of its usable life. I learn something new every single day!
What is your educational background/area(s) of expertise?
Prior to joining ISTC, I earned my bachelor's and master's degrees in natural resources and environmental sciences from our very own University of Illinois and worked as a policy advisor at the Illinois Commerce Commission. While in grad school, I had the awesome opportunity to serve on the University of Illinois Student Sustainability Committee, a student-funded campus organization that distributes over $1 million annually to support sustainability projects that involve students and help make the University of Illinois campus a great place to be.
How does your work at ISTC impact Illinois and the world?
All of our work focuses on empowering Illinois citizens, companies, and municipalities to curb emissions and waste while also conserving existing resources for the health of our towns, state, and world. When we conduct energy efficiency or waste reduction assessments, we provide specific recommendations to our client companies, public agencies, and municipalities that are aimed at helping them take concrete steps to operate more sustainably. Similarly, our work on other projects like renewable energy equipment recycling and the farm-to-foodbank donation process is aimed at identifying concrete, actionable steps that help make increased sustainability a reality throughout the state.
What is the best part of your job at ISTC?
Working to reduce global greenhouse gas pollution and fight climate change from the comfort of my couch!
What question do you get asked most frequently about your career or the subject you study?
"Don't you have to be really outdoorsy to work in the environmental sciences?" is one that I've often been asked by friends and prospective students interested in the field. I'm personally not much of an outdoorsy person at all (I don't like bugs and am terrified of snakes), often surprising those asking this question. There are so many career paths in the environmental sciences that are great for those of us who care about the environment without wanting to necessarily spend our time knee-deep in a bog or prairie. I personally chose to pursue a career path oriented on the human dimensions of environmental science and primarily work with people and companies day-to-day, but there are also a wide variety of career opportunities in environmental policy, environmental law, sustainability consulting, corporate social responsibility, and more.
How old were you when you first became interested in science? What sparked your interest?
I have a distinct childhood memory of playing in the backyard one summer evening while my dad listened to NPR and tinkered on projects in the garage. The host of the NPR program was discussing how global temperatures had increased by ~1°F over the past century and would likely continue to increase by a few degrees over the next century. I remember asking my dad what the concern was, since the temperatures in our hometown changed by more than that every day and that was nothing to be concerned about. He explained the difference between weather and climate, how averages work and why a small increase can be so concerning on a large scale, and really helped me understand the root of the issue in a kid-friendly way. That conversation stuck in the back of my head until I had the opportunity to take the A.P. environmental science class in high school which kick-started my interest in doing something to try to address the root causes of our warming planet – the rest is history!
When you aren't doing science, what else do you love to do?
Thrifting! I really enjoy both fashion and frugality, so thrift store shopping is the perfect way for me to balance both of those interests while also embracing the circular economy and sustainability.
What advice would you give to people just starting out in your field?
I think the importance of becoming involved in opportunities and activities relevant to your areas of interest cannot be overstated. If the idea of becoming involved with a given opportunity makes you simultaneously a little nervous but also excited, go for it! Getting involved in undergraduate research, relevant campus registered student organizations (RSOs), and participating in summer internships from the beginning of my time at the University of Illinois helped me narrow down my specific interests (I realized how much I didn't like actual field work!) and build up my resume in such a way that I felt quite prepared to pursue graduate school and enter the job market.