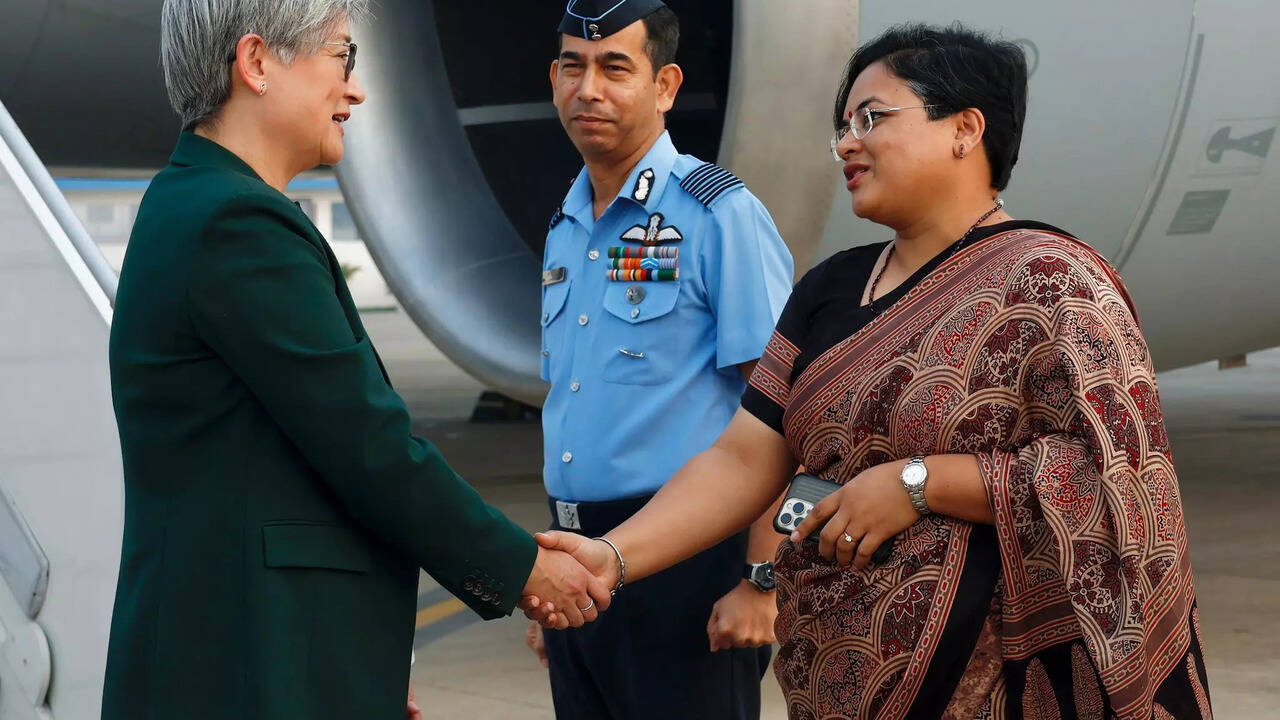 New Delhi: Defence Minister Rajnath Singh, External Affairs Minister S Jaishankar and their Australian counterparts Richard Marles and Penny Wong will hold the talks to further advance cooperation under the India-Australia comprehensive strategic partnership, according to the Ministry of External Affairs (MEA).
The Ministry of External Affairs announced on its official website that the "Raksha Mantri Shri Rajnath Singh and External Affairs Minister Dr S Jaishankar will hold the second India-Australia 2+2 Defence and Foreign Ministerial Dialogue with Deputy Prime Minister and Defence Minister of Australia H E Mr Richard Marles and Foreign Minister H.E. Ms Penny Wong on 20 November 2023 in New Delhi."
MEA Spokesperson Arindam Bagchi even posted a welcome announcement on platform X (formerly Twitter), saying: "A warm welcome to FM @SenatorWong of Australia as she arrives in New Delhi to co-chair the 2nd India-Australia 2+2 Ministerial Dialogue and the 14th Foreign Ministers' Framework Dialogue. A rich agenda of discussion covering various facets of 🇮🇳-🇦🇺 partnership awaits."
The upcoming Quad summit is expected to figure prominently in the 2+2 Ministerial dialogue between India and Australia on Monday, with both countries also likely to take stock of their ongoing negotiations for a Comprehensive Economic Cooperation Agreement (CECA). T
Australian Deputy Prime Minister and Defence Minister Richard Marles will travel to Delhi after watching Sunday's Cricket World Cup final in Ahmedabad, while Foreign Minister Penny Wong holds a number of meetings and attends cultural events in the national capital.
This 2+2 meeting between the Indian and Australian authorities comes shortly after the India-U.S. 2+2 dialogue last week and will be an opportunity to discuss regional developments, including the crisis in West Asia.
During the second 2+2 Dialogue, the Ministers are expected to discuss a wide range of strategic, defence and security issues. These discussions would cover bilateral, regional and global matters of mutual interest, to further advance cooperation under the India-Australia Comprehensive Strategic Partnership. Both sides will also exchange views on shared priorities for strengthening multilateral cooperation.
Raksha Mantri is also scheduled to have a bilateral meeting with Deputy Prime Minister and Defence Minister Richard Marles who last visited India in June 2022 within a few weeks of assuming his present office.
External Affairs Minister and Foreign Minister Wong will hold the 14th Foreign Ministerial Framework Dialogue (FMFD) on 21 November 2023 to take stock of cooperation under the Comprehensive Strategic Partnership and exchange views on regional and global issues of mutual interest.
The inaugural India-Australia 2+2 Ministerial Dialogue was held on 11 September 2021 in New Delhi pursuant to the elevation of the Strategic Partnership to a Comprehensive Strategic Partnership during the first Virtual Summit held on 4 June 2020.
The Next Quad summit is likely to be held in January; the date may be announced at 2+2 dialogue; if India and Australia conclude CECA negotiations, it will likely be signed when the Australian PM arrives for the Quad summit.