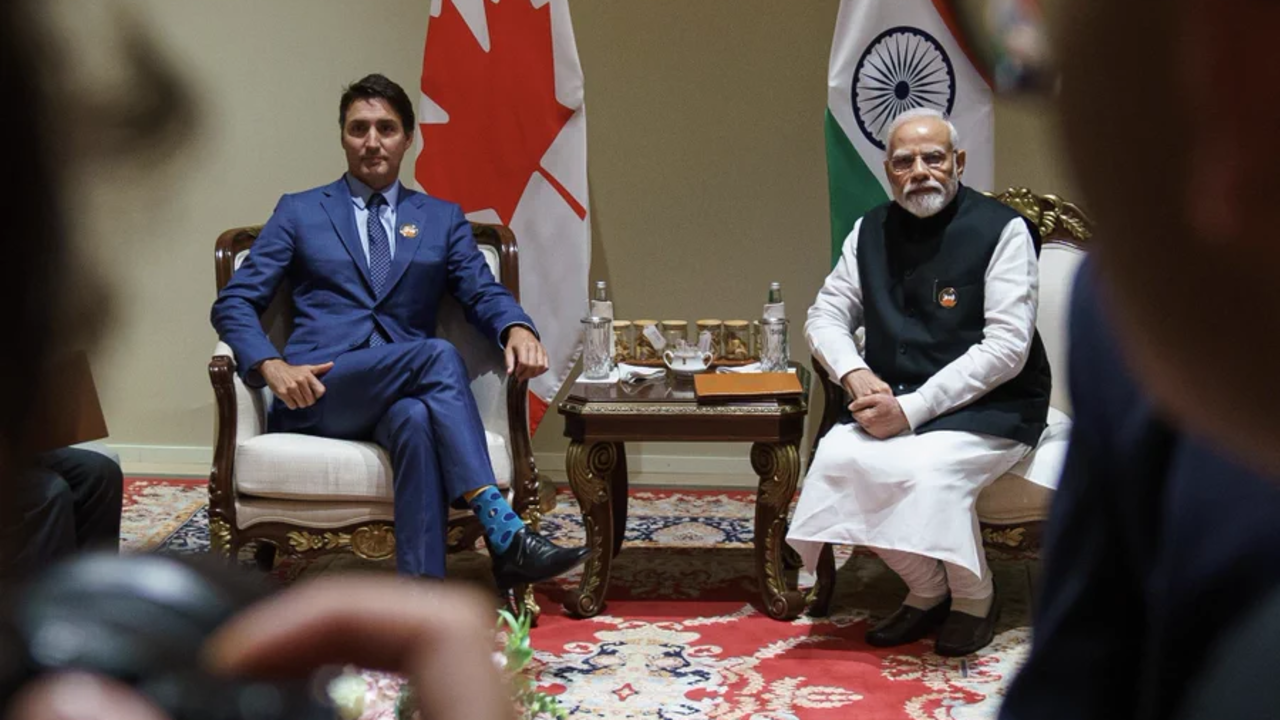 Washington DC: Stating that Canadian Prime Minister Justin Trudeau has gone too far in his allegations and since Nijjar was a terrorist with blood on his hands, if the United States has to choose between Ottawa and New Delhi, it will surely choose the latter as the relationship is "too important," said former Pentagon official Michael Rubin.
Rubin told ANI that Trudeau's allegations have led to "greater danger" for Canada than India and that India is a far more important ally to the US than Canada.
One more reason that Trudeau is on a slippery slope is that his political popularity ratings are at an abysmal low and he may well be on the way out in the upcoming national polls of Canada, said the ex-Pentagon official. Rubin said that the US can afford to not play ball with Canada and that it can rebuild the relationship after he is gone.
"Justin Trudeau probably isn't long for the Canadian premiership, and then we can rebuild the relationship after he's gone," Rubin explained.
Analysing Trudeau's missteps, Rubin said, "Prime Minister Trudeau I think has made a huge mistake. He has made allegations in a manner which he hasn't been able to back. Either he was shooting from the hip and he doesn't have the evidence to support the accusations he made against the government. There is something there, in which case he needs to explain why this government was sheltering a terrorist."
Most-Wanted fugitive terrorist Hardeep Singh Nijjar was shot dead in a parking lot of a Gurdwara, in Canada's Surrey, British Columbia on June 18.
"I suspect that the United States doesn't want to be painted a corner to choose between two friends. But if we have to choose between two friends, increasingly we're going to choose India on this matter, simply because Nijjar was a terrorist, and India is too important. Our relationship is too important," Michael Rubin told the news agency ANI.
Michael Rubin is not just a former Pentagon official but also a senior fellow at the American Enterprise Institute. He says, "… I suspect that the United States doesn't want to be pinned in the corner to choose between 2 friends, but if we have to choose between 2 friends, increasingly we're going to choose India on this matter simply because Nijjar was a terrorist and India is too important. Our relationship is too important."
Michael Rubin also specializes in Iran, Turkey, and South Asia, said: "As a former consumer of intelligence, I can say that oftentimes the intelligence we see whether it's a telephone intercept or something else, isn't as black and white, isn't as cut and dry. I mean, certainly, that was the case with regard to the Iraq War."
Rubin stressed that the US may not want to side with Canada because Nijjar was no "Mother Teresa" and "not simply a plumber, any more than Osama bin Laden was a construction engineer. Rubin says, "Justin Trudeau might want to make this a case of human rights. The fact of that matter is, that Nijjar isn't a model one wants to use for human rights. Nijjar may have been involved in the assassination of a rival Sikh leader, just a year ago. At the same time, he has blood on his hands through multiple attacks. He entered Canada with a fraudulent passport. And the fact of the matter is this is no Mother Teresa, we are talking about."
Rubin opined that there's a much greater danger for Canada than India. "If Canada wants to pick a fight, frankly, at this point, it's like an ant picking a fight against an elephant and the fact that matter is India is the world's largest democracy. It's far more important strategically, arguably than Canada is, especially as concern grows with regard to China and other matters in the Indian Ocean basin, and in the Pacific," Rubin added.
What is the Nijjar killing case?
Canada and India had a troubled relationship over the overt support of Trudeau to Khalistani separatists living in Canada. After Canadian PM Justin Trudeau alleged India's role behind the killing of Khalistani terrorist Hardeep Singh Nijjar and both countries expelling a senior diplomat in a tit-for-tat move. the relationship between the two nations has hit the lowest point since India's independence in 1947. India has out-rightly denied any role in the death of Nijjar and calls the allegations calling them 'absurd' and 'motivated'. What makes matters worse is that the Canadian PM was shooting from the hips with barely an iota of evidence to support his claims. All he has been parroting since the debacle began is that his government had "credible reasons" to believe that India was linked to the death of Nijjar.
Opinion in Canadian media and international relations experts:
Vivek Dehejia, an associate professor of economics at Carleton and is an expert in Canada-India relations, writes in the National Post that Trudeau went all in on Indian interference and now he needs a royal flush. Dehejia has made scathing remarks on how Justin Trudeau rose in the House of Commons, on September 18, the first day back from summer recess, publicly and dramatically accusing "agents" of the Indian government of being complicit in the targeted, gangland-style killing of Hardeep Singh Nijjar back in June.
"We can safely assume that the on-again-off-again trade negotiations — already with significantly watered down aspirations from the original more ambitious trade pact envisaged — is now officially DOA. While the current free fall may be arrested if both sides move to de-escalate, there is no serious possibility of any improvement in bilateral relations while both Trudeau and his Indian counterpart, Narendra Modi, are in power," the expert on India-Canada relations writes.
The National Post (a Canadian daily) article also highlights Trudeau is currently suffering his own free fall in the polls, and Modi's strong numbers, if anything, have jumped, off the back of India's aggressive response to Canada, burnishing his image of being a strong and decisive leader who won't let India be pushed around on the world stage.
None of Canada's allies are convinced:
"The U.S., the U.K., and Australia, amongst others, have all expressed "serious concern" or used similar verbiage. In diplomatic speak, this is just punting the ball. What's relevant is that none of them, including the U.S., have condemned India. If the evidence that Canada had shown to allies amounted to a proverbial smoking gun, they would likely have been less equivocal. What's more, Trudeau's very public spat with India has put Canada's allies in the awkward situation of having to walk a tightrope balancing act between an old ally and an important new one," says Dehejia.
Calling Trudeau's dramatic speech in Parliament as a huge gamble, the diplomatic expert says, "Rather than raising the matter quietly through diplomatic channels, he went all in on a major public announcement. It didn't work out as planned, it seems. He's now got no choice but to show us his whole hand, and, for his sake, it had better be a royal flush."
Meanwhile, the story is not over yet and Trudeau is on a sticky wicket.