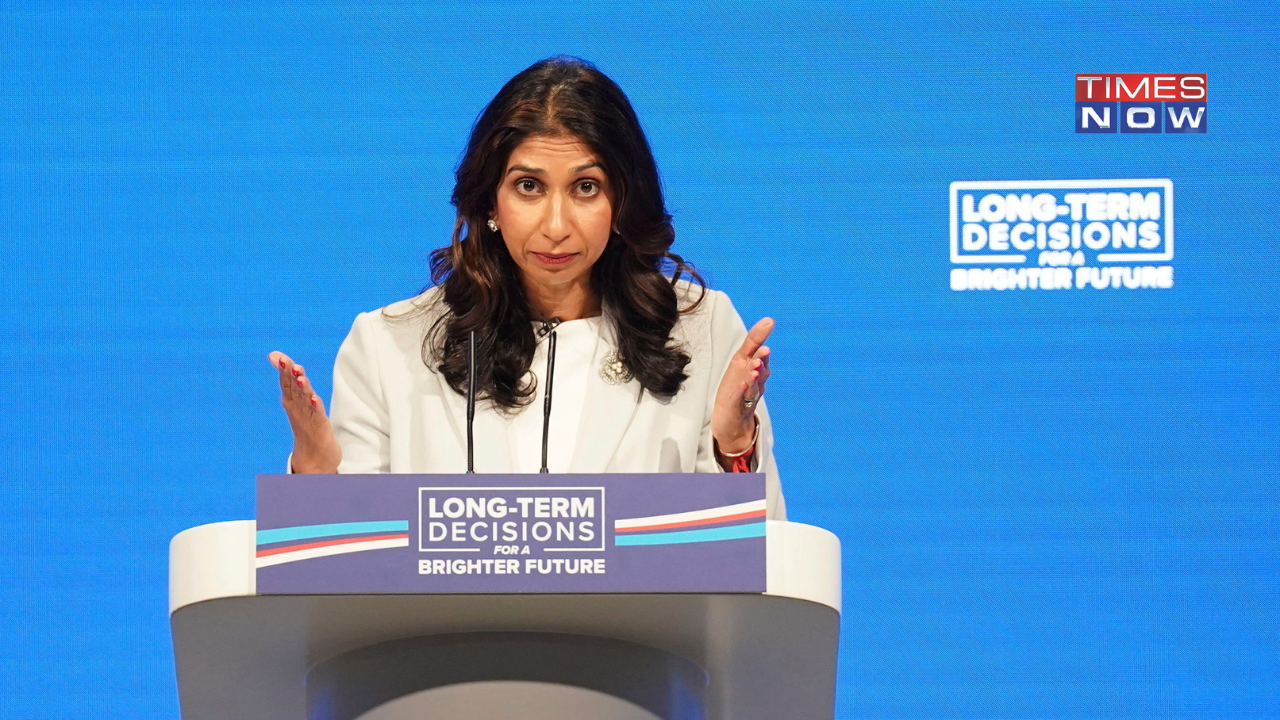 London: In a series of comments on immigration that have drawn some criticism from within her own party ranks, UK Home Secretary Suella Braverman has warned against a "hurricane" of migrants landing on the country's shores unless tough action is taken.
The 43-year-old Indian-origin Cabinet minister, whose parents migrated to Britain from Mauritius and Kenya, told the Conservative Party conference in Manchester on Tuesday that their immigration was a "mere gust" compared to the "millions more" expected in the coming months and years.
Her hard-line speech hit out at European human rights legislation that made it difficult for the UK to tackle the challenge of boat-loads of bogus asylum seekers.
"The wind of change that carried my own parents across the globe in the 20th century was a mere gust compared to the hurricane that is coming," said Braverman in her address to the Tory activists.
"Because today the option of moving from a poorer country to a richer one is not just a dream for billions of people, it is an entirely realistic prospect," she said.
In a speech seen as a leadership pitch ahead of an expected general election next month, Braverman claimed successive governments had been "too unwilling" to overhaul the UK's legal framework because they were "far too squeamish about being smeared as racist to properly bring order to the chaos".
"We will do whatever it takes to stop the boats and deter bogus asylum seekers. We will also ensure that legal migration comes down to reasonable levels and that it occurs only when there is a clear benefit to the British people," she declared.
The minister of Goan and Tamil heritage claimed the Conservatives were the only party capable of challenging the "dense net: of outdated international rules on migration that she blamed the Opposition Labour Party for "turbocharging" by passing the Human Rights Act.
"I am surprised they didn't call it the Criminal Rights Act," she said, adding that it had left the UK unprepared for the "unprecedented" global mass migration that it now faced.
While she received a standing ovation from the bulk of the crowd, there were also a few heckles from a London-based Tory member Andrew Boff before he was removed from the conference hall by security for criticising some of Braverman's comments.
Earlier, the minister was forced to defend comments she made about multiculturalism by claiming they had been "mischaracterised"
"Uncontrolled immigration, inadequate integration, and a misguided dogma of multiculturalism have proven a toxic combination for Europe over the last few decades? Multiculturalism has failed,? she said in a speech in the US last month.
British Prime Minister Rishi Sunak was asked to comment on her views and seemed to disagree with her statement at the time.
"I think this is something that is incredible about our country, is that it is a fantastic multi-ethnic democracy. We have done an incredible job of integrating people into society and one of the lovely things about getting the job I have, as the first person from my background to hold this job, that's a wonderful thing, but it's also not a big deal in our country," he said.
Reiterating the point during his conference speech on Wednesday, he noted: "I am proud to be the first British Asian Prime Minister, but you know what, I'm even prouder that it's just not a big deal"