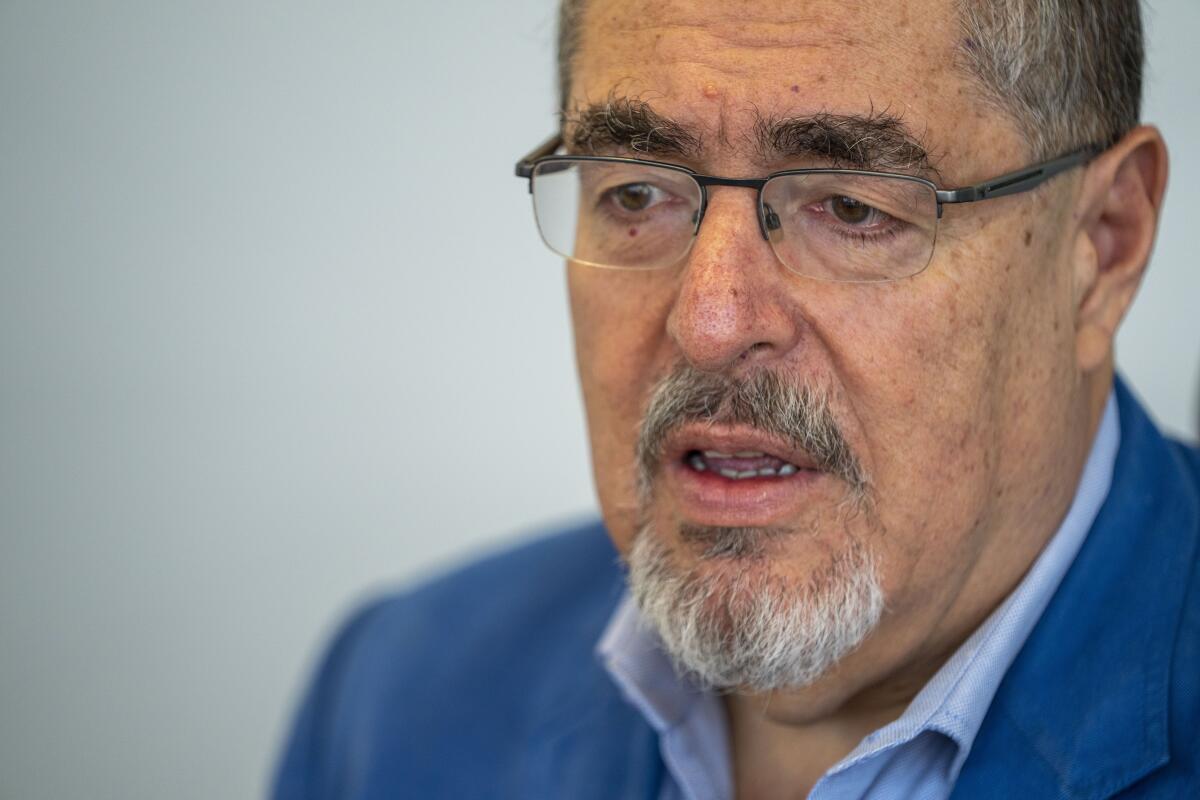 Guatemala's president-elect says he's ready to call people onto the streets
SONIA PREZ D.
Sept. 16, 2023
President-elect Bernardo Arvalo says he plans to call Guatemalans into the streets to protest efforts to derail his presidency before he can take office.
It would be Arvalo's first such request since winning the election Aug. 20. Since his landslide victory, the attorney generals office has continued pursuing multiple investigations related to the registration of Arvalos Seed Movement party, and alleged fraud in the election. International observers have said that is not supported by evidence.
Arvalo said he has tried his own legal maneuvers to stop those who want to keep him from power, but now its necessary for the people to come out to the streets to support him. He said he wants to see businesspeople, farmers, Indigenous groups, and workers all come out to reject what has been happening.
It wouldn't be the protest of one party, or oneself, against the system, but rather of a people that feels cheated, against a system that is trying to mock them, Arvalo said Friday in an interview.
Arvalo, a progressive lawmaker and academic, shocked Guatemala by making it into an Aug. 20 presidential runoff in which he beat former
F
first
L
lady Sandra Torres by more than 20 points.
The attorney generals office has said it is only following the law, but has come under intense criticism within Guatemala and abroad for what appears to be a brazen attempt to keep Arvalo from coming to power, or to weaken him.
Still, Arvalo said that he is committed to what lies ahead, and conscious that his movement has managed to create hope in Guatemalans. He said he has been overwhelmed by demonstrations of support, including those who drive by his home honking their car horns at night, or yelling Best wishes, Uncle Bernie! a nickname that his younger supporters have popularized.
Arvalo was realistic about what he would be able to accomplish in four years as president, characterizing his administration as a start.
Hundreds of years of marginalization, discrimination, the accumulated problems of 30 years of corrupt assault on power arent just going to disappear because were here, he said. But if we can start to change, to make the people feel that there are authorities who respond to them.
This week, agents from the attorney generals office opened boxes of votes and photographed their contents in an unprecedented violation of Guatemalas electoral law.
Arvalo called for Atty. Gen. Consuelo Porras resignation and said he would temporarily suspend the process of transition from outgoing President Alejandro Giammattei.
Arvalo said that even within the countrys flawed democracy, the sanctity of the vote had been preserved, and there we had the prosecutor staining with his hands that sacred democratic place.
Arvalo said
he
is encouraged that Guatemalans nationwide seem to appreciate what is happening, and reject it.
Here there is a national problem, Arvalo said. What is at stake is not the future of [the Seed Movement party]. What is at stake is the reality, the viability of democratic institutions.