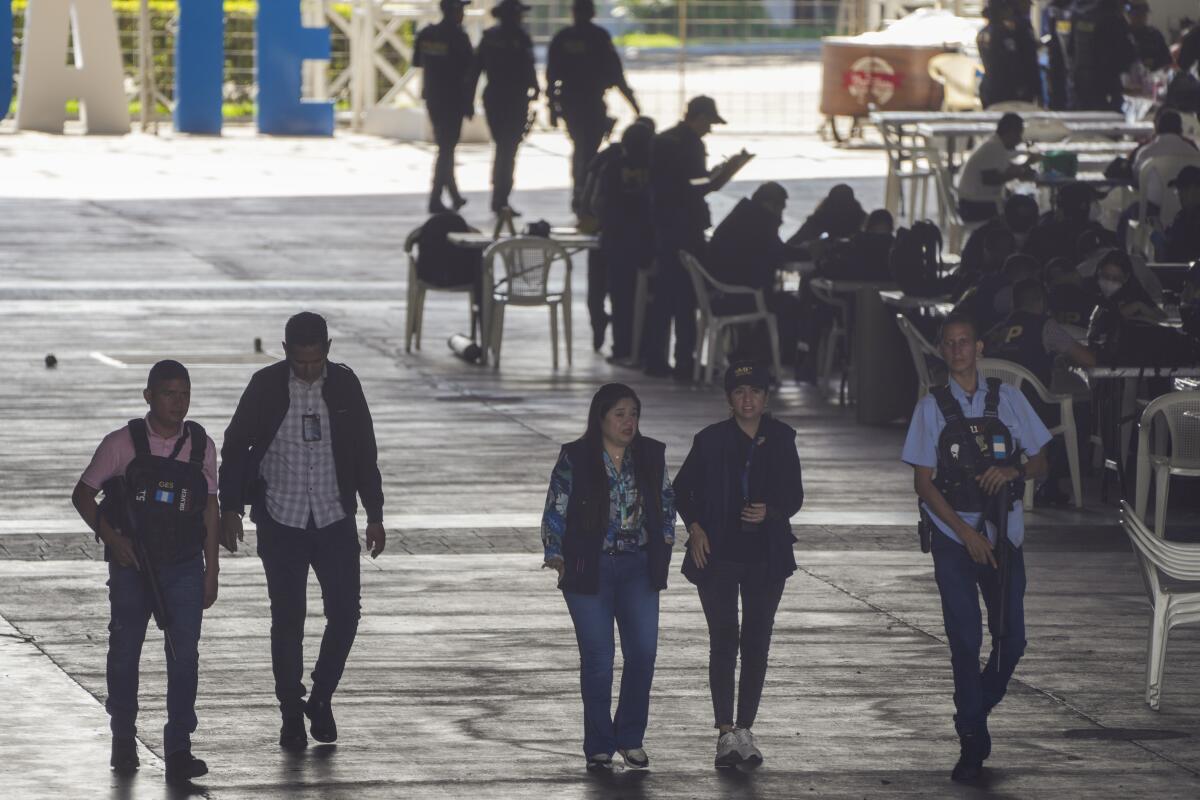 Guatemalan authorities raid electoral facilities, open boxes holding votes
Mexico & the Americas
SONIA PREZ D.
Sept. 12, 2023
Agents from Guatemala's attorney generals office on Tuesday opened dozens of boxes containing votes and photographed their contents in another raid on facilities of the Supreme Electoral Tribunal.
Luis Gerardo Ramrez, spokesman for the tribunal, said the body had not given permission to open the boxes and said the raid was carried out by the attorney generals office under a judge's order.
The attorney generals office had asked to review at least 160 boxes containing votes from various parts of the country, Ramrez said.
The raid was apparently part of several investigations related to the national elections that culminated last month with the election of Bernardo Arvalo, who campaigned on an anti-corruption platform.
Prosecutor Rafael Curruchiche, who has been investigating Arvalos Seed Movement party, was leading the operation. Curruchiche has been sanctioned by the United States for allegedly obstructing the fight against corruption.
The attorney generals office confirmed Tuesday's raid, but declined to say to which case it was related. Judge Fredy Orellana, who has also been sanctioned by the U.S., issued the order to carry it out.
There has been turmoil in Guatemala since Arvalo, in a surprise outcome, won a place in the presidential runoff against former first lady Sandra Torres. Arvalos win in the general election is worrying to the country's elite and powerful because of his promises to restart the campaign against corruption. The Biden administration has warned Guatemala against impeding democracy.
This is unprecedented," said Gloria Lpez, electoral director of the tribunal. "The law does not establish a process for this." She added that only the receiving authority at each polling place on the day of the election is allowed to review the marked ballots.
Lpez said that votes in the boxes that were opened do not have a digital backup. She said by handling them, the attorney generals office was breaking the Supreme Electoral Tribunals chain of custody.
We would no longer be able to ensure what exactly are the votes that are inside the electoral boxes and what is the number of signatures and fingerprints on the [polling place tally sheets] that are going in the boxes, she said.
Ovidio Orellana, the former president of Guatemalas bar association, said that there is no legal basis giving power to a judge or prosecutors to touch the electoral boxes or votes. It is an arbitrary act, he said.
Los Angeles Times staff contributed to this article.