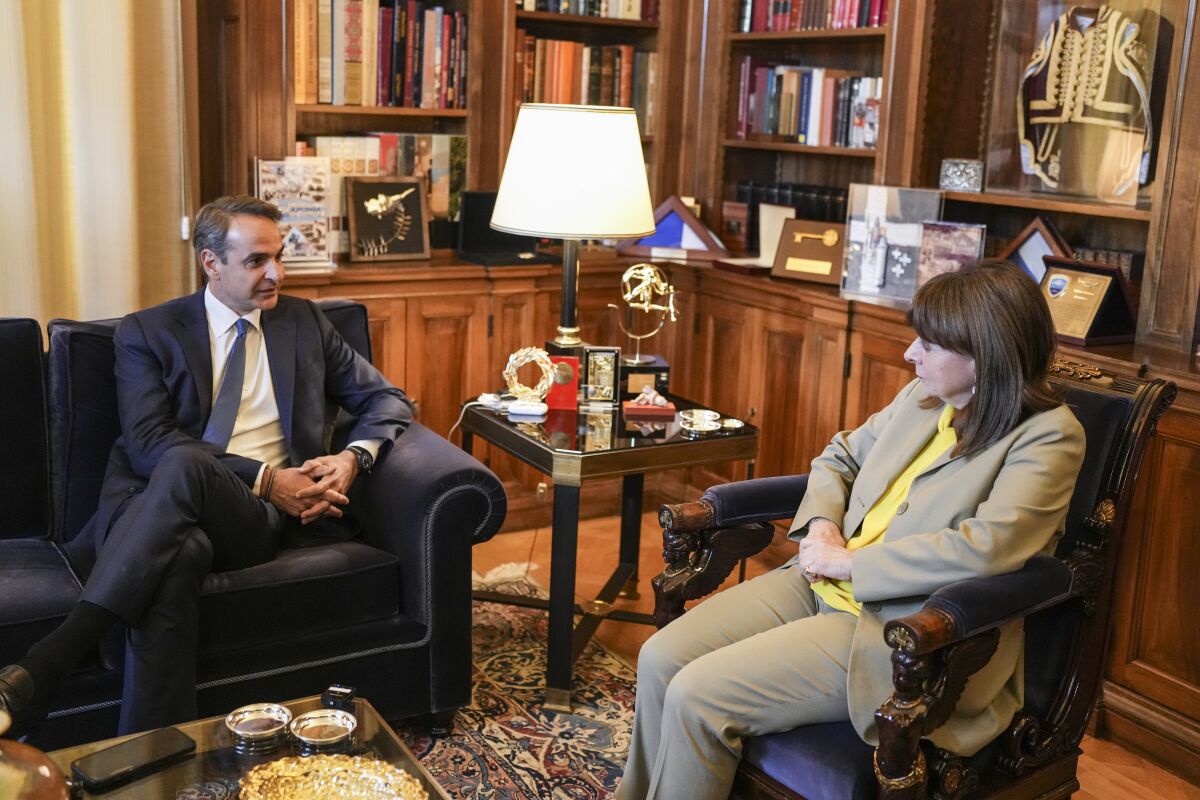 Greece's ruling party wins big but calls for new election after falling short of majority
NICHOLAS PAPHITIS
May 22, 2023
Greece will go to the polls again as early as June 25, with Prime Minister Kyriakos Mitsotakis confirming Monday that he will not try to build a coalition government after dominating an election over the weekend but failing to secure an outright majority in Parliament.
Mitsotakis' center-right New Democracy party trounced the opposition by the most decisive margin in half a century, slighty increasing its share of parliamentary seats and winning double the votes of the left-wing Syriza party and nearly four times those of third-place Socialist Pasok. But a one-off electoral law in place Sunday denied him a governing majority.
Mitsotakis will now pin his hopes on a second election expected no later than July 2 where the electoral system will revert to its old setup, which gives the leading party a bonus of up to 50 of Parliament's 300 seats. Had that system been in place Sunday, New Democracy would have secured more than 170 seats.
With 99.70% of the votes counted, New Democracy has 40.79% and 146 seats, five short of a majority, winning in 58 of the country's 59 constituencies. Syriza received 20.07% of the votes and 71 seats, while Pasok came in third with 11.46% of the vote. Turnout was 61%.
New Democracy's margin of victory far outstripped pollsters' forecasts and was the biggest since 1974, when Greece's first democratic elections were held after the fall of the seven-year military dictatorship.
Athenian Fotis Hatzos said that while he had expected New Democracy's win, its hammering of the main opposition party took him by surprise.
With Greece planning wall extension, EUs external border is hardening; attitudes are too
What is there to say? [Mitsotakis] destroyed them," he said. He won fairly.
Markets welcomed what seems to signal the end of the political uncertainty that troubled the NATO and European Union member following the 2009-18 financial crisis, with the Athens stock exchange general index surging more than 7% Monday and Greek bonds rallying.
Mitsotakis, 55, met Monday with President Katerina Sakellaropoulou, who formally gave him the mandate to try to form a government. But the Harvard-educated former banking executive said there would be no point.
I can effectively see no way for the current Parliament to form a government, he said in a brief televised exchange. That is why I will return the mandate to you this afternoon, so that we can head for new elections … as soon as possible, perhaps even on June 25."
Greece's former king, who died at 82, to be buried as a private citizen
The country needs a strong and stable government with a four-year mandate, and as soon as this is settled the better.
Mitsotakis had long suggested that he would not seek a coalition partner, whatever the election outcome, in the interest of stable governance. Greece has little tradition of successful coalition governments, despite a series of forced matches during the fraught years of financial crisis.
Analyst Wolfango Piccoli, who has followed Greek politics for years, said voters Sunday prioritized the economy and political stability over everything else.
New Democracys overwhelming performance is largely due to the positive track record on the economic front of the past four years, Piccoli said. Syrizas inability to convey a coherent and credible economic plan also helped … Mitsotakis and his New Democracy.
The outcome of yesterdays vote creates a window of opportunity for Greece to turn the page and move away from the toxic populist politics that emerged" during the financial crisis, he added.
After Mitsotakis, the mandate for forming a government will pass to Syriza leader Alexis Tsipras, and then to Pasok leader Nikos Androulakis neither of whom has any realistic chance of success. Each will have a maximum of three days to try to form a coalition. Once all options are exhausted, a senior judge will be appointed caretaker prime minister and new elections called.
Mitsotakis came to power in 2019 on a promise of business-oriented reforms and has vowed to continue tax cuts, boost investment, bolster middle-class employment and further raise wages. His victory is widely expected to spur an upgrade of Greece's key credit rating to investment grade, which it lost in 2010. That would strongly boost the country's ability to borrow from international markets, broadening its bonds' appeal to investors and improving the economic outlook.
Mitsotakis has been credited with Greeces successful handling of the COVID-19 pandemic and of two crises with neighboring Turkey, while overseeing high growth and job creation. His term in office was tarnished by a wire-tapping scandal and a railway disaster, but opposition efforts to capitalize on both fizzled.
Stationmaster charged in Greece train crash that killed 57
Tsipras, 48, called Mitsotakis on Sunday night to congratulate him.
The result is exceptionally negative for Syriza, he said in initial statements. Fights have winners and losers.
Tsipras, who was prime minister from 2015 to 2019 riding a wave of anti-establishment feeling amid the euro debt crisis said his party would gather to examine the results and how they came about. However, the electoral cycle is not yet over, he said. We must immediately carry out all the changes that are needed so we can fight the next crucial and final electoral battle with the best terms possible.
Tsipras transformed Syriza from a political minnow into Greece's main left-wing political pole during the financial crisis, during which he won office pledging to reverse stinging cutbacks dictated by international creditors. Instead, he was quickly forced to impose further financial pain in return for a new rescue loan.
Now, his political future is unclear, particularly if the forthcoming election confirms the trend set Sunday when Syriza lost about 11 percentage points compared to its showing in 2019.