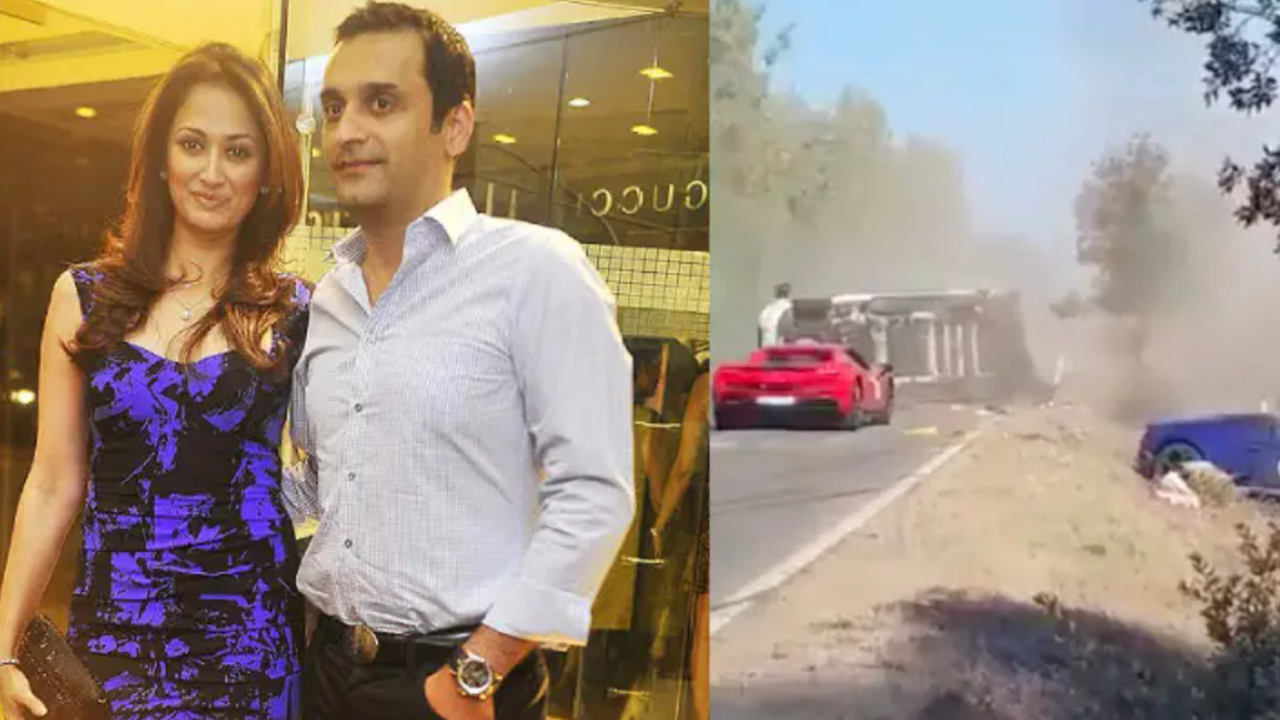 Sardinia: Swades actor Gayatri Joshi's husband Vivek Oberoi, a hospitality and real estate tycoon, will be investigated for 'road homicide' in Italy and may face up to 7 years in jail in connection with a car crash which killed two Swiss nationals on the Italian island of Sardinia.
The duo had a miraculous escape in the tragic accident in which a couple charred to death. Vikas Oberoi was allegedly driving a Lamborghini as part of an Italian supercar tour last week and his wife Gayatri Joshi sitting in the passenger seat when the accident happened.
Prosecutors in Cagliari have opened an investigation into 'double road homicide', meaning Vivek could face up to seven years in jail if charged and found guilty, Daily Mail reported.
Ferrari-Lamborghini Crash In Italy
The supercars were driving on the 195 Sulcitana state road in the commune of San Giovanni Suergiu in South Sardinia. Videos of the shocking car crash showed the pair were tucked up behind a large white motorhome on a single lane road when a speeding red Ferrari approached in an attempt to overtake both Oberoi and the RV in front.
The Lamborghini suddenly darted out from behind the motorhome into the path of the Ferrari, resulting in a huge crash. The RV got flipped on the road and sent the cars careening off the road. The red car, which also flipped upside down, immediately caught fire. Two Swiss nationals, Markus and Melissa Krautli, were charred to death.
Meanwhile, a couple from Selva di Val Gardena, aged 61 and 62, who were travelling in the motorhome were injured and taken to hospital.
'We were lying sideways in our seats. For a moment we were silent in disbelief. Then I looked into my wife's eyes and asked her if she was okay. She nodded,' Lorenzo M, who was sitting in the RV, told Italian news outlet L'Unione Sarda.