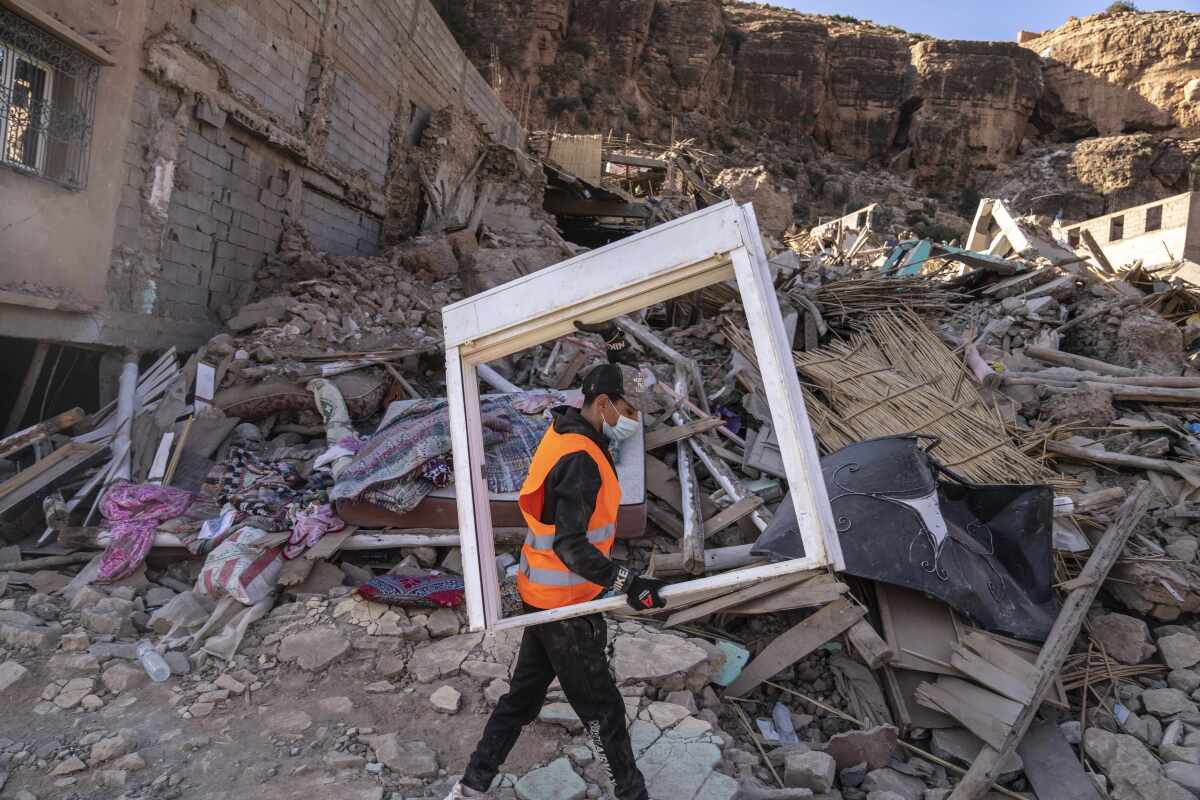 Displaced by last week's earthquake, Moroccan families brace for shelter-less nights
Earthquakes
SAM METZ and MOHAMED BOUKDIRE
Sept. 14, 2023
Rachid Alachoun, a 40-year-old plumber, washes clothes on the roof of his home. Half of it remains standing while the other half can be found in piles of rocks visible from the roof.
Alachoun is among the survivors near the epicenter of an earthquake that hit Morocco on Friday. Authorities have reported 2,946 deaths and several thousand injuries.
Though he has to walk through boulders and wires to get to his kitchen or bedroom, he has stayed in his familys home in Amizmiz near the Mellah, the old Jewish quarter. He said the tent that authorities gave them is too small for his entire family.
So his life at home goes on.
Chairs in the remnants of the family home are covered with the dust of broken walls, and possessions that are too large to carry out a washing machine, tables and a fridge are still trapped inside.
He cooks chicken, carrots and olives in a clay pot on the gas stove in an area hes kept tidy. The situation is especially precarious when aftershocks strike, such as a magnitude 4.6 temblor Thursday morning.
What's delaying lifesaving aid after Morocco and Libya natural disasters? Politics
The Alachouns were told Saturday that assistance was on the way. Food and water arrived but they lacked shelter until Tuesday, when authorities allocated them one of about 30 small yellow tents set up in a square near the center of town one of several encampments near Amizmiz.
They told us not to come to get supplies and that supplies would come. So we waited, Alachoun's sister, Loubna, said from the coated polyester tent that she is sharing with another brother, father, mother and a close family friend.
The Alachouns are among many Moroccans now asking questions about their futures, particularly as nights get colder and winter approaches. Though many villagers have been provided food and water, officials have said it could take five to six years to rebuild towns in the High Atlas and have created a special fund for recovery.
Rebuilding has already begun in parts of the Old City of Marrakech, including the old Jewish Quarter, that are frequented by tourists, while efforts in Al Haouz the province hardest hit by the earthquakes are still focused on immediate humanitarian needs.
Photos: Powerful quake in Morocco kills nearly 2,500, topples homes and historic buildings
People from the region's mountain villages may move before their homes are rebuilt, but the Alachouns are determined to stay. Most people in the region identify as part of Moroccos largest indigenous group, Amazigh, and cling tightly to their homeland. The Alachouns doubt that any financial assistance could get them an apartment large enough to house their family in Marrakech, more than an hour away.
Such is the case for many families with small children.
Until Friday, Naima Ait Brahim Ouali, a house cleaner, lived on the third floor of an apartment building with her five children in Sourejdid, a now-destroyed neighborhood in Amizmiz. She and her daughter fell down the staircase as the earthquake shook their building and ripped the top floor off, she said.
Now her entire neighborhood has relocated to a corner of a tent city in the center of town. She worries about the future for her five children ages 25, 20, 19, 14 and 10 some of whom had just started school last week.
Seismologists explain how earthquake devastated Morocco
Her daughters enjoy studying Arabic, with one passionate about reading the Quran. Her sons have a penchant for drawing and theater. But now fear strikes around 11 p.m., the time the earthquake hit Friday.
They saw death, she said of her children, including a daughter who has experienced nightmares.
UNICEF, the United Nations agency that provides aid for children, estimated this week that roughly 100,000 children have been impacted by the powerful earthquake. The figure follows an earlier U.N. estimate that 300,000 people were affected by the disaster. About one-third of the population in Morocco are children.
Ricardo Pires, a spokesperson for UNICEF, said during humanitarian disasters the organization worries about the trauma of displacement as well as basic needs for children, such as access to clean water and medical supplies.
Children get separated from their families. They might be displaced, on the move, and not knowing where to go to stay safe, Pires said. This is always a major risk in humanitarian disasters or when earthquakes like this break and its very hard to reach certain areas.
Ait Brahim Ouali said that even if the government provides funds to rebuild, she doesnt want to live in a multilevel apartment building made of bricks. She's committed to remaining in Al Haouz despite the difficulties for her and her family.
We are afraid for the future. We just started the new school year, but the earthquake came and ruined everything, she said, standing under an umbrella outside a yellow tent as children played inside. We just want somewhere to hide from the rain.