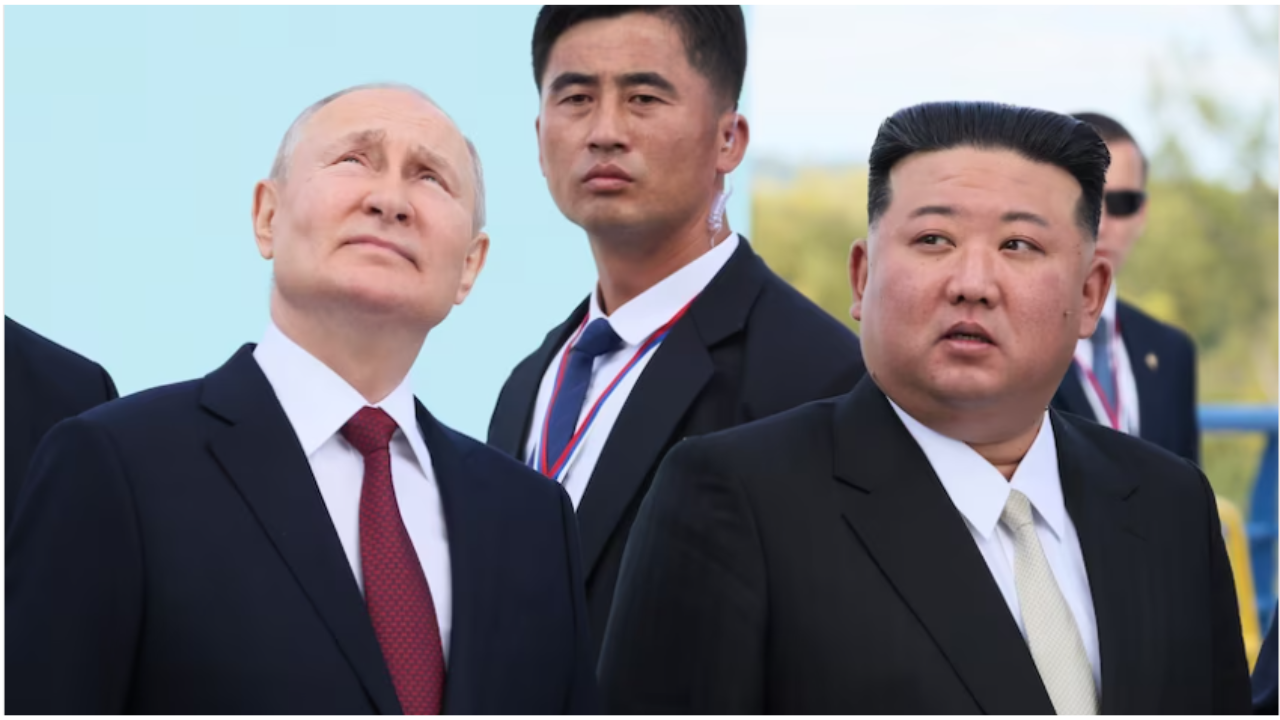 The world watched, a little in surprise, a little in horror and a little bit in wry humour befitting cynics when Kim Jong Un, the Supreme Leader of North Korea, set out on an armoured train to visit Russia. The trip was pegged as secretive, unplanned, but the brouhaha over the Supreme Leader leaving home after four long years invited the global media's attention.
Kim spent nearly six days in Russia, his longest trip since he took power in 2011. In these six days, he pledged support to Russia in the war in Ukraine, finalised a weapons deal, saw walruses and dolphins dance and even took a look at Russian warplanes. At the end of his Russia trip, Kim's train departed with "Farewell of Slavianka" – a Russian patriotic march song playing in the background.
Kim's Russia trip had the western world mighty miffed. The United Nations Security Council declarations to do not allow for North Korea to deal in weapons. South Korean President Yoon Suk Yeol found the meeting between Vladimir Putin and Kim Jong Un for the purposes of military cooperation "illegal and unjust". "The international community will unite more tightly in response to such a move," he hoped.
Kim Has A Lot Of Soviet Era Weapons
North Korea may have tens of millions of aging artillery shells and rockets based on Soviet designs that could bolster Russian forces in Ukraine, analysts say, even though its old artillery systems have a reputation for poor accuracy, the Associated Press reported. Both sides have been reportedly firing thousands of artillery rounds a day.
Kim, on the other hand, might be seeking Russian support for food aid as well as money. But analysts believe North Korea's Supreme Leader might also be seeking technology transfer from Kremlin, to build powerful missiles, a nuclear-propelled submarine and a spy satellite.
Friends In Conflicts: Cold War And The Russia-North Korea Story
The Ukraine war has often drawn comparisons with the Cold War era. With Russia and North Korea cozying up publicly, the comparisons have grown stronger. It was the Korean War (1950-53) that was the first armed conflict of the Cold War era. History has speculated as to why Joseph Stalin pushed Communist North Korea to take over South Korea.
The answer, according to a section of western historians, at least, is that Stalin just wanted to get the United States involved in a long war in Asia. Korea was split after Japan's defeat in the Second World War, and no one really expected Harry S Truman, the then US President, to send in troops. On the other hand, in 1948, Stalin and the communist leadership in the Soviet Union hand-picked 36-year-old Kim Il Sung to be the first leader of North Korea.
And thus began the dalliance.