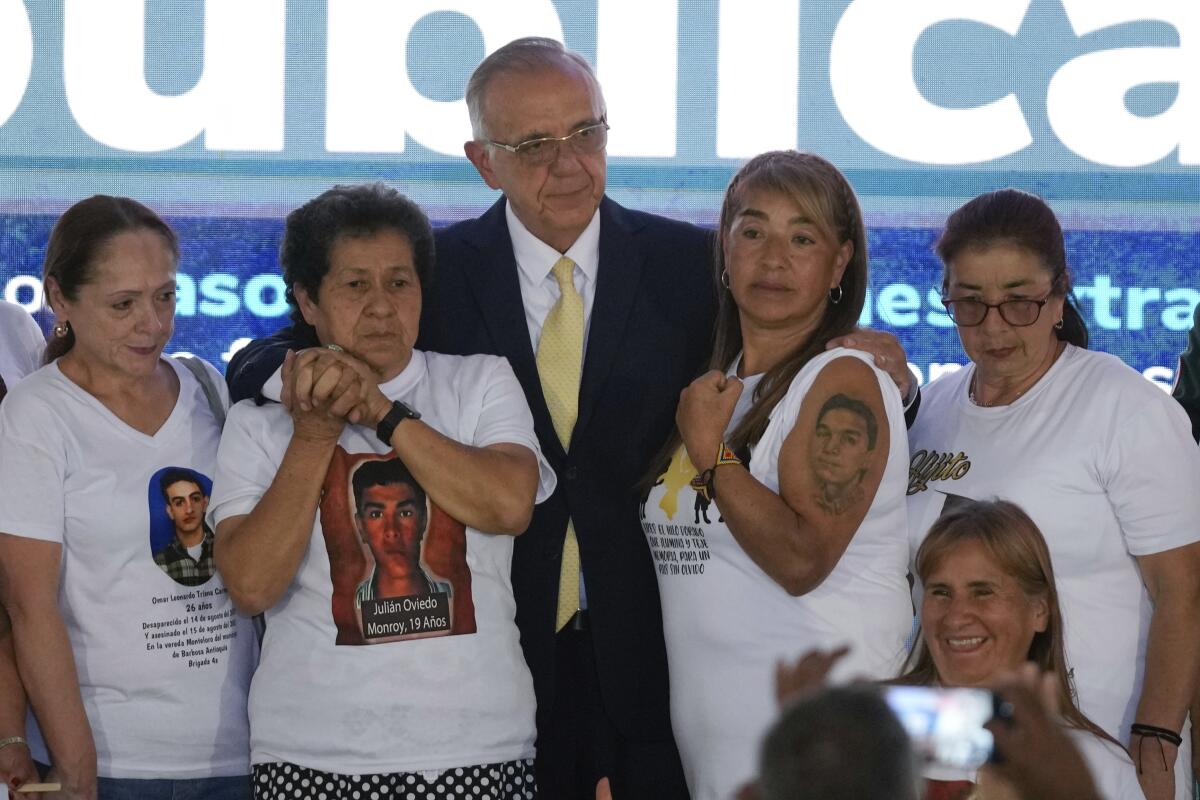 Colombia issues long-awaited apology for 19 extrajudicial killings during civil war
Mexico & the Americas
Oct. 4, 2023
Colombias government issued a long-awaited public apology Tuesday for the extrajudicial killings of 19 civilians who were slain by the military and registered as rebel fighters during one of the most violent periods of the nations civil war.
The apology comes as Colombias government attempts to make amends with communities affected by decades of armed conflict and broker peace deals with rebel groups that are still fighting the military in rural areas despite a 2016 peace deal between the government and the nations largest rebel group.
These [killings] should have never happened, Defense Minister Ivn Velsquez said at an event in front of the nations congress attended by the victims' relatives.
We ask you to forgive us for these crimes that embarrass us in front of the world, Velsquez said in a speech. The killings took place between 2004 and 2008 as Colombias military intensified its campaign against the Revolutionary Armed Forces of Colombia the rebel group that made peace with the government in 2016.
The killings involved young men from poor neighborhoods who were lured away from their homes with false promises of jobs in other parts of the country. Once they arrived at their destinations, the victims were shot by soldiers who dressed their corpses in camouflage or placed weapons next to their bodies and presented them to their superiors as rebels killed in combat in order to secure promotions and vacation time.
Courts in Colombia have been ordering the government to apologize for these cases known here as false positives since 2015, as part of a set of reparation measures that also included prison sentences for some of the soldiers and officers involved.
Colombia begins six-month cease-fire with its last remaining rebel group
But the administrations of presidents Juan Manuel Santos and Ivn Duque had skirted around the orders to apologize in public because they were reluctant to recognize that, during the nation's armed conflict, the military had committed war crimes just as serious as those carried out by rebel groups, said Gimena Sanchez, a Colombia expert at the Washington Office on Latin America, a human rights group.
Sanchez said the recently elected government of Gustavo Petro, Colombias first leftist president, has been more willing to collaborate with investigations into war crimes, including those undertaken by the Special Jurisdiction for Peace, a transitional justice system created by the 2016 peace deal.
This is incredibly important to the victims' families, Sanchez said. Those family members had to deal with the stigma of supposedly being family members of guerrillas.
According to the Special Jurisdiction for Peace, Colombias military committed at least 6,402 extrajudicial killings between 2002 and 2008, as commanders pressured their troops to provide more results on the battlefield and placed an emphasis on increasing the number of enemy casualties.
'Colombia is the key to the hemisphere,' Biden tells its president at White House
The peace tribunal recently charged a former commander of Colombias army for the murders of 130 civilians between 2002 and 2003 in Antioquia province.
At Tuesday's event, the mothers, sisters, sons and daughters of the 19 victims were invited to speak.
Many carried photos of the victims and wore T-shirts with their names.
While the relatives thanked Velsquez for attending the event and issuing an apology, most said they were not ready to forgive.
And they said the ones who should be apologizing to them are the politicians who were leading Colombia when the murders of their relatives occurred, including Santos, who was Colombias defense minister between 2006 and 2009.
Santos should be the one who shows his face here and asks for forgiveness, said Florinda Hernndez, whose son Elkin was murdered by the military in January 2008. We dont want this to happen again, and we are still seeking justice for the murders of so many people.
Santos apologized to victims of false positives in 2021, during a hearing with Colombia's truth commission that was held behind closed doors. The former president said he felt deep remorse for the killings of civilians and added that he led investigations that helped to end the practice.
Tuesday's public apology comes as Colombias government attempts to broker peace deals with the nations remaining rebel groups.
The problem with Pablo Escobar's hippos. What Colombia plans for their descendants
Elizabeth Dickinson, a Colombia analyst at the International Crisis Group, said the governments decision to apologize for extrajudicial killings helps the military build trust with communities that have been affected by human rights violations.
If we manage to get an agreement with any group, whats going to be key to [sustain] that is the trust that the security forces have with the civilian population, Dickinson said.