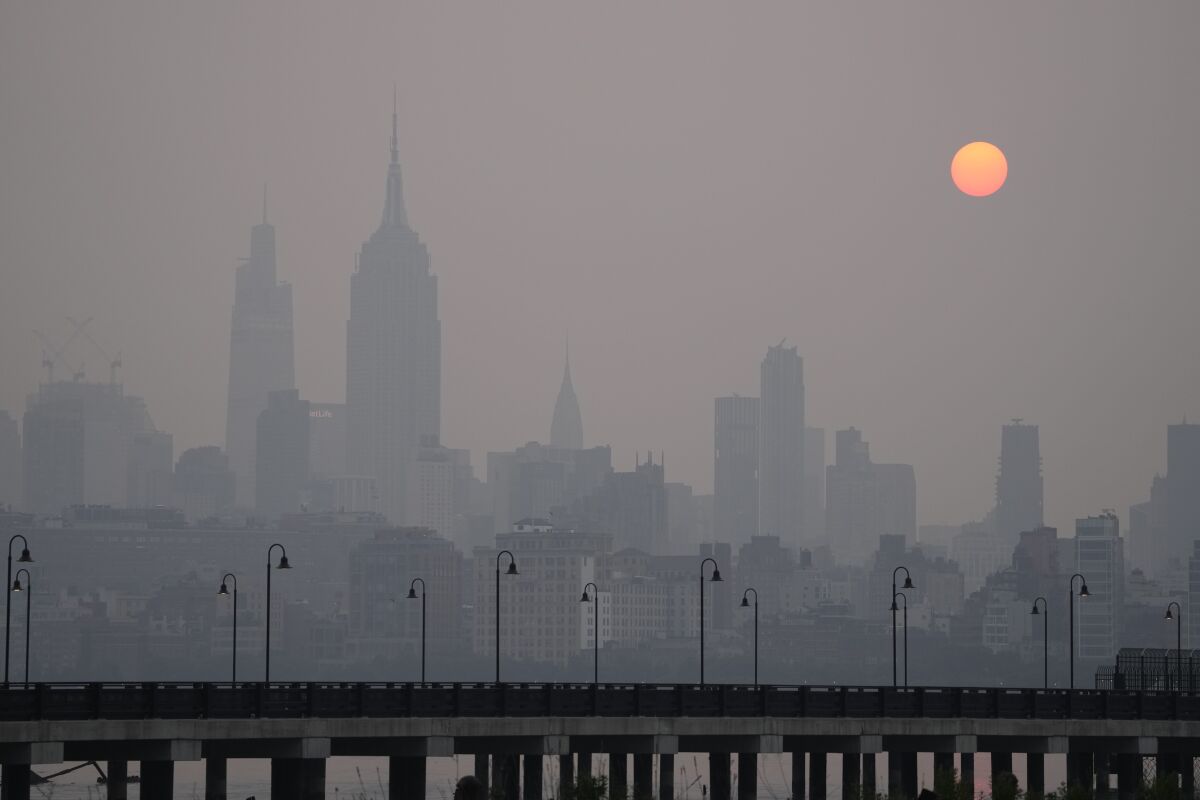 Canada wildfires are leading to air-quality alerts in the U.S. Here's why there is so much smoke
KATHY McCORMACK and MICHAEL PHILLIS
June 7, 2023
Intense Canadian wildfires are blanketing the northeastern U.S. in a smoky haze, turning the air a yellowish gray and prompting warnings for people to stay inside and keep windows closed.
The effects of hundreds of wildfires burning across Quebec all the way to western provinces could be felt on Wednesday as far as North Carolina to the south and Ohio to the west, blotting out skylines and irritating throats. Conditions were especially hazardous in parts of central New York, where the airborne soot was at hazardous levels.
U.S. authorities issued air quality alerts in multiple regions and poor conditions were expected to persist for days.
In New York City, officials on Wednesday said air quality was hazardous and everyone should stay indoors. The smoky haze that arrived late Tuesday afternoon obscured views of New Jersey across the Hudson River.
Sal and Lilly Murphy of Brooklyn likened the
burning
scent to a campfire. They said they could even smell the smoke inside the Manhattan restaurant where they just ate, then walked outside and saw a sky that looked like a storm was. brewing but it was dry. Lilly Murphy wore a mask for protection.
Its a little scary, Sal Murphy said.
Heres a closer look at whats happening and some suggested precautions for dealing with the haze:
What's happening?
Smoke from Canadas wildfires has been moving into the United States since last month. The most recent fires near Quebec have been burning for at least several days.
The big driver was prolonged hot, dry weather.
The month of May was just off the charts record warm in much of Canada, said Eric James, a modeling expert with the Cooperative Institute for Research in Environmental Science at the University of Colorado who is also with the National Oceanic and Atmospheric Administration.
Those unusual conditions which climate change is making worse increase the risk of fires, he said.
The Quebec-area fires are big and relatively close, about 500 to 600 miles from Rhode Island and they followed wildfires in Nova Scotia.
Why is smoke reaching so far away?
Strong winds high in the atmosphere can carry smoke long distances and its common for large, violent fires to create unhealthy conditions hundreds of miles away from where forests are burning.
The right mix of circumstances had to align for the smoke to blanket major U.S. cities: A dry, hot spring set the stage for big fires. Then weather did the rest, said Bob Henson, meteorologist with Yale Climate Change Connections.
It's a simple matter of trajectory, Henson said. The smoke goes where the wind takes it.
There is an area of low air pressure around Nova Scotia and air is circulating in a big arc to its west.
Thats the mechanism for bringing down all the smoke, James said.
Air is moving south in Quebec near the fires, and then veering toward the eastern seaboard, carrying smoke into heavily populated sections of the United States.
The good news is that weather patterns change and the worst conditions should only last a day or two. Some smoke, however, could linger for a week or more, according to James.
I dont remember fires of this scale in the last 10 years," he said.
Air risk outdoors
Air quality alerts often caution sensitive groups, to stay indoors. That is a big category that includes children whose lungs are still developing, older adults and people with lung diseases, such as asthma and chronic obstructive pulmonary disease. But particle levels currently blanketing much of the Northeast are not healthy for anyone.
Even though smoke seems familiar, it is actually a complex mixture of shapes, from round to corkscrew-shaped under the microscope. It's an intense form of pollution.
That makes this a good time for everyone to put off yard work and outdoor exercise.
Wednesday was
June 7 is
Global Running Day. when the group that puts on the New York City Marathon typically encourages people to go outside for a run. This year, the group said consider running another day in New York City.
If you go out, consider wearing an N95 mask to reduce the amount of soot you are inhaling.
Stay inside, keeping your doors, windows and fireplaces shut. Air conditioning on the recirculate
setting
setting can help filter out some particles.
If you have filters on your home HVAC system, you should make sure theyre up to date and high quality, said Dr. David Hill, a pulmonologist in Waterbury, Conn., and a member of the American Lung Assn.s National Board of Directors.
Some people, particularly those with underlying lung disease, or heart disease, should consider investing in in air purifiers for their homes.