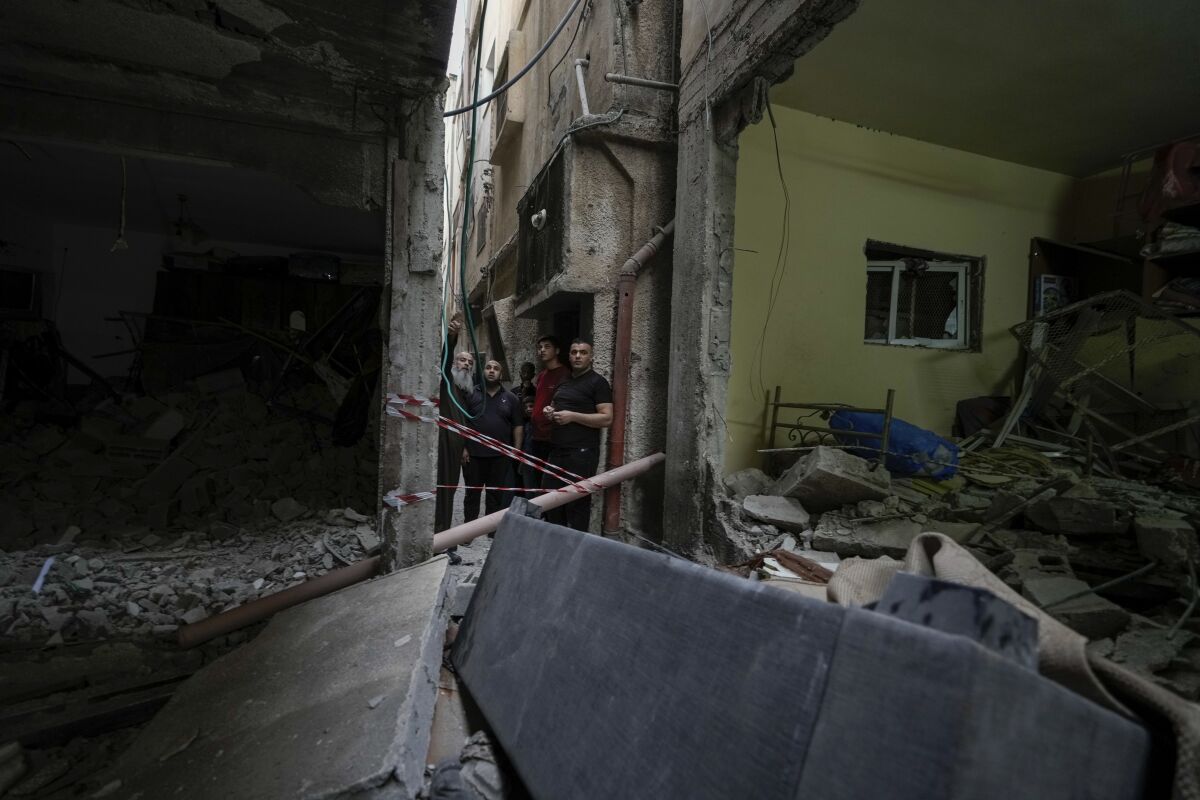 3 killed in Israeli raid in West Bank as U.S. slams latest settlement expansion
LAURIE KELLMAN
May 22, 2023
Three Palestinians were killed in an Israeli army raid in a West Bank refugee camp early Monday, Palestinian health officials said, while the Biden administration sharply condemned Israels latest act of settlement expansion.
The Palestinian Health Ministry said the three men were killed during a raid in Balata, a refugee camp near the city of Nablus. Six people were wounded, one of whom was in critical condition, the ministry said.
The Israeli army later confirmed that soldiers had raided Balata, where it said troops came under fire and killed three Palestinians. Three others were arrested there, the army said.
Israel has stepped up raids in the occupied West Bank over the last year in response to a spate of Palestinian attacks and said Monday's operations netted weapons and an explosives-manufacturing operation in a home, which it detonated.
Meanwhile, the Biden administration issued a sharply worded statement Sunday criticizing Israel for moving to reestablish settlers at the formerly evacuated outpost of Homesh in the northern West Bank.
In March, the Israeli government repealed a 2005 act that dismantled four West Bank settlements. Over the weekend, the top Israeli army general in the West Bank signed an order attaching Homesh to a local settler regional council a move paving the way for reconstruction of the outpost.
Jewish settler population in the West Bank surpasses half a million
The U.S. is deeply troubled by what State Department spokesman Mathew Miller said was Israels illegal policy on the outpost in the occupied territory.
Miller also expressed Washington's concerns about ultranationalist National Security Minister Itamar Ben-Gvir's visit to the Temple Mount, the holiest site in Judaism. The contested site is also home to the Al Aqsa Mosque, the third-holiest site in Islam.
This holy space should not be used for political purposes, and we call on all parties to respect its sanctity, Miller said in the statement.
Under long-standing arrangements, Jews are permitted to visit the site but not to pray there. But in recent years, a growing number of Jewish visitors have begun to quietly pray, raising fears among Palestinians that Israel is plotting to divide or take over the site. Ben-Gvir has long called for increased Jewish access.
Israel approves more than 7,000 settlement homes, groups say
Ben-Gvir visited the hilltop compound earlier Sunday, declaring that we are in charge, while the Israeli Cabinet held a rare meeting in Jerusalems Old City to celebrate its control of the area. Ben-Gvir's visit drew condemnations from the Palestinians and Israels neighbor, Jordan.
A former West Bank settler leader and far-right activist who years ago was convicted of incitement and supporting a Jewish terror group, Ben-Gvir now serves as Israels national security minister, overseeing the countrys police force.
The Al Aqsa Martyrs Brigades, a militant group with connections to Palestinian Authority President Mahmoud Abbas Fatah party, identified the men killed in Balata as its members. It gave their names as Fathi Jihad Rizk, 30, Abdullah Yousef Abu Hamdan, 24, and Muhammad Bilal Zaytoun, 32.
In a separate overnight raid in the northern West Bank town of Jenin, the army said two Palestinians were shot and three were arrested when Israeli forces came under attack. Israeli forces also raided five other locations overnight and two refugee camps, Ayola and Aqabat.
'No such thing' as Palestinian people, top Israeli government minister says
More than 250 Palestinians have been killed by Israeli fire since the spring of 2022. About 50 people have been killed in Palestinian attacks against Israelis.
Israel says most of the Palestinians killed were militants, but stone-throwing youths protesting the incursions and people not involved in the confrontations have also been killed.
Last week, Israelis marked Jerusalem Day, which celebrates Israels capture of East Jerusalem, including the Old City, in the 1967 Mideast War. Flag-waving nationalists marched through the main Palestinian thoroughfare in Jerusalems Old City, some singing racist anti-Arab chants, while hundreds of Jews visited the sensitive hilltop shrine.
Israel also captured the West Bank and the Gaza Strip in the 1967 war. The Palestinians seek those territories for a future independent state, with East Jerusalem as its capital. Israel annexed East Jerusalem in a move unrecognized by most of the international community and considers the city its undivided, permanent capital.
Tensions at the disputed compound have fueled past rounds of violence. Israeli Prime Minister Benjamin Netanyahu's government, the most right-wing in Israeli history, includes ultra-Orthodox and far-right nationalist parties and has made West Bank settlement construction a top priority.
Most of the international community considers Israeli settlements, home to 700,000 people in the West Bank and East Jerusalem, to be illegal and obstacles to peace.
Earlier this month, fighting also erupted between Israel and militants in the Gaza Strip. Israeli strikes killed 33, many of them militants but also women and children. Two people were killed in Israel by militant rocket fire.